There's a new camera on the top shelf. The Sony Cybershot RX100 looks like the new king of the pocket cameras. Its main credentials are a huge 1-inch 20-megapixel CMOS sensor and a super fast f/1.8 Carl Zeiss lens. In my book, that adds up to badass. Either the sensor or the lens alone would have been enough to make this a really important pocket camera. But put them both together and Sony is dropping a bomb on the competition. The RX100 also has manual exposure controls and RAW shooting so you can squeeze the most from that sensor / lens combo.

Update: high-res Sony RX100 studio tests have been posted!
Sony RX100 Studio Sample Photos >>

Sony Cybershot RX100 key Features & Specs:
Brand new 1-inch 20.2-megapixel Sony Exmor CMOS sensor
3.6x 28-100mm f/1.8-4.9 Carl Zeiss Vario-Sonnar T* lens
Seven-bladed circular aperture
ISO 64 to 25,600
1920 x 1080/60p AVCHD full HD video with built-in stereo microphone
RAW shooting
Full range of exposure modes – P,S,A,M + scene modes and Intelligent Auto (iAuto)
3-inch 1,229k-dot LCD display
"Smooth control ring" around lens body for exposure, zoom, creative picture effects, etc.
10 frames-per-second high-speed burst (Speed Priority mode)
"Photo Creativity" interface with 9 "Picture Effect" options
Pop-up flash w flash conpensation
Fn (function) button and Memory Recall user-customizable modes
The RX100's 1-inch sensor is about 4 times the size of a typical 1/2.3-inch point-and-shoot camera sensor. That larger surface area means better depth-of-field control and better image quality – especially in low light. In Sony's words: "The sensor's larger area takes in more light while capturing content, resulting in beautiful, detail-packed images and Full HD movie clips with very low noise."
To put the size of the sensor in perspective, it falls between the CX sensor Nikon uses in their J1 and V1 mirrorless cameras; and the Four Thirds sensor Olympus and Panasonic use in their Micro Four Thirds system cameras. The 1-inch sensor is far bigger than the 1/1.7-inch sensor in the Canon PowerShot S100, the RX100's most likely competitor, even though both cameras are about the same size. My only issue with the new sensor is the 20-megapixel resolution. Personally, I don't think that kind of resolution is necessary or even desirable in a pocket camera. I have no doubt the image quality is excellent but lower resolution (bigger pixels) would have meant even better low light performance. Smaller image files would also allow a faster burst rate – something that action sports photographers and people with kids can always use. The RX100 can shoot 10 frames per second, but only in the Speed Priority scene mode, which offers very limited control. Outside of Speed Priority mode, the burst rate is a very pokey 2.5 frames per second.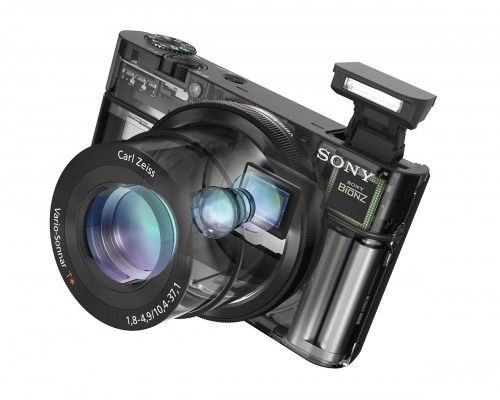 Moving on to the RX100's lens – it's a 3.6x 28-100mm (equivalent) f/1.8-4.9 Carl Zeiss Vario-Sonnar T* optical zoom. That's not a lot of zoom but you know what they say – the shorter the better. Ok, maybe "they" don't really say that but it's usually true for zoom lenses. A smaller zoom ratio generally means simpler optics and better image quality. The f/1.8 aperture is two stops faster (it collects twice as much light) than the f/3.5 aperture on most point-and-shoot cameras, and 1/3 faster than the Canon PowerShot S100. Combine that fast lens with the 1-inch sensor and I expect the RX100 is going to be an excellent low light performer.
There's a second benefit to the RX100's large sensor / aperture combo – depth-of-field control. There are three variables affecting depth-of-field – sensor size, focal length and aperture. A larger aperture, a larger sensor and a longer focal length all decrease the depth-of-field in a photo. So the RX100's 1-inch sensor and f/1.8 aperture will give you the ability to separate your subject from foreground and background elements with selective focus – something most compact cameras really can't do at all. A full set of manual exposure controls (P, S, A, M) let experienced photographers take full advantage of that big aperture, too. Not an experienced photographer? No worries – the RX100 has scene modes and Sony's Intelligent Auto (iAuto) to help you get the most out of the camera.
For a quick hands-on look at the new Sony Cybershot RX100, here's an official Sony intro video:
Sony Cybershot RX100 Intro Video
I just took a look back over the point-and-shoot cameras announced so far in 2012 and I think the Sony Cybershot RX100 is, without a doubt, the most exciting yet. It's also a solid contender for my 2013 Camera of the Year. With full manual controls, RAW shooting, a big sensor, a great lens and a body that really fits in the pocket of your jeans, the RX100 looks like the pocket camera pro photographers have been dreaming of for years. On paper it really doesn't have any competition and I'm very excited to get my hands on one to see how it performs.
The new Sony Cybershot RX100 should be available next month (July, 2012). It is expected to sell for about US $600 (ouch).
Sony Cybershot RX100 Press Release >>
Related Content:
Sony Digital Camera User Reviews
Sony Cameras Forum
Digital Cameras Forum
More Sony News And Articles
Sony Cybershot Digital Camera Web Site