When Sony introduced the A55, their first SLT camera and our 2010 Camera of the Year, they became the DSLR design leader. I've been recommending Sony DSLRs to my friends and other people since then because of the unique abilities Sony's SLT design offers. I thought it was about time I write a point-blank article about what makes Sony's digital SLR design special, and why your next DSLR should be a Sony.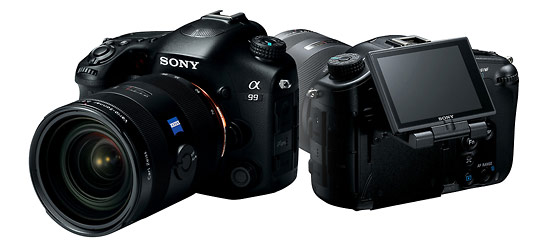 Most of my thoughts and the technical details of Sony DSLRs have already been covered in one way or another in my Sony Alpha SLT camera reviews and announcement articles. But if Sony isn't on your radar yet and you haven't read any of those articles, then it's time to get caught up on who's actually pushing DSLR camera design forward now. Most photographers still think of the big two – Nikon and Canon – when they think about buying a DSLR. But while Nikon and Canon are refining standard digital camera concepts and technology (and doing a great job of it), Sony is thinking way outside the box and making the DSLRs of the future. If you're shopping for your first digital SLR or considering switching to a new system – especially if video is important to you – now is the time to invest in a Sony camera.
What Is An "SLT" Camera?
Technically, the Sony Alpha SLT cameras aren't actually digital SLRs. However, for all practical purposes, using a Sony SLT camera is the same as using a DSLR. The SLT in the name stands for "Single-Lens Translucent" (as opposed to "single lens reflex") and indicates that the cameras have a fixed, transparent mirror. Traditional digital SLRs have mirrors that flip up and out of the way allowing light to reach the sensor when the shutter opens. A digital SLR's phase detect auto focus array is located on the mirror, so when the mirror is up it has to switch to contrast detect AF, which isn't nearly as good for moving subjects. A Sony SLT camera's transparent mirror doesn't have to move so it can shoot faster and use phase detect AF all the time – even for video. Camera makers are starting to embed phase detect AF pixels on the sensor for improved live view auto focus. But I have yet to use a non-Sony DSLR with movie mode continuous AF that can compete with the Sony SLT cameras. To be fair, contrast detect auto focus is actually very quick for still subjects – in fact, the fastest focusing cameras now are using contrast detect AF. However, contrast detect AF is nearly worthless for tracking fast moving subjects. So Sony's transparent mirror design gives their DSLRs a serious edge over the competition for shooting video of subjects in motion.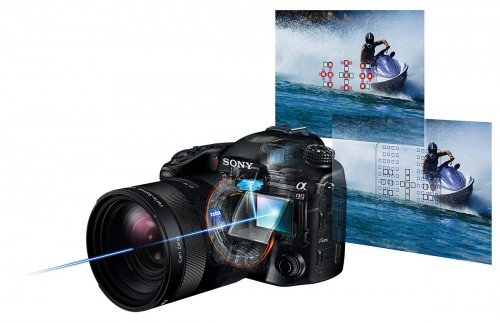 Besides superior movie mode auto focus, Sony's SLT cameras include some other features that set them apart from the rest – the electronic viewfinder, built-in image stabilization, and tilt-swivel LCD displays are standard equipment on all current Sony DSLRs. Sony isn't the only camera maker that uses sensor-level image stabilization but they are the only one to put it in a full-frame DSLR – the flagship Sony Alpha SLT-A99. And Sony uses their SteadyShot sensor shift image stabilization in all of their SLT cameras. That means no matter what lens you mount on a Sony Alpha DSLR, you get the benefit of image stabilization – even with third-party lenses.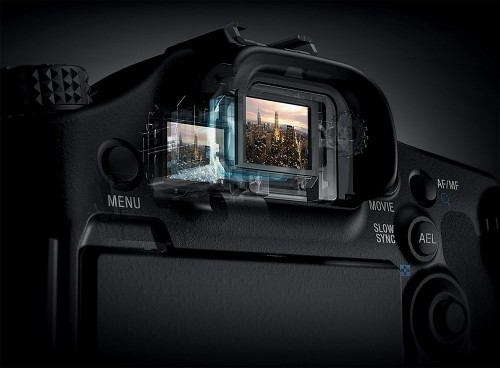 The benefits of the electronic viewfinder (EVF) are probably the least understood – and they may be the most important. If you used a camera with an EVF a few years ago and found the experience less than satisfying, it's time to try again. The electronic viewfinders Sony uses in their Alpha SLT cameras will absolutely change your mind. Chances are, you won't even realize you're looking through an electronic viewfinder at first. It's only after you notice you're seeing stuff in the viewfinder that you usually only see on the LCD display that you'll realize you're not looking through an optical viewfinder. Besides being able to see all the info you normally see on the LCD, you can also review photos without taking your eye away from the viewfinder; you can see the histogram in the viewfinder; the EVF can even show white balance and exposure adjustments on-the-fly. One of the most important benefits of the EVF, and the least talked about, is you can use the it while you're recording movies – something you absolutely cannot do with an optical viewfinder. That provides a critical third point-of-contact while you're shooting video, helping keep the camera, and your video footage, steady. That means with a Sony SLT camera you have less need for expensive and bulky video rig accessories.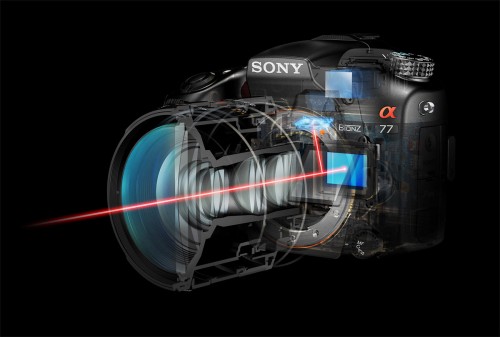 What The Pros Say About Sony DSLRs
I attended a Sony camera press event last year where I got to spend a few days with the SLT-A99 full-frame DSLR and a couple of Sony's "Artisan" pro photographers. All of Sony's Artisans are great, inspirational photographers and both of the guys that attended the Monterey press event were sold on Sony's SLT camera technology. Understandably, you have to take what they say with a grain of salt since they're sponsored by Sony. However, when you get to spend a few days with someone, you get a pretty good feeling for when they're telling the truth and when they're giving you the marketing pitch. And these guys seemed genuinely pleased with the Sony Alpha DSLRs. The most compelling testimonial came from Sony Artisan David McLain, in the video below, which was made completely with the Sony Alpha SLT-A99:
I talked to David about his movie and shooting with the Sony A99. He said he and his crew brought all kinds of video rig accessories on their trip around the world because they thought they'd need them to get good, steady footage. However, between the excellent low light image quality from the A99's full-frame sensor, and the stabilization provided by using the electronic viewfinder, they never needed any of their extra video gear.
To hear why David likes using the Sony Alpha SLT-A99, in his own words, watch the behind the scenes video, below. Once again, take it with a grain of salt since David is sponsored by Sony. But he's a pretty straightforward guy and I agree with pretty much everything he says. The camera benefits he lists in the video below are the reasons I decided to write this article:
Behind The Scenes With Sony Artisan David McLain:
Mike Henderson is a pro videographer friend of mine (Mike Henderson's Web site) who recently bought the Sony Alpha SLT-A99 to replace his Canon EOS 7D HD DSLR. He says the main reasons he decided to make the move to the A99 were the articulated LCD display, focus peaking, and the silent adjust button, which he says, lets him make "an array of adjustments on the fly smoothly without making any noise or jolting the camera with click wheels."
The A99 is the only full-frame DSLR on the market with an articulated LCD display. Mike bought an external, accessory monitor to make his EOS 7D more versatile and found that, "setup is a pain, and handling the combined camera + monitor unit sucks. The Sony A99's swivel monitor lets you shoot low, high and in front of the camera and also position the monitor to be seen from a distance. Plus the Sony focus peaking is way better than the DP4 [external accessory monitor] peaking. We've gotten kind of used to the new school focus hunt endemic to HD DSLR videos. The reason for this is no auto focus and no focus peaking. Peaking lets you hit your focus and end it… Plus, peaking shows in the EVF too! HOLY CRAP THAT SH** IS NICE!" For those who've never heard of focus peaking, it's a feature that indicates focus on the LCD by making focused areas flash. It really is a very valuable tool for videographers as well as photographers who use manual focus.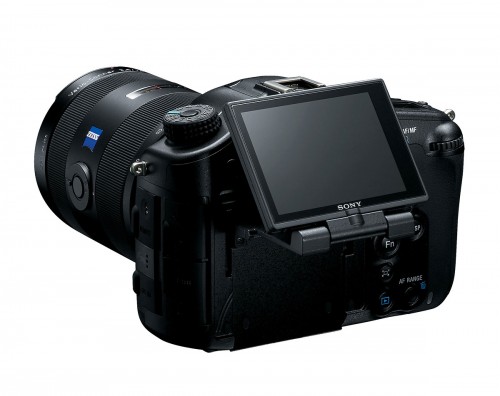 More Sony DSLR Feedback:
If you're not a pro and don't need Sony's $2799 A99 full-frame DSLR, most of the technology used in that camera is also available in Sony's less expensive APS-C sensor SLT cameras. They all have an electronic viewfinder, built-in image stabilization, the transparent mirror design, continuous auto focus in movie mode, and the articulated LCD display. Sony Alpha SLT cameras are also a great buy – they almost always offer better performance than comparably-priced DSLRs from other camera manufacturers. Here are a few camera owner quotes from our Sony Alpha DSLR user reviews:
Cody Sims on the Sony Alpha SLT-A77:
"I'm a total convert of SLT tech. So many people moan about the light loss to the pellicle mirror, but for a measly 1/3 stop of light, you gain so many next-level benefits. I've been having more fun with photography than ever since the A55 came out, and the A77 is better still."
Sony Alpha SLT-A77 User Reviews >>
Greg McCary on the Sony Alpha SLT-A77:
"I really think Sony is the cutting edge in camera technology right now. They are innovative, progressive and march to the beat of their own drums. Pretty much like Olympus was years ago. If the other camera manufacturers are not careful they are going to be playing catch up with Sony."
Sony Alpha SLT-A77 User Reviews >>
weissguy on the Sony Alpha SLT-A55
"I am extremely happy with the A55 to date. I purchased this item as a photo enthusiast to photograph my kids' sports. I have owned the camera for three weeks and I have taken over 3300 photos… I have been extremely impressed with how well the camera performs in all conditions. Even the camera's built-in AUTO settings and shooting at 10 fps have come out brilliant."
Sony Alpha SLT-A55 User Reviews >>
Sony's Current DSLR Camera Lineup:
Click on the cameras below to learn more about specific Sony Alpha SLT cameras:
Conclusion
Whether or not I actually convinced you to buy a Sony DSLR, I hope I at least opened your eyes to Sony as a camera manufacturer you should be paying attention to. I'm not saying you shouldn't consider more traditional camera companies or that other camera makers aren't making good stuff – not at all. Nikon and Canon's current full-frame professional DSLRs are amazing – especially the top-of-the-line sports and photojournalism bodies, the Nikon D4 and Canon EOS-1D X. Sony has yet to make a camera that approaches the performance of the top shelf Nikon and Canon DSLRs. But if you're shopping for an entry-level DSLR or considering cameras like the Canon EOS 5D Mark III or the Nikon D600, I think Sony deserves your attention. What makes them special is their willingness to experiment with new features and design elements like the electronic viewfinder, transparent mirror, articulated LCD displays, and in-camera image stabilization; and put them all together in a package that offers something really different from their competitors. After all, those features were all available to other camera manufacturers – they've all used them in one form or another before – even the transparent mirror. But Sony was willing to gamble on them all at once in the digital SLR market. And when you put all those features together, they really do add up to something different and special. Enough so that I plan to put my money where my mouth is this year and start building my own Sony DSLR system.
All Sony Camera Articles & Reviews >>
Read & Write Sony User Reviews >>
Related Content:
Sony Digital Camera User Reviews
All Digital SLR User Reviews
Digital SLRs forum
Sony Cameras Forum
All Sony Camera Articles & News
Sony Alpha Cameras Web Site