Fujifilm has spiced up their top pocket superzoom camera with some useful new features. The new Fujifilm FinePix F600EXR is built on the same basic feature set as the F550EXR – that is, a 16-megapixel backlit CMOS EXR sensor, a 15x 24-360mm zoom lens, and built-in GPS image tagging. To that solid foundation they've added a new EXR Auto shooting mode with Motion Detection to, "virtually eliminate subject blur in all lighting conditions." They also added Intelligent Digital Zoom to double the telephoto reach of the lens and a new Landmark Navigator feature that uses the built-in GPS to, "help photographers pin-point locations and new shooting opportunities." The FinePix F600 EXR also has a new rubberized finish to improve the grip.

I really like pocket superzoom cameras because they offer so many features in such an easy-to-carry package. I actually included the Fujifilm FinePix F600′s predecessor, the F550EXR, in my recent Top Five Pocket Superzoom Cameras guide. Now it looks like I'm going to have to update the article and replace the F550EXR with the F600.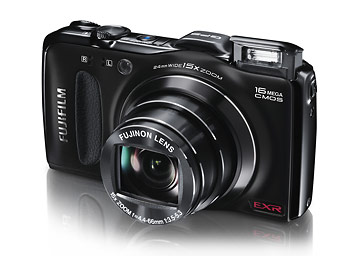 Fujifilm FinePix F600 EXR Key Features:
16-megapixel 1/2-inch backlit EXR CMOS sensor
15x 24-360mm f/3.5-5.3 Fujinon with 2x Intelligent Digital Zoom
1920 x 1080 full HD video
New EXR Auto mode with Motion Detection
EXR shooting modes
Raw shooting
11 frames-per-second burst speed
Film simulation modes
Built-in GPS with new Landmark Navigator
HDMI output
3-inch 460K LCD display
If you like the look of the Fujifilm FinePix F600EXR but don't want to wait, snap up an F550EXR while you can – it's the same basic camera with the exception of a few new features. You might even be able to save a few bucks now that the F600EXR has been announced. If you want it all, the Fujifilm FinePix F600EXR is scheduled to be in stores October 2011 at a sugested retail price of US $349.95.
Fujifilm FinePix F600EXR Press Release >>
Pocket Superzoom Cameras Guide >>
Related Content:
All Fujifilm User Reviews
All Digital Camera User Reviews
Digital Cameras Forum
More Fujifilm News & Articles
Fujifilm Web Site