The 2011 Holiday Season is upon us and I'm sure a lot of photographers would love to receive either the Canon PowerShot G12 or the Nikon Coolpix P7100 as a gift. The Canon G-Series cameras have long been among the most popular compact digital cameras – especially for serious photographers who want something small, light and powerful to compliment their digital SLR gear. The Nikon Coolpix P7100 is Nikon's answer to the Canon G-Series cameras. I took a closer look at both cameras at the recent PhotoPlus show in New York and was reminded how nice they really are. I decided to compare the G12 and P7100 to find out where the key differences lie. Both cameras are built very well and have a much more professional feel than the average compact camera. They also both have full manual exposure controls, an optical viewfinder, adjustable LCD displays and a flash hot shoe. Both the Canon G12 and Nikon P7100 make a very good compact alternative to a digital SLR. They're great when you don't want to carry a bulky DSLR and lens, for travel photographers, or for photographers on a budget who want a solid, full-featured camera. But which one is really the best? And is there an even better alternative?


Both the Nikon Coolpix P7100 and Canon PowerShot G12 look and feel great and both share a lot of the same main features. Really, they're both very good cameras. So to find out where the advantages may or may not be, we're going to have to dig deeper into the features and specs:
| | | |
| --- | --- | --- |
| | Canon PowerShot G12 | Nikon Coolpix P7100 |
| MSRP | US $499.99 | US $499.95 |
| Sensor | 10-megapixel 1/1.7-inch CCD | 10.1-megapixel 1/1.7-inch CCD |
| Image size | 3648 x 2048 pixels | 3648 x 2736 pixels |
| Video | 720p (1280 x 720) at 24 FPS with stereo sound | 720p (1280 x 720) at 24 FPS with stereo sound |
| Lens | 5x 28-140mm f/2.8-4.5 (35mm equivalent) with optical image stabilization | 7.1x 28-200mm f/2.8-5.6 (35mm equivalent) with Lens-shift VR |
| LCD display | 2.8-inch 461k-dot tilt-swivel LCD | 3-inch 921k-dot tilting LCD |
| Optical viewfinder | Yes | Yes |
| Sensitivity | ISO 80 to 3200 | ISO 100 to 3200, expandable to ISO 6400 |
| Exposure control | Separate aperture and shutter speed control dials | Separate aperture and shutter speed control dials |
| Shooting modes | P, M, A, S, Smart Auto, 19 scene modes | P, M, A, S, 19 scene modes |
| Burst rate | 2 FPS | 1.2 FPS |
| Flash | Built-in + hot shoe | Built-in + hot shoe |
| File format | JPEG, RAW (CR2), MOV | JPEG, RAW (NRW), MOV |
| Battery capacity | Approximately 370 photos (LCD monitor on) | Approximately 350 photos (LCD monitor on) |
| Size | 3.0 x 4.41 x 1.9 in. (76.2 x 112.1 x 48.3mm) | 3.1 x 4.6 x 1.9 in. (76.9 x 116.3x 48mm) |
| Weight | 12.4 oz. (351g) | 14 oz. (395g) |
| User Reviews | Canon PowerShot G12 User Reviews | Nikon Coolpix P7100 User Reviews |
| Shop | Buy Canon PowerShot G12 | Buy Nikon Coolpix P7100 |

After making that specs table (tons of fun!), I think the Nikon Coolpix P7100 comes out on top – mostly because of the longer 7.1x zoom range. The price, resolution, sensor size, video specs, exposure controls, burst rate, battery life, etc. – are almost exactly the same for both cameras. If I'm going to be packing a "compact" camera that doesn't fit in my pocket, I'd like it to have more than a 4x zoom lens. Also, based on my experience with both cameras at the PhotoPlus Expo, the Nikon feels better. It's got a nice grippy, rubberized finish and a seriously solid body. It's not that the G12 feels plastic or poorly built – it feels good, too. But I think the P7100 feels better. Of course, if you already own a Nikon or Canon flash, then you should probably go with the camera that is compatible with your flash.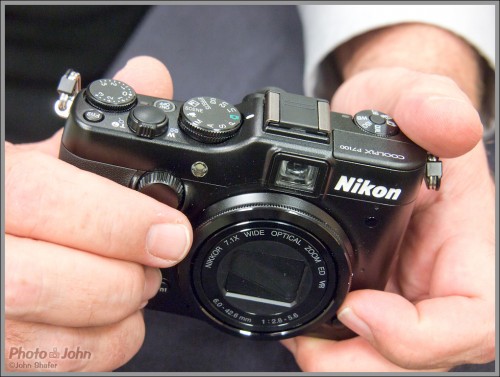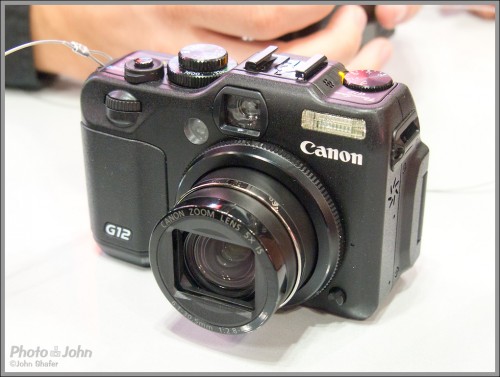 A Better Alternative
Now, let me offer an alternative to both cameras. Although the G12 and P7100 are nice options for photographers who want a smaller full-featured camera for casual photos, I think this type of camera has outlived its usefulness. Instead, I recommend anyone who's considering a G12 or P7100 to take a look at the many compact system cameras (also called EVIL and mirrorless) that are now available. Olympus and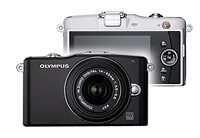 Panasonic were the first, with their Micro Four Thirds format partnership. Sony and Samsung followed with APS-C sensor (the same size sensors used in entry-level and mid-range DSLRs) mirrorless cameras. This spring, Pentax announced their tiny, interchangeable lens Q camera. And most recently, Nikon announced their new "1″ mirrorless, interchangeable lens camera system. One of the most important features of compact system cameras (except for the Pentax Q) is they all have larger sensors and significantly better image quality than either the Nikon P7100 or the Canon G12. Most of the time when I use a compact system camera I don't feel like there's any compromise compared to my digital SLR! Prices for compact system cameras start *below* the $499 MSRP of the P7100 and G12 (click on the Olympus E-PM1 Pen photo, above right). So you can have an interchangeable lens camera with better image quality for less money. It's hard to argue with that, isn't it? The only real compromise is the G12 and P7100 are a little smaller since the lenses collapse into the camera when they're turned off.
Compact System Cameras Reviews, Articles & News >>
Compact System Cameras Forum >>
Compact System Cameras User Reviews >>
I know this article isn't going to change everyone's mind about the Canon G12 and Nikon P7100. But it's my job to educate and I've been surprised how many people aren't aware of the compact system camera option. If a smaller camera is your main goal, then I think a pocket-sized compact like the Canon PowerShot S100 makes more sense. It has most of the features and control of the Canon G12 and the image quality is just as good, but it fits in your pants pocket. However, I know some photographers want something smaller than a DSLR but with some heft and a pro feel. And like I said in the article intro, when I saw the G12 and P7100 at PhotoPlus I was surprised at how well they're built and how good the controls are. They really feel like professional cameras. Neither camera fits in a pants pocket. But turned off, with the lenses closed, they're small enough for a coat pocket. And both cameras have great image quality compared to other compact cameras. They should be totally useable at ISO 400 and ISO 800 is useable if you really need it.
No doubt, there are going to be a lot of photographers who disagree with me about choosing a compact system camera over the Canon G12 and Nikon P7100. I welcome your opinions and encourage you to post your thoughts in the comments section at the bottom of the page. Maybe there are some benefits to the Canon G12 and P7100 that I am not aware of. Same goes for compact system camera users – please add your thoughts to the comments. The more comments we have the more useful this article becomes. And if you own any of the cameras mentioned, please write a review in our user reviews section.
Canon PowerShot G12 Intro >>
Nikon Coolpix P7100 Intro >>

Related Content:
All Canon User Reviews
All Nikon User Reviews
All Digital Camera User Reviews
Canon Cameras Forum
Nikon Cameras Forum
Digital Cameras Forum
Canon News, Reviews & Articles
Canon News, Reviews & Articles
Canon Web Site
Nikon Web Site