Most of the time I base my camera introduction articles on the press release, camera specs and my own experience with comparable gear. But in the case of Leica's new 18-megapixel full-frame M Monochrom black-and-white digital rangefinder, I've been voraciously reading the competition's articles. I'm doing this partly because some camera journalists (not me) were lucky enough to be invited to Leica's M Monochrom intro event in Berlin; and partly because there's so much to learn about this camera. It's also interesting to see what everyone thinks about an $8000 camera that can only take black-and-white photos. On the Internet photography forums the general tone is one of outrage that Leica would make an $8000 B&W camera. But the camera journalists are surprisingly positive – although most agree that the M Monochrom is not a camera they will likely own.


So why would Leica make a dedicated black-and-white camera, you ask? And how is a monochrome digital camera any different from converting your color images to black-and-white in post processing? These are legitimate questions and there are good answers for both. The M Monochrom is definitely more than a colorblind M9 rangefinder. Speaking to the first question, Jesko von Oeynhausen, Leica's M-System product manager says: "Black-and-white photography is more popular than ever before. Even today, it has lost none of its fascination as an expressive medium, not even for younger generations of photographers. This is confirmed by the numerous monochrome images shown by members of the M-Community …" In other words, people still love black-and-white photography – especially Leica shooters. To address the second question – of course you can convert to black-and-white after the fact. But there's something to be said for committing to black-and-white before you push the button. And it's hard to do that if you're capturing in color. When you're shooting with black-and-white film – or a monochromatic rangefinder – you're going to approach photos differently – see things differently, even. You need to be thinking and seeing in black and white and shades of gray. And that's really hard to do when you know you're also capturing a color image. Commitment is critical.
Leica M Monochrom Key Features and Specs:
18-megapixel full-frame (35mm) CMOS sensor with no Bayer Array or anti-aliasing filter
Leica M-lens mount
Sensitivity: ISO 320 to ISO 10,000
2.5-inch 230k-dot color LCD display
RAW histogram display
14-bit uncompressed RAW mode produces 36-megabyte DNG RAW files
In-camera sepia, cold tone and selenium toning effects
2 frames per second max burst
Magnesium alloy chassis with matte black finish and no Leica branding
Although the Leica M Monochrom appears to use the same 18-megapixel full-frame sensor as its color sibling the M9, the sensor has been tweaked and offers significant advantages over the M9 and other cameras – as long as you don't mind being limited to black-and-white. The main difference is the lack of a Bayer Array color filtration system, standard on all digital camera sensors except for Sigma's cameras, which use a 3-layer Foveon sensor. Actually, all digital cameras are black-and-white. The Bayer Array creates a grid of red, green and blue pixels that filter light that reaches the sensor and it's then combined via in-camera processing to make a color image. However, the Bayer Array reduces the effective resolution of the sensor and causes also moiré artifacting. Since the M Monochrom doesn't need to filter for color, all the light collected can be dedicated to B&W shade values. In Leica's words: "As the sensor does not 'see' colors, every pixel records true luminance values – as a result, it delivers 'true' black-and-white images that are significantly sharper than comparable exposures from a camera with a color-sensitive sensor." So even though the M Monochrom has an 18-megapixel sensor, everyone seems to agree that it captures image files that are comparable to a 30-megapixel camera. Leica was also able to get better low light image quality from the M Monochrom, increasing the sensitivity to ISO 10,000, compared to the M9′s top sensitivity of ISO 2500.
Leica Forum M Monochrom Intro / Review Video:
Even if the M Monochrom does live up to Leica's claims – and based on what's being said so far, it does – it's still going to have a very limited market. After all, you can make excellent black-and-white photos from color digital image files or black-and-white film. You don't *have* to spend $8000 to do it. Emphasizing that fact, Luminous Landscape cleverly called the M Monochrom, "a niche product within a niche." Most of the articles I've read so far about the M Monochrom have said that the author can't justify or afford an M Monochrom, even if they do appreciate and even lust after it. And all the camera journalists do appreciate it. There's definitely a place in the photographic world for the M Monochrom. In Engadget's M Monochrom announcement article, Zach Honig says, "Don't be so quick to dismiss this camera — plenty of deep-pocketed photographers have likely been waiting for something just like it." And Richard Butler of dpreview says, "spend some time with the M-M and, in its own reality-impervious way, it begins to make a strange kind of sense. The level of detail the camera captures is nothing short of astonishing and, as we found when shooting the M9, there's a real pleasure to be found in having to think harder about the shots you're taking." And finally, Stan Horaczek of Popular Photography says, "Reactions to the unique new camera, which is incapable of capturing color images, swings wildly (and predictably) on the web from unadulterated lust to pure vitriol. But the fact of the matter is that very close to zero of those internet commenters have actually spent any time shooting with what is an undeniably interesting camera. I have, and I'm a little bit in love."
If you're a photographer who shoots exclusively in black-and-white and you already own Leica M-rangefinder gear or you've got a lot of cash lying around, then the M Monochrom might be perfect for you. Actually, let's be realistic here – even if you already own a Leica rangefinder system, you're still gonna have to hand over $8000 for an M Monochrom and you've got to be really rich for that not to hurt. But people are going to do it. I've got no doubts. And based on what I've read, they're not going to regret it, either.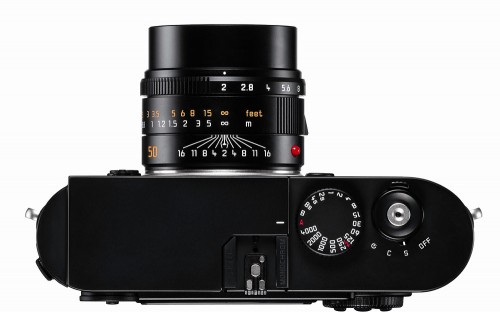 One thing I haven't even gotten into is the M-rangefinder body. The M Monochrom body is pretty much the same as the Leica M9 digital rangefinder. The main difference, besides the fact it doesn't capture any color, is the body is all black, with no red dot or other Leica branding. For those of you who don't know about Leica's legendary M-rangefinders, they are, for the most part, all manual cameras. There are no scene modes and no auto focus. To focus, you look through the rangefinder and turn the focus ring on the lens until the scene is in focus. For exposure, you adjust the aperture ring on the lens and turn the shutter speed dial on top of the camera and watch the light meter inside the viewfinder. If you like to just push a button and let the camera worry about the rest, the Leica rangefinders are not for you. They reward the thoughtful, methodical photographer. Journalists who have used the M Monochrom say exposure with the new camera is touchier than with color digital cameras – if you blow out the highlights there's no bringing them back in post-processing. So between the lack of auto focus and the old fashioned exposure controls, you have to be on your game if you want to take good pictures with the M Monochrom. If the anachronistic controls of the Leica rangefinder don't make sense to you, rest assured, there's a reason for them and they do deliver something special – as do the fabulous Leica lenses. For more insight into the Leica rangefinder mystique, read my article, My Dream Date with the Leica M9.
This was one of the more difficult camera announcements for me and I'm sure I put more time into it than a dedicated black-and-white camera seemingly justifies. That is, if you measure an article's success in terms of standard ROI. But sometimes that's the way it goes. There's a lot more to the M Monochrom than you might think at first glance and it deserves a real thoughtful look. The fact that this camera is even going to see the light of day says a lot about Leica and how much they care about doing something right and well instead of doing the safe and obvious thing. Yeah, the M Monochrom is out of reach of most of us. But like the M9, people who understand it, respect it – even if they can't afford it. And that's not always true of niche products.
If you're one of the few with the funds and desire to commit to a black-and-white, all manual camera, then you should be able to buy a Leica M Monochrom in late July. The suggested retail price is US $7,950 or €6,800, in Europe. That price includes Adobe Lightroom 4 and Nik Silver Efex Pro 2 black-and-white image editing software. Knowing Leica, there will be limited availability so it would be prudent to get your pre-order in now if you want one for black-and-white summer travel and street photos.
Leica M Monochrom Press Release >>
All Leica Camera User Reviews
All Digital Camera User Reviews
Digital Cameras Forum
More Leica News
Leica Web Site