There's a new wide-angle lens for the Leica S medium format digital SLR, one of the most lust-worthy cameras on the market right now. If you don't get a little tingle in your loins at the mention of the massive 37-megapixel Leica S, something is wrong with you. But we were talking about the new lens, right? The new Leica Elmarit-S 45mm f/2.8 Asph is a medium wide-angle prime lens, available with our without a leaf shutter. The 45mm focal length is comparable to a 36mm lens on a 35mm / full-format camera.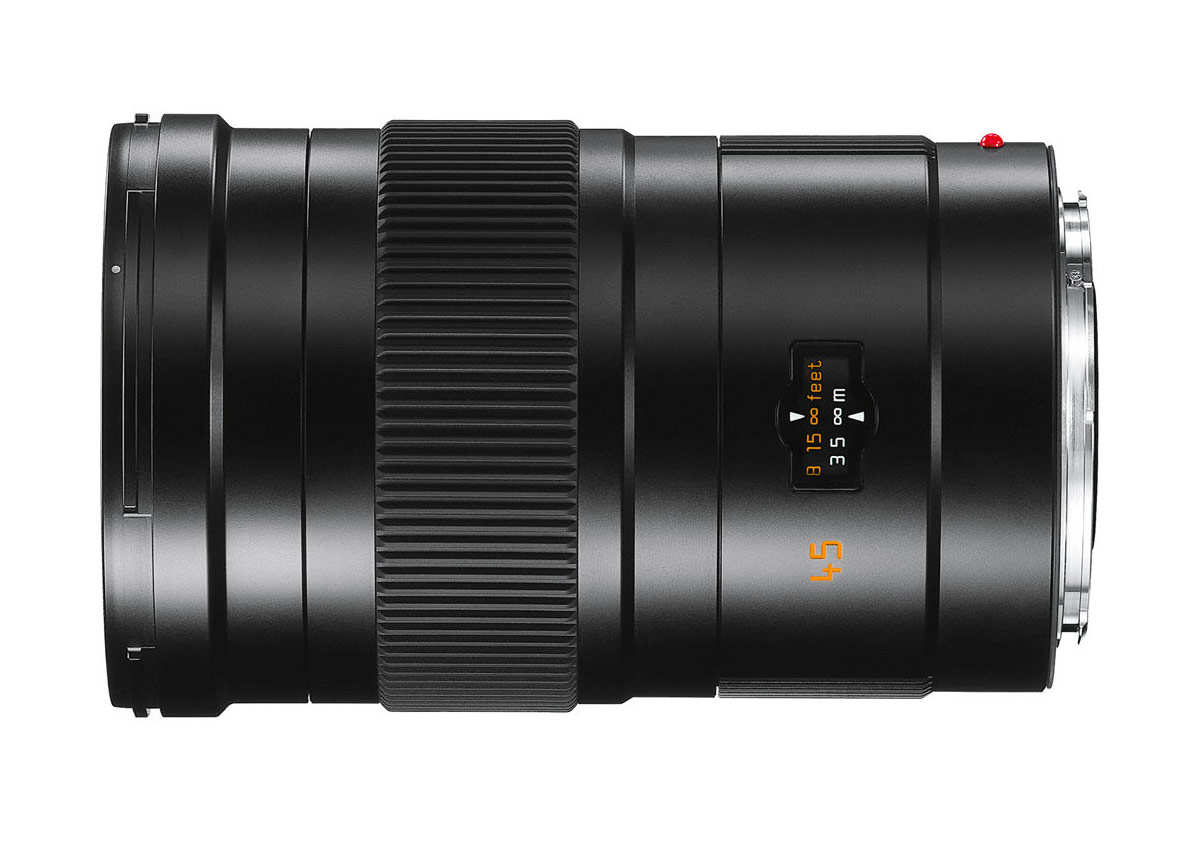 Leica Elmarit-S 45mm f/2.8 Asph Lens Key Features and Specs:
Focal length: 45mm
35mm / full-frame focal length equivalent: aproximately 36mm
Available with or without leaf shutter
Flash sync speed: 1/125th second or 1/1000th second with "CS" leaf shutter version
12 elements with one aspherical element
Aperture range: f/2.8 to f/22
Minimum focus distance: 2 feet / 0.6m
Filter size: 82mm
Sealed against weather and dust
Comes with lens hood and lens pouch
One thing that makes the Leica S system special, beside Leica optics and huge sensor, is the availability of leaf shutters, or what Leica calls an "integrated central shutter." A leaf shutter is located in the lens, instead of in the camera. Technically, it's actually using the aperture as a shutter. The benefit is flash sync at any speed, a feature that's invaluable for portrait, fashion and sports photographers – or anyone else who needs high-speed flash sync. While modern flashes and radio slaves do offer high-speed flash sync, they limit flash distance and they're complicated to set up and manage. With a leaf shutter, you just set your shutter speed and press the shutter release. It's dead simple. Like I said, Leica's new 45mm f/2.8 lens is available either with or without a leaf shutter. Without the leaf shutter, the lens has a flash sync speed of 1/125th of a second – pretty slow. With the leaf shutter, the listed flash sync is 1/1000th of a second – that's fast enough to freeze all but the very fastest subjects. The leaf shutter lens will set you back over $1000 more than the standard version, though. Yeah, you read that right. The standard Leica Elmarit-S 45mm f/2.8 Asph lens price is US $6350. The "CS" version of the lens, with a leaf shutter, brings the price up to $7450. But if you own the $22,000 Leica S body, you probably aren't worried about the extra $1100 for a leaf shutter lens.
There's also has a new firmware update for the Leica S, to make sure camera and lens behave well together. Besides ensuring "optimum functionality" of the lens, the firmware update also improves tethered shooting, flash sync performance, LCD display color, and adds new user settings for bracketing and the self-timer.
The official Leica press release doesn't say anything about pricing or availability for the Elmarit-S 45mm f/2.8 lens. However, the lenses (with and without leaf shutter) are listed on the B&H Web site, with a 7-14 day ship time. That's where I got the prices, too.
Related Content:
All Leica Camera User Reviews
All Digital Camera User Reviews
Digital Cameras Forum
More Leica News
Leica Web Site