Leica has announced a new 12-megapixel, 24x superzoom digital camera. The Leica V-Lux 3 has a 1/2.3-inch CMOS sensor, full HD video, a 25-600mm equivalent zoom lens, a full range of exposure modes, RAW shooting and a 3-inch tilt-swivel LCD display. The V-Lux 3 is also fast. It has a maximum burst rate of 12 frames per second at full resolution and it can capture video at 60 frames per second so you can get sweet slow-motion footage of your friend face-planting at the snowboard terrain park. Superzooms like the V-Lux 3 are a great camera option for someone who wants a long zoom lens and the control of a digital SLR without the hassle of carrying a bulky camera system.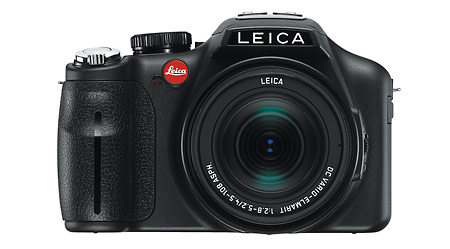 Leica V-Lux 3 Key Features and Specs:
24x 25–600mm (equiv.) f/2.8-5.2 Leica DC Vario-Elmarit zoom lens
12-megapixel 1/2.33-inch CMOS sensor
1920 x 1080 AVCHD full HD video with 60 frames per second slow motion and stereo sound
3-inch 460k-dot tilt-swivel LCD display
12 frames-per-second burst at full resolution
Sensitivity: ISO 100 to 3200
RAW mode
P, A, S, M shooting modes
Any time you talk about Leica you have to talk about price. With the exception of the Leica X1, Leica compact digital cameras are all tweaked versions of Panasonic Lumix cameras. The new V-Lux 3 is Leica's rebadged version of the Panasonic Lumix FZ150 and the $949 suggested retail price is about twice that of the Panasonic. Leica really wants you to know that it's not the exact same camera, though. The Leica compact cameras have a different menu interface and they tune the JPEG processing to their own standards. The implication is that the Leica models have better JPEG image quality. I've compared a couple of the Leica and Panasonic cameras, most-recently the Leica V-Lux 30 and the Panasonic Lumix ZS10 pocket superzooms. With those two cameras I couldn't see a clear image quality difference. However, a few years ago I compared the Leica D-Lux 3 and the Panasonic Lumix LX2 premium digital cameras and did think the Leica JPEG image quality was better. The new V-Lux 3 has a very large sensor for a compact camera – bigger even than the Nikon Coolpix P7100 and Canon PowerShot G12. For that reason I think it might very well have an image quality edge over the Panasonic FZ150. This is for JPEG images only, of course. In RAW mode, where the data comes right off the sensor, both cameras should be exactly the same.
The possibility of better image quality and a sweet red dot aren't the only reasons to choose the Leica over the Panasonic. The Leica V-Lux 3 comes with a two year guarantee and Leica also includes Adobe Photoshop Elements and Premiere Elements software, about a $150 value. The V-Lux 3 is an undeniable stretch even with the included software, potentially better image quality and warranty benefits. But I will admit, I always enjoy having the red dot in my hands.
The Leica V-Lux 3 should be available in January of 2012. The suggested retail price is US $949.
Leica V-Lux 3 Press Release >>
All Leica Camera User Reviews
All Digital Camera User Reviews
Digital Cameras Forum
More Leica News
Leica Web Site