The Panasonic Lumix FZ150 is a compact superzoom camera with a 24x 25-600mm (equiv.) zoom lens. One of the things that makes the 12-megapixel FZ150 interesting is that Panasonic actually lowered the resolution compared to the older, 14-megapixel FZ100. Why would they do that? Simple – lower resolution means better image quality. The FZ150 is also faster adding full HD video at 60 frames-per-second for extra smooth movies or slow motion action footage as well as high-speed full-resolution bursts at 12 frames-per-second.

As I said, Panasonic lowered the resolution on the new FZ150 camera. This may seem counter-intuitive to some readers since camera salesmen and advertising usually treat the number of pixels a camera has as the top spec. Unfortunately, resolution is not the ultimate measure of image quality. In fact, increasing the number of pixels on a small compact digital camera sensor often means bigger grain – properly known as "noise." So even though it may seem counterintuitive to people and it's harder to pitch to buyers, the new 12-megapixel MOS sensor in the FZ150 shows that Panasonic is more interested in real performance than camera specs that are easy to sell. Here's a more technical explanation from the official Panasonic Lumix FZ150 press release:

"The 12-megapixel MOS sensor and the Venus Engine excel in image processing in both sensitivity and speed. The combination of these powerful components results in the S/N ratio improvement by 3.9dB (ISO100) to 4.7dB (ISO1600) compared with the predecessor DMC-FZ100. Newly developed Multi-process Noise Reduction applies optimum noise reduction according to the brightness of the part of the picture. Both high frequency noise that occurs in the dark part and low frequency noise in the light part are suppressed even they happen in a picture. As a result, Images recorded in low-lit situations are now dramatically clear."


Panasonic has given the FZ150 a whole bunch of features that will make it useful to both experienced photographers and total beginners who want a powerful compact camera that can deliver in all kinds of situations. Besides the new sensor, the 25-600mm zoom lens features Panasonic's new Nano Surface Coating technology, for sharper, more contrasty images. The camera also has Panasonic's excellent Intelligent Auto (iA) mode; the My Color mode adds effect modes like Retro, Sepia, Miniature Effect, Film Grain and Pin Hole; and for more experienced photographers the FZ150 has manual exposure controls for stills as well as movies. The FZ150 even has a 3D photo mode that can be displayed on compatible Panasonic VIERA HDTV sets and other devices that support the MPO 3D format.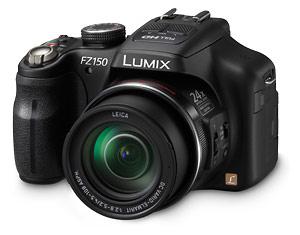 The new Panasonic Lumiz FZ150 compact superzoom camera should be available late this month (September 2011). The suggested retail price is $499.99.
Panasonic Lumix DMC-FZ1500 Press Release >>
Related Content:
All Panasonic Digital Camera User Reviews
All Digital Camera User Reviews
Digital Cameras Forum
More Panasonic Camera News
Panasonic Digital Cameras Web Site