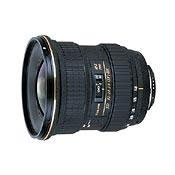 Reviews by community members are the foundation of PhotographyREVIEW.com. Share your experience with other photographers by writing reviews for your cameras and other photo gear. You don't have to be an expert – everyone's opinion counts.
---
Featured Review: Tokina AT-X 124 AF PRO DX 12-24mm f/4 Zoom Lens
by sfpeter ( Intermediate)
Price Paid: $400.00 from Online
Review Date: June 20, 2009
Used product for: More than 1 year

Overall Rating: 5 of 5
Value Rating: 4 of 5

Summary:
The 12-24mm Tokina is an ultrawide angle lens intended for DX sensor format cameras. It gets the job done, although it's not perfect. (Mine's is for a Nikon.)
The build quality is good, and reliability wise I've had no problems in 3 years of service.
Ultra-wides are a unique class of lenses that tend to be neglected in all the rush to see who's got the biggest zoom. A lot of people also don't know how to best use them, as too commonly someone gets one and the first picture they take is outside in the open, which looks no different than any other lens.
These are best for when you can't get far enough away from a subject with a normal lens, most recently I used it at a car show where I simply couldn't get more than 3-4 feet away from the cars without being stuck in the passing crowd.
These are also used for bringing your viewers right into the picture, such as standing in the doorway of a room and capturing all of it in one shot.
Strengths:
at F4 (constant) it's reasonably fast.
Allows pictures to be taken that simply could not be done otherwise.
Nice color rendition, contrast doesn't seem noticeably different from my other DX lenses.
Autofocus is acceptably fast, but see below.
Zoom scale is evenly and widely spaced, this is good compared to some lenses where the scale is crunched up on one end and spread out on the other, and makes controlling your framing easier.
Manual focus is easy to engage and use.
Sturdy metal construction.
Light falloff in the corners does not appear to be an issue.
Weaknesses:
As with all ultrawides using the sun hood is required, and it is a very big lens.
Distortion is also an issue, which is common to ultrawides.
The autofocus is a screw drive, so cameras lacking an internal focus motor (D40) are out of luck.
No aperture ring for manual work.
Past about 14mm the lens distorts severely in the corners, how badly this effects your shot depends on the subject, crowds of people at 12mm will have the ones in the corner look like a funhouse.
This is a DX lens, using it on a full frame camera (FX, such as the D700) will result in vignetting past about 18mm, and at 12mm it's like looking down a tube.
Similar Products Used:
Upwards of 40 Nikon, Tokina, Tamron, and Russian lenses.
Customer Service:
Haven't used.
Related Content:
All Tokina Zoom Lens User Reviews
All Tokina Camera And Lens User Reviews
Digital SLR Forum
All Featured User Reviews
All Tokina News & Articles
Tokina Web Site