Earlier this week Adobe announced they're moving all of their Creative Suite software products, including Photoshop, to a subscription-only, $50 a month, cloud-based service called Adobe Creative Cloud. Although there are some powerful new features in Photoshop CC, the news was not received well by the photography community. Part of that was because of misunderstanding and misinformation in online photography forums. But there are also legitimate concerns about how Creative Cloud changes the way we use Adobe's products – as well as the bigger question about the future of software. Are cloud-based subscriptions the way all software will be accessed in the future? And is the cloud-based subscription model good or bad for the consumer?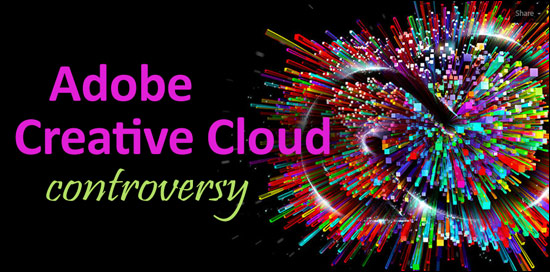 Before we move on to discussing the Creative Cloud controversy, let's go over some of the important new features Adobe has added to Photoshop CC. There's an impressive new Camera Shake Reduction tool, improved image enlargement, and Smart Sharpen, which offers more sophisticated sharpening along with noise reduction controls. As cool as those new features are, I think the most important changes are the new Camera Raw improvements. You can now apply Camera Raw edits as filters, within Photoshop, instead of just when you open a RAW image. And you can do this with any kind of file – even videos. Adobe has also integrated some of the new Lightroom 5 Beta features into Camera Raw. These include the Upright perspective correction tool, Advanced Healing brush, and the Radial Gradient Filter. Since they're part of Camera Raw, each of those new tools can be applied to Photoshop layers as filters. That makes layers – the most important part of Photoshop, in my opinion – even more powerful and important than they already were. I've included some Adobe demo videos below that show the new Photoshop CC features in more detail.
Adobe Photoshop CC Overview Video:
Adobe Photoshop CC Camera Raw Demo Video:
Adobe Photoshop CC Camera Shake Reduction Demo Video:
Adobe Photoshop CC Smart Sharpen Demo Video:
Now let's get to the Creative Cloud controversy. Most of the Internet seems to be outraged that Adobe is moving to a subscription-only software model. Personally, I'm not sure how I feel about Adobe CC yet. I've been sitting back, monitoring the online articles and discussion, and basically waiting for the dust to settle. One thing is a given: Creative Cloud will change things for those of us who use Photoshop and other Adobe software. We'll no longer be able to save money by buying every other version of Photoshop, which is what I've been doing for the past few years. I always upgrade Lightroom because I need the latest RAW support for camera testing. But I don't always need the latest version of Photoshop. However, with Creative Cloud, it's pay up now and keep paying or you can't use Photoshop, anymore. On the positive side, at $20 a month (for Photoshop CC only), you get every Photoshop upgrade without having to pay hundreds of dollars upfront; and based on past pricing, Photoshop CC will cost about $150 less than the past few versions. Plus, if you use more than one of Adobe's Creative Cloud applications, the $50 a month CC subscription should be an even better deal. For me, it would mean I end up paying a lot less to use Photoshop, Lightroom, Dreamweaver, Premiere Pro and Illustrator. As standalone applications, those would end up costing me well over $2000. Or I'd pay $1500 for the complete Adobe Creative Suite package. At $50 a month, I'm only going to pay $600 a year – a much better deal than either of my previous options. Plus, I get upgrades and software patches automatically, ensuring my software is always up to date.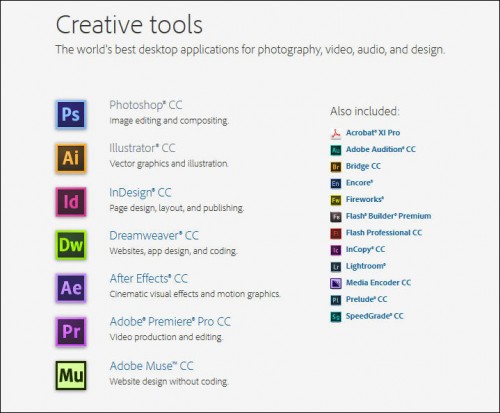 I think professionals who do the math and work out the actual pricing of Creative Cloud will find it's actually pretty cost effective – better than the old model, even. The people who will be most affected are enthusiast photographers who upgrade their software sporadically. That just won't be possible anymore. On the other hand, it seems like most photographers these days, especially younger ones who started with it, find Lightroom meets all their digital photo processing needs. And I expect the new subscription service will push even more photographers in that direction. Although Lightroom is part of Creative Cloud, it looks like Adobe will continue to sell it as a standalone "perpetual-license" product. So the new Creative Cloud system shouldn't affect anyone using Lightroom – for the moment, anyway.
Ultimately, I think the biggest concern with Adobe's Creative Cloud subscription service is what happens if you don't pay the bill. Will you end up with .PSD and .TIFF files that you can't use? By using Photoshop CC once, are you committing to using it forever if you want to continue to access your files? Is there a middle ground, in case you decide you want to opt out or you find some other software you like better? It's scary to think about not being able to access my thousands and thousands of photo files just because I can't or decide not to pay my Adobe bill.
I understand why so many people are unhappy with the Adobe's Creative Cloud announcement and I don't disagree with their concerns. However, I think software is going to move to cloud-based subscriptions whether we like it or not. It makes piracy more difficult and costs less for the developers. As long as we the consumers gain something as well, I think it's a fair trade. I do expect there to be a somewhat uncomfortable transition with a few hiccups, though. I'm really curious to see what will happen when professional photographers who've been using Photoshop for years decide they're through. What are they going to do with their layered .PSD and .TIFF files? Will there be a middle ground for them or will they be SOL?
Since I believe I'm probably in the minority in my attitude towards the Adobe Creative Cloud service, I look forward to your comments. I'm sure there are issues I haven't thought of as well. Please share your thoughts with us, below. Your experience and opinions will make this a more useful article for everyone.
Adobe Creative Cloud Announcement >>
Related Content:
All Adobe Photo Software User Reviews
Photography Software Forum
All Adobe Photography Software News
Adobe Web Site