A Scene from Photographyreview.com and the Holy Grail (with apologies to Monty Python)
Pixelpeeper: Stop! Who would photograph the Bridge of Death must answer me these questions three, ere the RGB files he see…
Laurencelot: Ask me the questions Pixelpeeper, I am not afraid!
Pixelpeeper: What…is your name?
Laurencelot: My name is Sir Laurencelot of Chimpsalot.
Pixelpeeper: What…is your quest?
Laurencelot: To seek the Holy Grail.
Pixelpeeper: What…is the pixel count of a 12 MP APS-C imaging sensor?
—————————————————————————————-
Well, you can finish the ending of that scene as you wish. ("And make it a nice one.")
My definition of digital photography's Holy Grail: It's a compact digicam that rivals the quality and functionality of a digital SLR. In short, it's the perfect camera: fast and consistent AF, fast shot-to-shot, fast lens, wide zoom at least 28mm, customizable color, clean and detailed files up to ISO 800, and of course, RAW format. I left some things out like excellent controls and ergonomics, but given the history of digital cameras all this is probably too much to ask for anyway.
Since the early days of Canon's G-series compact cameras, I have been on the quest (read: waiting) for the holy grail. It always seemed like it was just around the corner, but then it was not. The G-series had some standouts, but never fully lived up to its potential in my opinion. Nikon teased us but like Canon, they took RAW away too. Could the 2007 Powershot G9 finally be the camera to save Chimpsalot? Not based on the criteria I set out above, but for all intents and purposes the Powershot G9 may perhaps come close enough for most folks.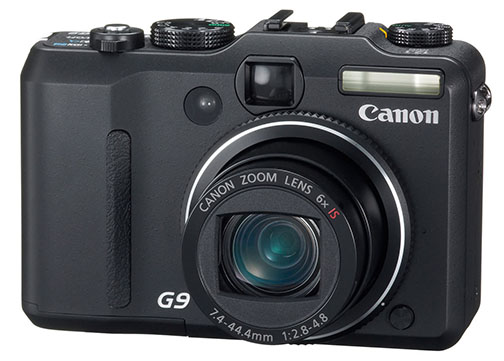 Canon's announcement of the Powershot G9 is getting a lot of attention for one big reason: The return of the RAW file format. That alone is probably going to sell this camera. The price point at US$500 shouldn't hurt either. And Canon's improving image quality in compact cameras (as seen with the SD800 and SD850) holds additional promise. Otherwise, the G9 appears to be an evolutionary step up from the G7 which it replaces. In fact if RAW format isn't important to you, there are plenty of other camera options out there. I like the flexibility that RAW offers so here's what I think we might expect from production G9 units.
The camera body design is basically the same as the G7. People miss the vari-angle LCD of G-series cameras past, but the new 3-inch, 230,000 pixel monitor is also found on the EOS 40D and EOS 1D Mark III digital SLRs. The grip is the same as the G7, and the controls on the back are essentially the same as well. Finally, the lens is the same 35mm-210mm (equivalent) f/2.8-f/4.8 6x zoom which means at 210mm you'll likely be nudging up the ISO setting to get hand-holdable shutter speeds (even with image stabilization). For some reason Canon opted to move away from the G6's fast f/2-f/3 lens. I'd trade the 210mm reach for a 28mm-135mm f/2-f/3 any day–it's much more practical.
Image quality of the Canon G9 of course remains to be seen, but you can find what are supposedly production Canon G9 JPEG image samples online. Remember that at least in theory RAW files processed properly will look superior to in-camera JPEGs. Based on the JPEGs I downloaded and examined, the JPEG files appear to strike a reasonable balance between detail smearing noise reduction and contrast edge sharpening. On the whole, the JPEGs were flat and desaturated, and exhibited the usual grey digital patina that is removed by increasing contrast or by intelligent use of Photoshop Lightroom's clarity and vibrance tools. In other words, they look to have potential. Some more of my pixel-peeping observations:
Color and Contrast – Canon files have a reputation for being a little flat while also exhibiting a slightly red to magenta color cast. The G9 is no exception but I find that in good light, the color cast is not too objectionable. In tungsten light, well, it depends but generally it isn't Canon's finest hour. To be fair, tungsten is difficult for a lot of cameras. What I do like in what I've seen is that a lot of subtle color variation is captured across the board, and every file examined had a range of color that I found generally to be acceptable (and much more pleasing after post processing). Even better is what seems to be a wider dynamic range with more detail in the shadows and a less muddy appearance. Presumably the Picture Styles can be modified to suit one's taste and thereby minimize the post processing.
Overall Detail – At first blush, the detail strikes you as extremely good, especially at lower ISOs and with the lens at wide angle. But there is a tinge of that oversharpened, almost pastel crayon-like color around many contrast edges. The effect is as if you ran the photo through your noise-reduction software with the strength set just a little too high. Thus, I can easily imagine the G9's JPEG files looking excellent with the sharpening dialed down. There also seems to be a very slight halo around all contrast edges–this is very subtle but to my eye, it's as if the entire image has this odd oversharpened texture or glow.
Fine Detail – For some subjects it appears to be excellent at low ISOs, wide angles, and under adequate light. On the other hand, very fine detail such as hair or eyelashes appear to be smeared and soft depending on the light and contrast. It's definitely not as crisp as my Panasonic LX-1 with Leica glass. Ideally, you would want to see sharp images from the G9 at 210mm telephoto, especially with the sample people shots since most of the subjects are relatively close to the lens. Unfortunately the samples are not as crisp as one might expect (despite what appears to be an adequate shutter speed for the situation).
Overall Noise – Given the camera's 12 MP compact sensor, it's no surprise to find some digital noise even at ISO 80. But overall I'm optimistic about what this camera can do. I did not see blocked up shadows and blotchy globs of "continuous" tone. I saw about average pitting at ISO 400. In fact the lack of noise at low ISOs is excellent and might perhaps be up there with the best considering the sensor's pixel count.
Highlights – To my eye they look better than some recent models but not much better or different from Canon's current compact cameras. Since Highlight Tone Priority is a new feature this year on the EOS Mark IIIs and the 40D, perhaps we'll see this trickle down someday. My feeling is that some other cameras render highlights better. This is one area where RAW files may make a big difference in image quality.
Keep in mind that these subjective observations are drawn from someone else's JPEG files and we'll have to wait and see how the camera's images actually turn out. Despite my image quality caveats above, my guess is that images from this camera will please most consumers and prints from this camera should be excellent for most subjects. When the production units arrive, the things I'd hone in on are:
Fine details (like hair) as captured over the entire lens zoom range
Realism and smoothness of highlights and other tonal gradients
RAW format conversions for improvements over the JPEGs
Auto white balance capability indoors under tungsten light
High ISO captures, JPEG vs. RAW
Picture Styles
AF speed and shutter lag
Shot-to-shot speed, especially for RAW capture
What about the competition? At PMA 2007 in Vegas last March, there were a few cameras that aspired to be worthy, but I thought they fell short in one or more critical areas. This isn't to say they are bad cameras! Indeed, there are quite a few cameras that do many things well but that aren't outstanding overall. My current favorite is hated by many yet it does what I want and it does it well. Let's face it, it's hard to build the perfect camera.
For now the Canon Powershot G9 may get us a step closer to the perfect compact camera but whether or not it achieves legendary status remains to be seen. Personally, I applaud the return of RAW files, but I find the zoom lens to be a drawback (not wide enough, not fast enough). And despite the pixel-peeping details, my guess is that the G9 will be a successful offering; a balanced mix of features and image quality that will satisfy, if imperfectly.
In the meantime, the quest for "the grrrrahill" continues. Right! Off you go…
Related Content:
Canon PowerShot G9 Reviews >>
All Canon Camera and Equipment Reviews >>
Canon Cameras Forum >>
Canon Cameras and History Page >>
Canon Web Site >>