Photography Bay just posted a short hands-on Canon EF 200-400mm f/4L zoom lens teaser. The lens made a big splash when it was officially announced in early 2011 but hasn't reached stores yet and isn't even listed on the Canon USA Web site right now. Lucky for us, professional photographer Jeff Cable is shooting at the London Olympics with a loaner Canon 200-400mm f/4L zoom and he shared a sample photo and his thoughts on the lens with Photography Bay. He's pretty excited about it and for good reason. The Canon EF 200-400mm f/4L zoom has a unique built-in 1.4x tele-converter that allows you to switch between the standard 200-400mm zoom range and 280-560mm, without having to remove the lens. Sounds like the ultimate sports zoom lens to me.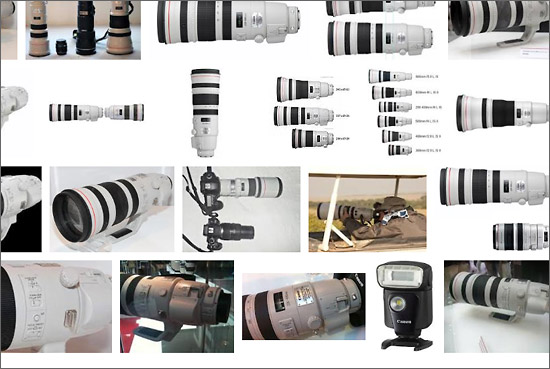 Canon USA hasn't posted any official photos of the 200-400mm f/4L and I'm not going to pinch any from anyone else. However, there are lots of photos of the lens on the Web, which you can find with a quick Google search. The photo above is a screenshot of the Google Images "Canon 200-400m" search results page. Click on the photo to go to that page and browse photos of the Canon EF 200-400mm f/4L lens.
The Canon 200-400mm f/4L is my new telephoto dream zoom. As far as I know, no price has been announced yet but initial speculation was that it would sell for around US $7500 – way out of my price range. However, I can't help but think about using it on my own EOS 7D. With the 7D's 1.6x APS-C sensor conversion factor I'd have a zoom range of 320mm to 900mm with a maximum aperture of f/5.6! I think I might have to get a loaner this fall when I shoot the Red Bull Rampage mountain bike freeride competition in Southern Utah. There's no such thing as too much zoom at that event.
To read more about Jeff Cable's experience with the Canon EF 200-400mm f/4L zoom lens, here's the Photography Bay article:
Photography Bay Canon 200-400mm f/4L Zoom Lens Report >>
And here's our own Canon EF 200-400mm f/4L zoom lens announcement article, published in February of 2011, when the lens was announced:
Canon 200-400mm f/4L Zoom Lens Announcement >>
Like I said, the Canon EF 200-400mm f/4L superzoom lens isn't available yet. But since it's in use at the Olympics, Canon must be close to releasing it. We'll let you know when it's officially available. And I'm not kidding about getting one for review. It looks like the perfect lens for some of the outdoor action sports I shoot – even if it's well out of my financial reach.

Related Content:
All Canon Reviews
All Lens Reviews
All Digital SLR Reviews
Canon Cameras Forum
Digital SLR Forum
All Canon Camera News And Articles
Canon Cameras Web Site