Canon announced a batch of new DSLR gear on Wednesday, including the new EOS 60D digital SLR and a new L-grade compact super zoom, the EF 70-300mm f/4.5-5.6L IS USM. There are lots of 70-300mm zoom lenses on the market but most are consumer zooms with an emphasis on price over quality. A compact, packable, pro-quality Canon 70-300mm superzoom lens should appeal to professional travel photographers, outdoor photographers and photojournalists.

Of the four new lenses Canon just announced, I think the new 70-300mm L zoom offers the most for me, an outdoor photographer. Size is one of the key factors as the 70-300mm focal length exists for portability and versatility – otherwise we'd all be shooting with huge prime lenses. At 5.6 inches (14.2 cm) long and 3 inches (7.6 cm) wide, the new Canon 70-300mm f/4.5-5.6L IS zoom is about half the length and approximately the same girth as the 70-200 f/2.8L. That's bigger than consumer 70-300mm lenses, but remember – this is an L lens so it has a better build, better optics and it's weather sealed. It also has Canon's latest image stabilization so you can shoot up to four stops slower without blur from camera shake. It would be nice if the aperture were f/3.5 instead of f/4.5 but I'm sure Canon made that decision to keep the lens smaller. That is more than one stop, though.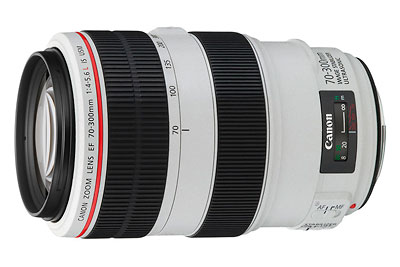 Working pros who need a (relatively) compact, lightweight pro-quality super-telephoto should be excited about this lens. As an action sports photographer who routinely carries serious camera gear into the backcountry, I'd love to try the new 70-300mm f/4.5-5.6L IS lens. Any way I can lighten the load without compromising quality too much is a big deal for me. And the 300mm focal length is great for all kinds of outdoor photography, including wildlife, landscape and ski photos – one of my addictions.
Projected price on the new Canon 70-300mm f/4.5-5.6L IS zoom lens is $1500 and it should be in stores around the end of October – just in time for the beginning of ski season!

Related Content:
All Canon Reviews
Canon Zoom Lens User Reviews
Canon Prime Lens User Reviews
All Lens User Reviews
Canon Cameras Forum
All Canon Camera News And Articles
Canon Cameras Web Site