Canon introduced a surprising new high-end compact camera today, the 14.3-megapixel PowerShot G1 X. I've been criticizing Canon's high-end G-Series compact cameras for the past couple of years. I believe that with the current interchangeable lens camera options out there, a camera the size of the Canon G12 should have better image quality and changeable lenses. But I am not going to criticize the 2012 model. The new Canon PowerShot G1 X is a big departure from previous G-Series compacts in that it has a huge (for a compact camera) 1.5-inch 14.3-megapixel CMOS sensor. That's a new sensor format that's over 6 times larger than the 1/1.7-inch G12 sensor and larger than the Four Thirds sensors used in the Panasonic Lumix G and Olympus Pen Micro Four Thirds compact system cameras. More sensor real estate almost always means better image quality and Canon claims the new G1 X sensor is, "delivering approximately nine times more light sensitivity and helping to produce amazing depth-of-field and high-quality images in tough low-light conditions."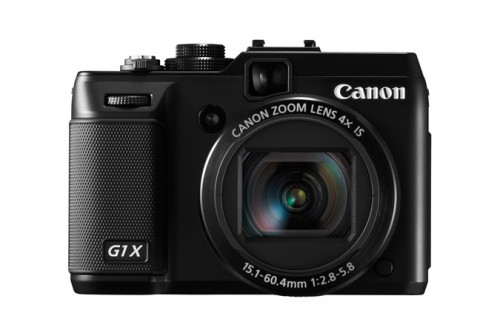 The new 1.5-inch CMOS sensor is the star of this show but the G1 X also uses Canon's top-end DIGIC 5 image processor and HS system for even better low light image quality. The lens is a 4x 28-112mm (equivalent) f/2.8-5.8 optical zoom and the camera also has full HD video, an optical viewfinder, flash hot shoe, a 3-inch 922k-dot tilt-swivel LCD display and a front dial for digital SLR-like manual exposure control. It also has a full range of exposure controls and 14-bit RAW+JPEG shooting. One tradeoff of the new, larger sensor is the camera is a bit larger – about a quarter-inch taller, half-an-inch thicker and slightly taller. It's also about a quarter-pound heavier. But that's a small price to pay for what will definitely be seriously improved image quality.
The bottom line here is that the new sensor puts the Canon G-Series into a new class of cameras. The G1 X competes with high-end compact mirrorless cameras like the Sony NEX, Samsung NX, Olympus Pen, Panasonic Lumix G and the Fujifilm X100, not point-and-shoot cameras. With a sensor that's larger than those in the Olympus and Panasonic Micro Four Thirds cameras, I'd bet good money that the G1 X will have better image quality than those cameras. No, you can't change the lens but there is a tele-converter available and I don't think Canon would put a crappy lens on a camera of this caliber. The new sensor also opens the door for Canon to introduce an interchangeable lens compact system camera powered by the new 1.5-inch sensor. That would be the logical thing for them to do, in my opinion. If the image quality is as good as they're saying, I think that would be a very, very successful camera.
Here's a video intro of the G1 X from the Canon Europe Web site:
The Canon PowerShot G1 X is making its public debut at the CES tradeshow in Las Vegas this week and it's sure to be a big hit with photographers, gadget geeks and the general public. I'm really pleased to see Canon moving their G-Series back into the leading position where it belongs. The G1 X should be in stores in February (2012) and the suggested retail price is $799.99.
Canon PowerShot G1 X Press Release >>
Related Content:
All Canon User Reviews
All Digital Camera User Reviews
Canon Cameras Forum
Digital Cameras Forum
Canon News, Reviews & Articles
Canon Web Site