For the last few years choosing a Camera of the Year was pretty easy for me. But I was very conflicted about the 2012 Camera of the Year. I knew which cameras were in the running but I had a tough time picking out the one camera that was most deserving. The people have spoken though, and I agree with them. Based on my own hands-on experience and our reader's choice poll, the PhotographyREVIEW.com 2012 Camera of the Year is…
The Olympus OM-D E-M5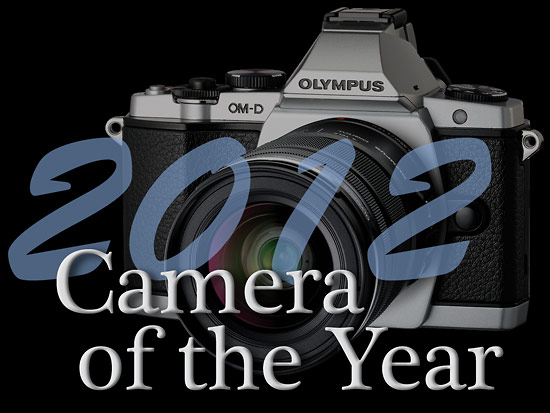 The Olympus OM-D E-M5 is the first compact system camera (a.k.a., "mirrorless") to really deliver on the promise of DSLR performance in a compact package. The excellent 16-megapixel CMOS sensor, built-in electronic viewfinder, 5-axis image stabilization, 3-inch tilting OLED display, 9 frames-per-second high-speed burst and weather-sealed body make it a very real option for serious photographers who want a compact, high-performance interchangeable lens camera. The sexy retro design doesn't hurt, either. Unless you're a professional sports photographer or you need full-frame image quality, the Olympus OM-D will serve you as well or even better than most digital SLRs.
Olympus OM-D E-M5 – 2012 Camera of the Year – Features & Specs:
16.1-megapixel Live MOS Sensor
TruePic VI dual core image processing
1.4-megapixel built-in electronic viewfinder (EVF)
3-inch, tilting touch screen OLED display
5-axis sensor-shift image stabilization compensates for pitch, yaw and roll as well as X and Y axis movement
1920 x 1080 full HD video in .MOV format
Sensitivity: ISO 200 to 25,600
Dust and weather-sealed magnesium alloy body
9 frames per second high-speed burst (with focus locked)
2-axis electronic level
The Olympus OM-D struck a chord with photographers and tech geeks when it was announced in the spring of 2012 (our Olympus OM-D E-M5 video intro). It was all over gadget Web sites and photography forums – something Olympus hadn't achieved with their smaller, more affordable Pen mirrorless system cameras. With the OM-D, Olympus found the perfect combination of style, size and performance. Suddenly, photographers of all kinds were thinking about either replacing or complimenting their DSLRs with an Olympus OM-D. Everyone wanted one. In fact, the OM-D was in such high demand for a while that it was pretty much impossible to buy one without putting your name on a wait list. The only reason I don't own one is every time I decided to buy one, no one had them in stock.
The Olympus OM-D E-M5 isn't the be-all end-all of cameras. Digital SLRs still have larger sensors that deliver better image quality and the OM-D's continuous auto focus performance isn't up to par yet. But the Olympus OM-D E-M5 is the first mirrorless camera to strike a really compelling balance between mirrorless portability and DSLR performance. It was also the first mirrorless camera that everyone wanted to own. Even Canon and Nikon DSLR loyalists wanted to add an OM-D to their camera bag. If I could have any camera I wanted for travel and mountain biking, the OM-D would be it. There's no doubt about it – the Olympus OM-D E-M5 has to be the 2012 PhotographyREVIEW.com Camera of the Year.
In no particular order, our other serious Camera of the Year contenders were the Nikon D800, for putting medium format resolution in a DSLR; the Sony Alpha SLT-A99, for being the first full-frame DSLR-style camera with an electronic viewfinder; and the Sony RX1 – the world's first compact digital camera with a full-frame sensor. These are my own editorial choices, not the community picks. Our members' choice Camera of the Year results were a little different – especially regarding the Sony cameras. However, the community did overwhelmingly vote the Olympus OM-D E-M5 their number one camera, followed by the Nikon D800 in a distant second place. If you want to know more about all the cameras in the Members' Choice poll or you'd like to vote yourself, you can do so, here.
Please add your comments below. Do you agree with my Camera of the Year choice? If not, tell us what camera you think should have been the 2012 Camera of the Year.
Olympus OM-D E-M5 Video Intro >>