There's a new super-fast prime lens for mirrorless shooters. The Handevision Ibelux 40mm f/0.85 (yeah, you read that right – f/0.85) is the product of a partnership between Chinese manufacturer Shanghai Transvision and German optical design firm, IB/E Optics. The press release calls the Ibelux 40mm f/0.85, "the fastest lens in the world." There are faster specialized custom lenses but the Ibelux 40mm is about half a stop faster than Leica's revered f/1.0 Noctilux, making it the fastest "serial production" lens available.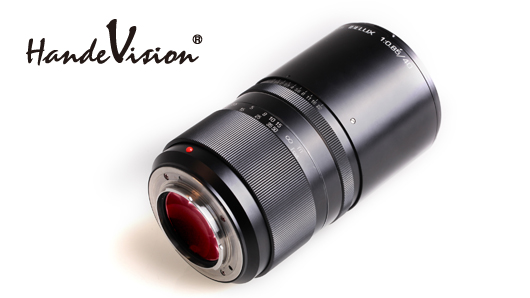 Handevision Ibelux 40mm f/0.85 Lens Key Features And Specs:
Equivalent focal length: 60mm on APS-C sensor cameras / 80mm on Micro Four Thirds cameras
Aperture range: f/0.85 to f/22
Minimum focus distance: 0.75m / 2.5 feet inches
Aperture construction: 10 blades
Lens Construction: 10 elements in 8 groups
Filter size: 67mm
Weight: 1150g / 2.5 lb
Dimensions: 125 x 74mm / 5 x 2.9 in.
No doubt, there's going to be a lot of excitement about the Ibelux 40mm f/0.85 lens. The 40mm focal length will be equivalent to 80mm on a Micro Four Thirds camera, and 60mm on APS-C sensor mirrorless cameras like Sony's NEX bodies. With the huge f/0.85 10-bladed circular aperture it's going to be very popular with portrait photographers and people who do a lot of low light shooting. According to the press release the f/0.85 aperture will have a look comparable to an f/1.2 aperture lens on a full-frame camera, with a sweet spot at f/5.6.
Designed specifically for digital sensors, the Ibelux 40mm f/0.85 has 10 elements in 8 groups with a unique concave front optic. Handevision allowed some vignetting at the maximum aperture in order to keep the lens at a reasonable size and weight. However, at nearly 3-inches in diameter, 5 inches long and 2.5 pounds, it's neither small nor light when compared to other mirrorless camera lenses. On the other hand, there isn't another mirrorless lens with an f/0.85 aperture.
In keeping with the premium design aesthetic, the Ibelux has an all-metal construction consisting of anodized aluminum with stainless steel and brass for the mechanical bits. The aperture ring and manual focus will appeal to traditional photographers who aren't interested in auto focus.
Handevision says they have other lenses in development, including an "Ibegon" wide-angle as well as a high-speed telephoto mirror lens they call the "Ibecat," designed specifically for the new Sony A7 and A7R full-frame mirrorless cameras.
The Handevision Ibelux 40mm f/0.85 will be available in late February, 2014 for Olympus and Panasonic Micro Four Thirds, Sony NEX, Canon EOS M and Fujifilm X-mount mirrorless cameras. The projected retail price for the Ibelux 40mm f/0.85 lens is US $2,080.
Handevision Ibelux 40mm f/0.85 Press Release >>

Related Content:
Mirrorless Camera Lens User Reviews
Mirrorless Cameras Forum
All Mirrorless Camera News And Articles
All Lens News And Articles