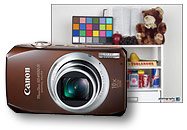 Below you'll find full resolution studio tests of the new Canon PowerShot SD4500 IS pocket superzoom camera at all ISO settings. The SD4500 IS uses a 10-megapixel Canon "HS System" CMOS sensor for better low light performance (as well as 1080p HD video). The Canon PowerShot G12 and S95 are also HS System cameras but they use standard CCD sensors instead of a CMOS like the SD4500 IS. The SD4500 IS doesn't have RAW shooting like the G12 and S95, though. So these samples were all shot in the "Fine" JPEG mode.

All of the Canon PowerShot SD4500 IS sample photos were shot at maximum quality and full resolution using the camera's tungsten white balance preset. They haven't been adjusted in any way. The logo, graybar and text were added in Photoshop and the images were then resaved as maximum quality JPEGs. No sharpening or noise reduction has been applied.

Click on the thumbnails below to see the full resolution Canon powerShot SD4500 IS studio sample photos.

Other Resources:
Canon PowerShot SD4500 IS Pro Review
Compare Prices For Canon PowerShot SD4500 IS
Canon PowerShot SD4500 IS User Reviews
Write a Canon PowerShot SD4500 IS Review
Canon PowerShot SD4500 IS Camera Specs
Canon PowerShot SD4500 IS Sample Gallery
Canon Cameras Forum
Digital Cameras Forum
All Canon Camera Reviews
Canon Web site
All Digital Camera Pro Reviews
Digital Camera Buyer's Guide
All Digital Camera Studio Sample Photos