Add a new digital camera to the growing list of waterproof and shockproof cameras designed for outdoor enthusiasts. Casio comes out swinging with the world's thinnest waterproof and shockproof digital camera. The 12-megapixel Casio EXILIM EX-G1 can be dropped up to seven feet (2.13 meters) and submerged ten feet (3 meters) underwater. The EX-G1 is the newest member of Casio's rugged "G" line of electronics products, which began in 1983 with the shockproof G-Shock digital watch.

The Casio EX-G1 camera chassis is made of stainless steel with a waterproof inner body made from polycarbonate plastic. The 2.5-inch LCD display is protected by an extra thick acrylic cover with a resin mount for extra shock protection and the memory card door has a special rotating lock to keep out dust and moisture. The 3x zoom lens (38 – 114mm equivalent) has a glass cover and a resin ring around the lens for extra protection. The lens cover has special water-resistant coatings so water drops won't collect on the lens and distort photos when the lens is wet. Besides being waterproof and shockproof the EX-G1 can also handle temperatures as cold as 14 Fahrenheit (-10 C). It's important to note that doesn't mean the camera will work well at those temperatures. Even if the camera can handle the cold, the batteries probably can't. But you could freeze the EX-G1 in a block of ice or drop it in ice water and it should still work fine – once the battery warms up.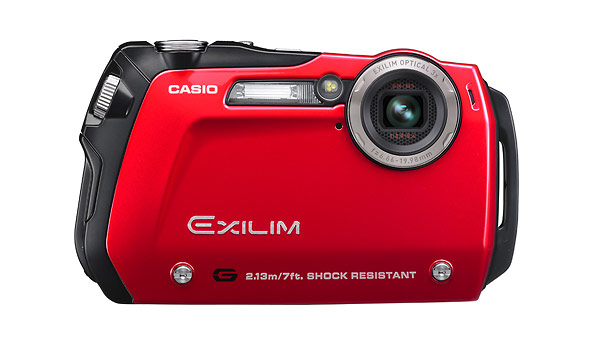 The Casio EX-G1 is certainly a handsome camera and waterproof and shockproof are sweet but the actual camera specs aren't that impressive. The 3x zoom lens isn't that wide at 38mm on the short end and it doesn't have any image stabilization, a feature I no longer want to live without. The EX-G1 movie mode is on the weak side, too. It can do widescreen, but the maximum video resolution is only 848 x 480. I was excited when I saw this announcement because I was hoping the EX-G1 would include some of Casio's high-speed shooting features. The Casio EX-H10 can capture 10 frames-per-second for up to 20 frames and the Casio EX-FS10 will capture 30 frames-per-second and even has a 1000 FPS video mode! Having that kind of functionality in a waterproof and shockproof camera would be sick! Maybe in the EX-G2 (fingers crossed)…
Even if the Casio Exilim EX-G1 isn't really a groundbreaking digital camera, I'm still happy about it. Casio getting into the rugged, outdoor camera game means more competition and that means better cameras for everyone. I'm a big fan of waterproof and shockproof digital cameras. I've used a few and although there's always an image quality compromise, a camera you don't have to worry about means getting photos when you otherwise wouldn't. Image quality isn't always the top priority. I have tons of fun mountain bike and ski photos taken in horrendous conditions because I was carrying a waterproof, shockproof camera. Being there with a camera in your hand is the key.
The Casio Exilim EX-G1 will be available just in time for Christmas, in tough guy black or festive Holiday red! It will set you back a reasonable $299.99 US dollars – wetsuit or snowboard not included.
For a list of outdoor-friendly, waterproof and shockproof digital cameras and some tips on what to look for if you want to buy one, read my Outdoor And Waterproof Digital Cameras guide.


Official Casio Exilim EX-G1 Press Release >>
Related Content:
All Casio Digital Camera User Reviews
Digital Cameras Forum
Outdoor And Waterproof Digital Cameras Guide
All Casio Digital Camera News And Articles
Casio Web Site