I visited the Clik Elite booth at the 2011 Summer Outdoor Retailer tradeshow. They were mostly showing off Ultraspire, a new brand of ultralight hydration gear for endurance athletes. But they also had some fun new Clik Elite stuff to show off. Rather than the hardcore outdoor camera packs I've come to expect from Clik, the new cases are more of a retro-styled line for fashion-conscious photographers who want to carry a DSLR and iPad. I'm generally pretty anti-fashion but I think the new Clik "Classic" packs are fun and I'm guessing the tight pants, fixie-riding hipster crowd is going to love them.

The new Clik "Classic" line, as it's unofficially being called, isn't in production yet so this is something of a sneak peek. They showed me three bags at Outdoor Retailer, a small shoulder bag that holds an iPad, a digital SLR and a water bottle (or second lens); a big open pack that's reminiscent of a classic climbing gear pack; and a book bag-style pack like the ones kids have been using to haul their books to school since the eighties. And since this is Clik Elite we're talking about, all three bags have a padded camera compartment that can handle a medium-sized digital SLR. Some other cool details are the seatbelt-style nylon webbing straps, the faux-denim nylon finish, the felt padding on the inside of the shoulder straps, hidden tripod carriers, iPad / tablet compartments and Clik Elite's cool new topo-styled label.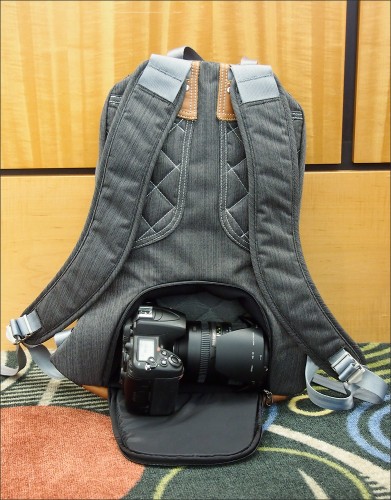 The Clik Classic packs and bags – or whatever they're going to be called – should be available in spring of 2012. They plan to have more color options than just the dark blue /gray denim we were shown, too. We'll let you know when they spill more details.

Related Content:
Clik Elite Backcountry Camera Packs Introduction
All Clik Elite Camera Case User Reviews
All Camera Bag User Reviews
All Camera Backpack News & Articles
Clik Elite Web Site