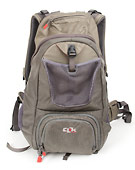 Clik Elite was officially introduced to the world at the PMA tradeshow this spring. I was really impressed with the backapcks they had at the show. But I was even more impressed by their genuine interest in what outdoor, action sports photographers like me want. These guys are making the camera packs I've been wanting (and requesting) for years. The Clik Elite packs are built for photographers who actually spend time in the backcountry, with an eye for real backcountry needs – hydration, food and clothing storage, and good fit. I need a backpack that allows me to ride, ski or hike comfortably and safely and that can accommodate extra clothing, tools and food as well as my camera gear. Since the majority of my photography is done from skis or a mountain bike, I was anxious to get my hands on a pack to test.

| | |
| --- | --- |
| | |
Turns out that Clik Elite is located in Utah, where I live. Even better, their main marketing guy, Gheen, lives and works less than an hour away from my house. So as soon as he had some working packs in the office I headed down to see him. I took my mountain bike, camera gear, and my current mountain bike pack, an Osprey Talon 22 (see my Osprey Talon 22 pack review). When I got there we shot a video of me transferring my camera equipment and bike gear from the current pack to a Clik Elite pack. Then we'd headed out for a ride.
Clik Elite Medium Nature Camera Pack Experience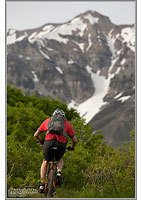 I had a mountain bike review photo shoot planned, so this was a solid test for the Clik Elite Medium Nature pack. It wasn't the most difficult ride, although it does include some steep, loose climbs and the last part of the ride has some fast singletrack descents. But mostly, this ride is about the majestic Mt. Timpanogos backdrop. Back to the pack – first of all, the Medium Nature pack isn't so medium for mountain biking. It's actually pretty damn big. I loaded it up with a Canon EOS 5D Mark II, Canon 24-105mm f/4L, Canon 70-200 f/2.8L, fisheye lens, and flash. That's on top of water and all my bike gear. We didn't have a scale, but that sucker was heavy. It fit and rode great, though. I was very comfortable pedaling with the Medium Nature on my back. One of the signs of a good pack is that you don't really feel the weight. And that was the case with the Medium Nature pack. However, the weight was there. Even the best backpack doesn't double as a motor and the weight took its toll. I was noticeably slower climbing and my legs were quite aware of the extra load they were pushing. That's ok, though. It's the price you pay for being able to carry serious camera gear. And the photos were worth it.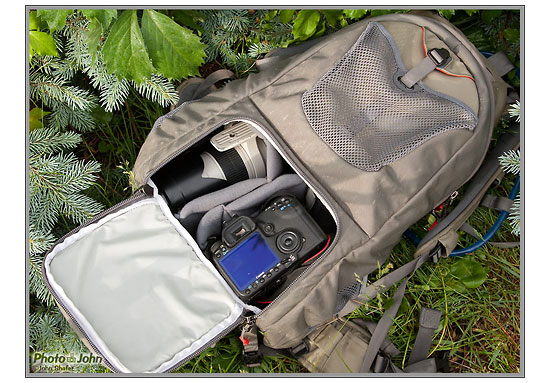 I had two initial complaints about the Medium Nature pack. The first is that the hydration sleeve, where the hydration bladder goes, is a bit small. It looks like it's made to fit a 50 ounce, bladder, which really isn't very much water. My large bladder fits, but I sort of have to stuff it in there. A larger, better-placed hydration sleeve would be nice. Water is number one in the backcountry!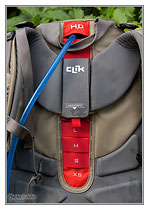 The second issue I had with the pack didn't come up until we were descending. The trail we rode has a few really steep, loose sections. When you're riding down steep stuff you have to lean your head way back to see down the trail. When I was in that position my helmet would hit the top of the pack. I don't think it's dangerous or anything but you really don't want anything distracting you on technical descents. On a later ride I tried adjusting the pack's Ladderfit harness adjustment to lower it. The pack is set up for a tall guy now but it's not making contact with my helmet anymore. I'm not sure the sizing is as important on a bike as it would be if I were hiking, anyway. For me, being able to ride technical downhill comfortably is more important than a perfect conventional fit. Even when I'm on a serious photo ride with a lot of gear, I like to have fun on the downhills. Because of the way the Ladderfit adjustment works, short mountain bikers may not be able to adjust the harness for helmet clearance on steep descents.
I've done six or seven rides with the Clik Elite Medium Nature pack now. Two of those rides were in heavy rain and none of them were really easy rides. The camera compartment has weather-resistant zippers and even when I rode in a downpour my camera gear stayed dry. The pack actually has a built-in rain cover, but I never used it. Nice to know it's there, though.
Conclusion
The Clik Elite Medium Nature pack is a very different beast than the Osprey Talon 22 backpack I've been riding with since last year. Osprey gear is designed around an ultralight-backpacking ethic and the Talon 22 is clearly designed with minimal features for low weight. I like the fit, volume, and camera compartment on the Medium Nature pack. But I wonder if it might be a little over-engineered. I have no doubt that it's pretty bulletproof. But I'd be willing to trade some features and strength for less weight. Overall, I'm really impressed with the pack. I love having a dedicated camera compartment, and I love being able to comfortably carry more gear, even if I my legs and lungs have to pay for it. The photos are my reward. Plus, carrying more weight just makes me stronger.


Clik Elite Web Site >>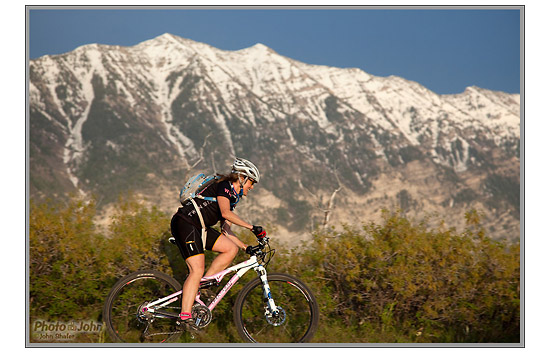 Clik Elite Medium Nature Camera Pack Photo Gallery >>
Related Content:
Clik Elite Backcountry Camera Packs Introduction
All Clik Elite Camera Case User Reviews
Camera Backpack User Reviews
Clik Elite Web Site
next page – Clik Elite Medium Nature Camera Pack Photo Gallery >>