I visited the Lowepro booth at the Outdoor Photo Expo in Salt Lake City and got my first look at Lowepro's new Photo Sport 200 AW camera pack (MSRP US $199). It's the first camera pack from Lowepro that's truly designed for photographers doing aggressive outdoor activities. Those of you who read my articles regularly will know that this pack is right up my alley. I do a lot of skiing and mountain biking with my digital SLR so I'm very interested in backpacks that allow me to carry my camera gear, water, tools, extra clothes, etc. I've been waiting ten years for Lowepro to make this camera pack and I can't wait to get one for review. In the meantime, I'll share my first impressions and a bunch of photos I took of the pack.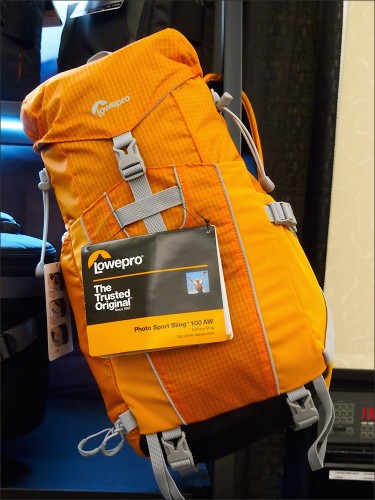 A couple of other pack companies (Clik Elite & F-Stop) have started making serious outdoor camera packs in the past few years and I think we can give them at least some of the credit for the new Lowepro Photo Sport 200 AW pack. Without the pressure of competition, I don't think Lowepro would have made the Photo Sport. This is how capitalism is supposed to work. And from what I saw, Lowepro has taken a very close look at what the competition has been doing.
Lowepro describes the Photo Sport 200 AW as, "a backpack designed for athlete-photographers who like to go fast and light." The new Photo Sport packs have great features and Lowepro has made some nice tweaks to what's already on the market. A key feature is the addition of a hydration sleeve for a water bladder. I've had some photography journalists scoff at the idea of water in a camera pack when I've talked about it in the past. Obviously, those photographers don't do any serious backcountry activities. Because water isn't an option when you're really out there and the easier it is to get to the better. There's no way I'm going mountain biking without a hydration system in my pack. And in the 10+ years I've been mountain biking with a camera, I've never had a bladder fail and get my camera gear wet. So kudos to Lowepro for finally making a pack that includes a hydration sleeve.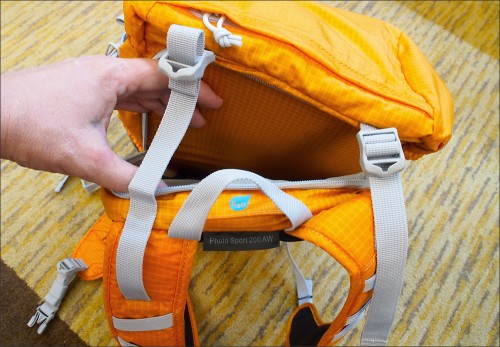 Camera access with the Photo Sport is from the side – sling pack style. Lowepro has given the camera compartment their own spin by adding a drawstring compression system designed to keep your camera gear from banging around in the pack – a very nice refinement for people who are doing more than just walking. The adjustable, padded camera compartment is made to accommodate prosumer DSLRs like the Nikon D7000 or Canon EOS 7D, without a battery pack. There's also room for a second lens or flash. It looks perfect for my 7D with the Canon 18-200mm IS lens and a super-wide zoom. Above the camera compartment is a big open area for extra clothes, raingear, food and whatever else you need for comfort and safety. The "AW" in the Photo Sport 200 AW's name stands for "all weather." That indicates the backpack includes a built-in rain cover that can be pulled from a stash pocket in the event of inclement weather.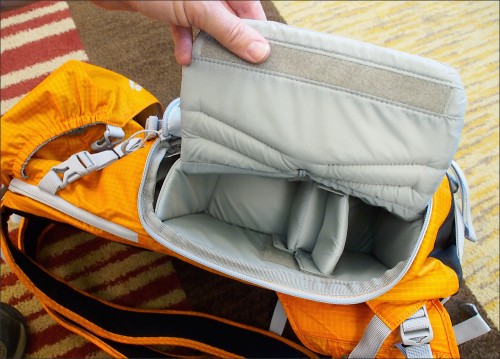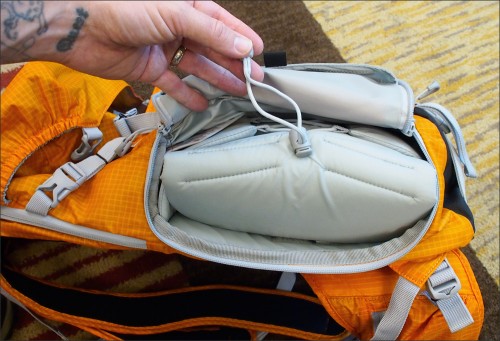 The Lowepro Photo Sport 200 AW pack is made of lighter material than most dedicated camera packs. It looks and feels like the daypacks made by high-end pack companies like Osprey and Gregory. The shoulder harness is thinner and lighter than you'd find on most camera packs and there are small pouches on the waist belt for a point-and-shoot camera, phone, bars, tools, etc. When you're riding, skiing, running or climbing with your camera, weight is a serious consideration so I appreciate all the ways Lowepro has shaved weight on this pack. That's an indicative of how serious the Photo Sport pack designers were. They've done a lot than just giving lip service to the outdoor action sports pack concept.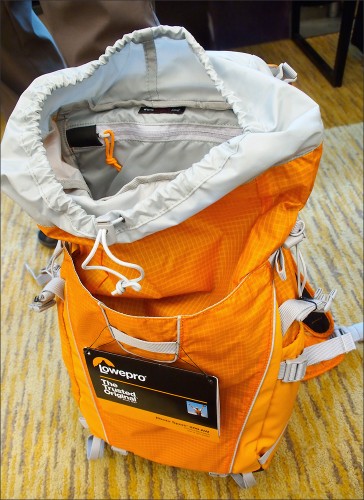 I only recently found out about the Lowepro Photo Sport packs and now that I've seen them in person I'm even more excited. It's good to see one of the main camera bag companies getting serious about packs for outdoor photographers who do more than get out of the car, set up a tripod and take some pictures. Lowepro has two Photo Sport packs – the Photo Sport Sling 100 AW and the Photo Sport 200 AW backpack. I'm most interested in the larger, Photo Sport 200 AW backpack and I plan to get one for review ASAP. Keep your eyes open for that!
Related Content:
Lowepro Camera Bag User Reviews
All Camera Bag User Reviews
All Camera Backpack News & Articles
All Lowepro News & Articles
Lowepro Web Site