Color management solution company Datacolor, has updated their monitor calibration lineup with the new Spyder4 colorimeter. The Datacolor Spyder4 is tuned to replicate colors the same way we see them and it's 26% more accurate than the Spyder3. It can also be used to calibrate your iPhone and iPad! For those of you who are wondering what I'm talking about, the Spyder4 is a device you plug into your computer and use to calibrate your monitor, assuring accurate, predictable color. If you haven't calibrated your computer monitor with the Datacolor Spyder or some other monitor profiling hardware, let me assure you, you are not seeing or editing your photos correctly. Like a good camera and lenses, monitor calibration gear is something every photographer should invest in.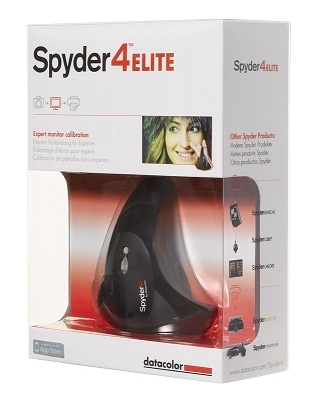 The main upgrades to the Spyder4 are the improved accuracy and tuning to match the human eye. There's also a free iOS app called SpyderGallery (available through the Apple AppStore) that allows you to calibrate your iPad and iPhone with any Spyder colorimeter, including the new Spyder4. Because you also need software to calibrate your monitor, the Spyder4 comes in three packages, Spyder4 Express, Spyder 4 Pro and Spyder4 Elite. All three packages include the latest Datacolor Spyder software (ver. 4.5) and the features listed above as well as Cloud sharing of calibration data to help photographers compare performance when they're buying a new monitor. The Spyder4 Pro and Spyder4 Elite add new monitor quality analysis tools (MQA) including a new Monitor Rating System to let you know just how well your monitor is performing. The Spyder4 Elite includes the ability to compare and match monitors side-by-side. This is useful for photographers, studios and agencies using multiple computers and monitors in a controlled environment.
The new Spyder4 Express, Spyder4 Pro and Spyder4 Elite sell for $119, $169, and $249, respectively. The Spyder4 Express license is good for calibrating one monitor and the Pro and Elite packages can be used to calibrate multiple monitors. The Datacolor Spyder4 license allows you to profile as many monitors as you want but the Spyder4 can only calibrate one monitor per computer whereas the Spyder4 Pro and Elite can profile multiple monitors for a single computer.
Datacolor Spyder4 Press Release >>

Related Content:
Datacolor User Reviews
More Color Management News & Articles
Datacolor Web Site