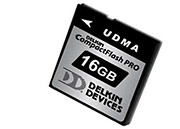 Act fast! Delkin Devices is offering 20% off camera accessories until noon today (Monday, December 15th PST). Orders over $75 also get free shipping. Delkin camera accessories include their CompactFlash Pro UDMA memory cards, memory card readers, Archival Gold CDs and DVDs, Pop-Up Shades for your camera's LCD, and more.
To get the discount, visit the Delkin Devices Web site and place your order using the code "eggnog". There are lots of inexpensive photography gifts in Delkin's online store.

We'll be posting Holiday deals on photo gear through the end of the year soo keep checking back for more. If you have a company with a Holiday deal or you find a good one, let us know and we might post it here. If you're shopping for a new digital camera or lens for the Holidays, make sure to check the our Digital Camera Holiday Shopping Guide.