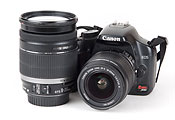 What camera gear is essential? This is an interesting question with a lot of possible answers. It's going to be different for every photographer and even from job to job. The question came from one of my Twitter contacts who saw one of my photos and asked, "What gear do you think is essential when you go shooting?" I told him it depended on what I was shooting and he then amended his question to, "what do you carry with you at all times…for a beginner to use?"

In motorsports, (redneck, North American motorsports, anyway) they say, "run what ya brung." In other words, do the best you can with what you've got. And that's a good rule to live by with photography (among other things). There's always some piece of gear that would help you get a better shot. But we shouldn't let that get in the way of doing the best we can with what we have on hand. So if you've got a 4-megapixel point-and-shoot digital camera, don't let that stop you from creating masterpieces. Know your camera, use good technique, and you will take great pictures with any camera.
Getting back to the question – if I had to choose a minimal kit for a serious beginning photographer, it would include these things: a digital SLR, a wide-angle zoom lens, a telephoto zoom lens, lens shades, a tripod, polarizing filters, and a good bag to carry them all comfortably. I own a bunch of cameras and get to play with test cameras all the time. No matter what I'm using, I like to have a focal length range of 28mm to 200mm (35mm equivalent). With an APS-C sensor digital SLR like the Nikon D60, Canon XSi / 450D, Sony Alpha A350, etc., that would be approximately 18mm to 135mm. An alternative to two lenses is an 18-200mm or other superzoom. With the Nikon AF-S 18-200mm VR, the Canon EF-S 18-200mm IS, the Olympus Zuiko 18-180mm or other comparable superzoom lenses, you can get away with packing just one lens. There's usually some optical compromise. But sometimes it's worth it to lighten up your kit and not have to change lenses. I love my Canon EF-S 18-200mm IS lens for ski photography and anywhere else I want to travel light.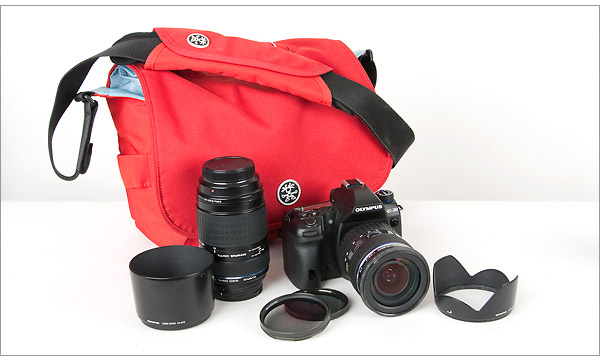 Essential camera gear for a serious beginning photographer: In this case, the Olympus E-30 DSLR, Olympus Zuiko Digital 12-60mm zoom lens, Olympus Zuiko Digital 70-300mm zoom lens, lens hoods, polarizers, camera bag, and the tripod you can't see because it was used to take this picture

Polarizing filters, lens hoods, and tripods probably aren't on the top of most beginning photographer's gear lists. Let me tell you why they should be. A tripod will allow you to shoot no matter what the lighting conditions. If you want to get really good sunset photos, a tripod is mandatory. A tripod will also improve your image quality by allowing you to shoot at low ISO settings all the time. If you don't have to worry about camera shake, you can use really slow shutter speeds and keep your ISO settings low, pretty much eliminating noise from your photos. Buying an expensive tripod is not necessary. A big, carbon fiber tripod with a sweet ballhead is a beautiful thing. But for the most part, a $35 tripod will accomplish the exact same thing. As long as a tripod can support your camera and lens, it's gonna get the job done. Spend your money on lenses before you buy a fancy tripod.
A polarizer is the only filter a digital photographer really needs. Everything else can be done with software now. But a polarizer does things you can't do with Photoshop. Without getting technical, it adds contrast, color saturation, and most importantly for most of us – makes skies darker. If you want dark blue skies with clouds that really pop, you have to have a polarizing filter. That's the only way you get that look. Lens shades are another often overlooked piece of photo equipment. They don't always come with lenses or digital SLR kits. But I highly recommend investing in them for your lenses. I won't shoot without them – at least not outdoors. The obvious thing they do is help avoid lens flare when you're shooting towards the sun or other light sources. But that's not all they do. Lens shades also help increase saturation and contrast. This may be even more important with less expensive lenses that don't have sophisticated coatings to filter out stray light. It's possible that a $30 lens shade will make your photos look dramatically better. I guarantee you'll be able to tell the difference between outdoor photos taken with and without a lens shade.
So let me go over that list again. A serious beginning photographer's camera bag should contain a digital SLR (35mm film is ok, too), one or two zoom lenses covering a range from 28mm to 200mm, a tripod, a polarizing filter, and lens shades. If you don't have all that camera gear, don't worry about it. Know your camera, shoot within its limitations, practice good photography technique (Rule of Thirds, good exposure, etc.) and save your money. And yeah, rules are made to be broken. So if you wanna tell me I don't know what I'm talking about, have at it – post your comments below. But just make sure you're taking damn good pictures with whatever camera you happen to be packing.
Related Content:
Digital SLR Reviews
Zoom Lens Reviews
Tripod Reviews
Filter Reviews
Digital SLRs Forum