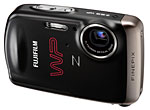 Fujifilm announced another addition to its popular Z-series, the Fujifilm FinePix Z33WP digital camera.
The Finepix Z33WP features 10 megapixels, Fujinon 3x Optical Zoom lens, 2.7″ LCD screen, underwater activity up to approximately 10 feet, Intelligent Scene Recognition, Blog Mode for easy sharing, Face Detection Technology, and is great for taking shots anytime, anywhere, and in any Condition. The FinePix Z33WP is available in three colors, green, pink and black, perfect for trend-savvy consumers.
The FinePix Z33WP will be available in late March for $199.95.
Fujifilm FinePix Z33WP Press Release
Related Content:
All Fujifilm User Reviews
More Fujifilm News
Outdoor And Waterproof Digital Cameras Guide
Digital Cameras Forum
Fujifilm Web Site