Fujifilm X100S Review: Experience
The Fujifilm X100S is a beautiful camera with great feel, a cool hybrid viewfinder and simple, well-placed manual control dials. Older photographers who learned with film cameras and anyone else who appreciates traditional camera controls will love the metal shutter speed and exposure compensation dials as well as the old school aperture ring on the lens. Although technically it's not a rangefinder, the X100S is about as close as you can get to the traditional rangefinder experience without actually having a Leica in your hands. But unlike a traditional rangefinder, the X100S has auto focus, video, and image quality that blows away any film ever made.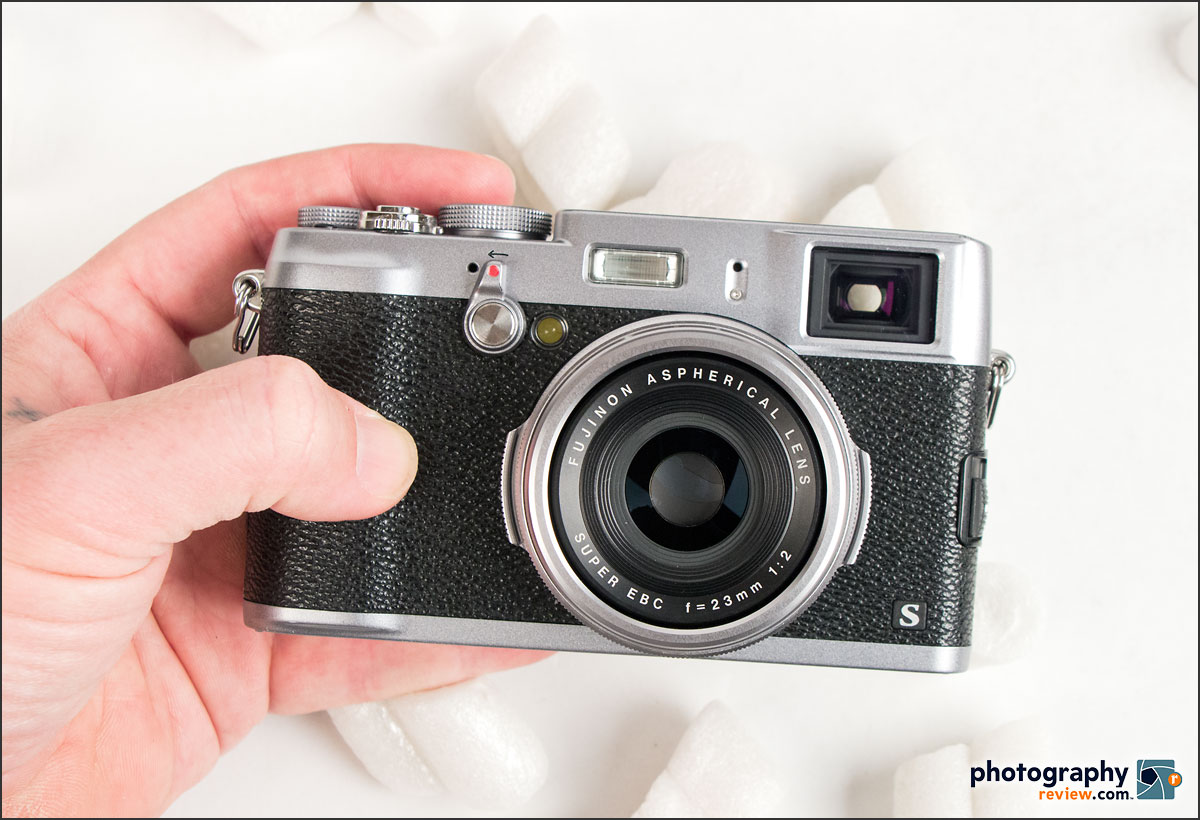 The Fujifilm X100S – Compact Rangefinder-Style Digital Camera
One of the undeniably cool things about the X100S is its hybrid viewfinder. There's a toggle switch on the front of the camera that allows you to easily change it from optical to electronic. I actually prefer the electronic viewfinder (EVF) and that's all I really used. A lot of photographers are nervous about electronic viewfinders, either because they used a crappy one a few years ago, or they're just suspicious of new technology. Let me assure you, current EVFs are excellent. They offer a bunch of benefits that an optical viewfinder can't, as well. In the case of a rangefinder camera like the X100S, the EVF allows you to see exactly what the camera is seeing, with no parallax problems. It also shows all the same data you see on the LCD display, including a live histogram. You can also see exposure and white balance adjustments in the EVF. You can even play back photos and use the viewfinder to record videos – something you absolutely can't do with a digital SLR that has an optical viewfinder. In fact, one of the biggest benefits of an EVF is adding a third point-of-contact, making smoother handheld video much easier.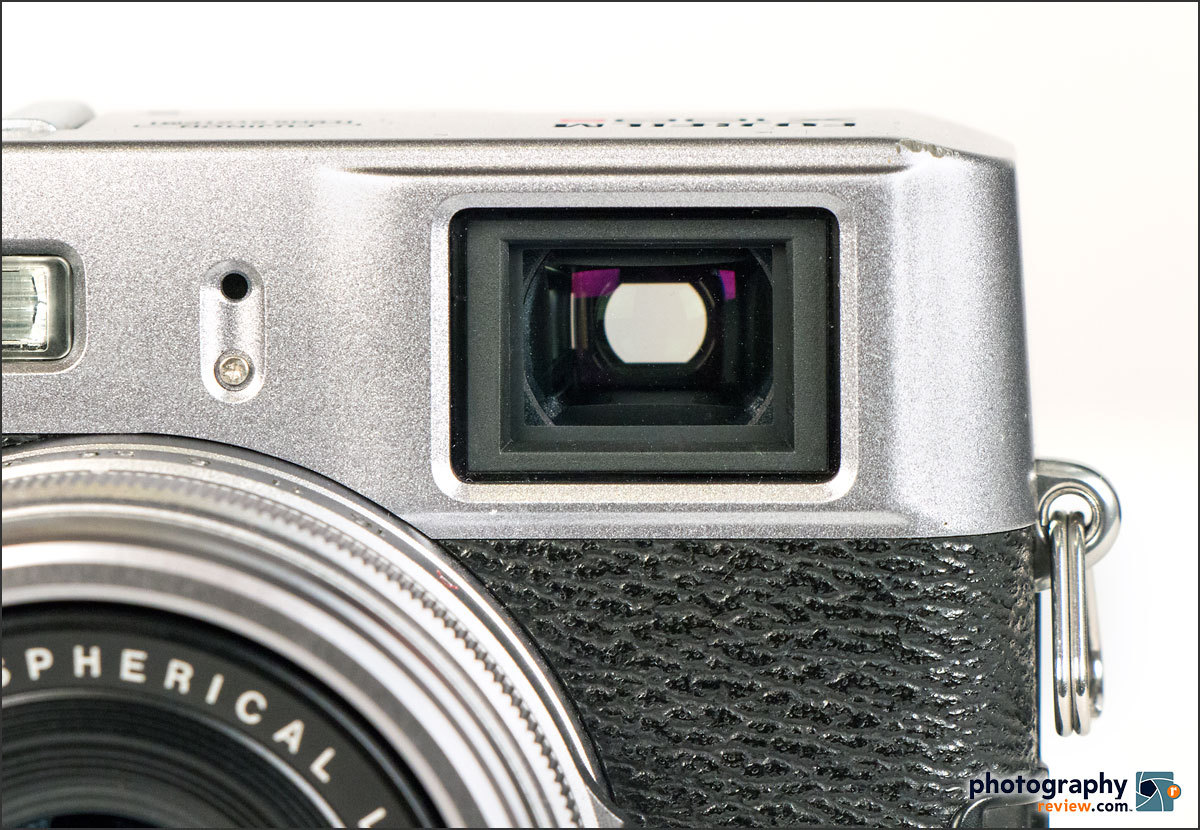 Fujifilm X100S Hybrid Viewfinder
Although I'm a manual exposure mode shooter with a DSLR, I mostly used the Fujifilm X100S in aperture priority mode. I mostly used it for street, landscape and people photography where I wasn't that worried about shutter speed. I also found using the aperture ring on the lens along with the exposure compensation dial on the top right deck of the camera was the quickest and most intuitive way to make exposure adjustments. The excellent f/2.0 Fujinon lens also makes it fun to play with depth-of-field, so aperture control was usually my first consideration with the X100S.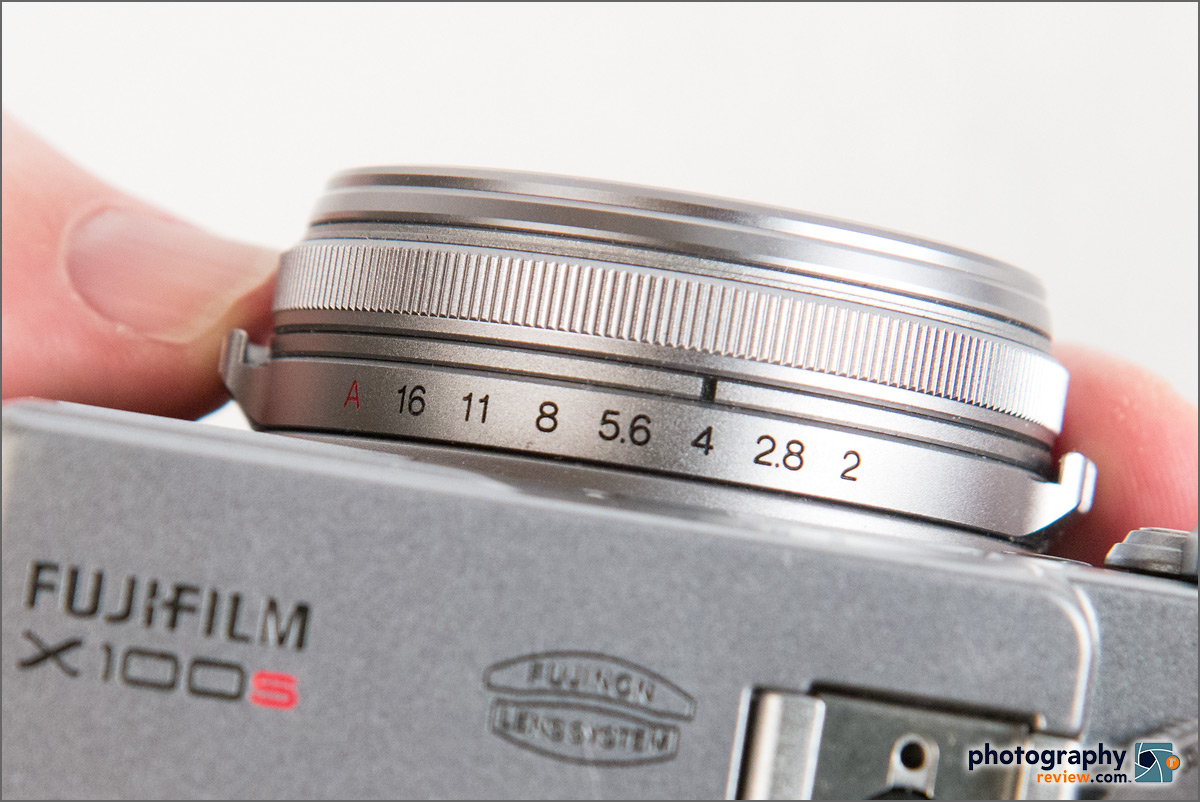 Fujifilm X100S Manual Aperture Ring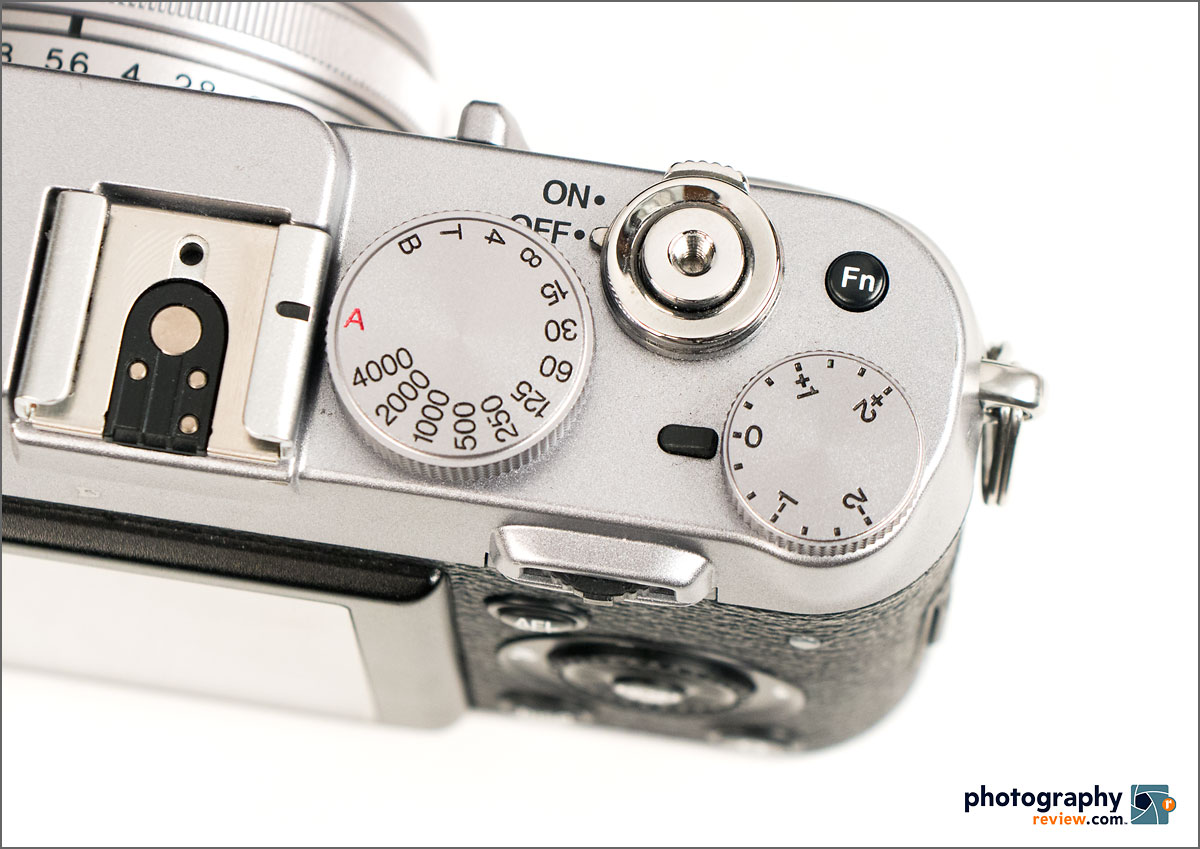 Fujifilm X100S Shutter Speed & Exposure Compensation Dials
There's no denying the beauty and performance of the X100S. Even so I have mixed feelings about the camera. It both frustrates me and makes me swoon with joy. Why the conflicted feelings? It's simple – no zoom lens. For some photographers, no zoom is no problem. In fact, prime lenses are kind of trendy right now; and I'll admit, they're a perfect match for the design aesthetic of the X100S. But there's no way around it – I'm a zoom lens kind of guy. And that goes double for a fixed lens camera – if I can't change the lens, I want some zoom.
I'm sure some of you are thinking, "Why don't you just zoom with your feet, Photo-John?" While that sounds good, it doesn't always work. I do a lot of outdoor, action sports and landscape photography and I often find myself in locations and situations where zooming with my feet just isn't possible. Getting closer might require a prohibitively long hike – or worse, getting the angle and composition I want might place me in mid-air, above a canyon, or in the water. My point is – the "zoom with your feet" saying is catchy. But that doesn't make it a universally practical rule. Sometimes you just can't zoom with your feet.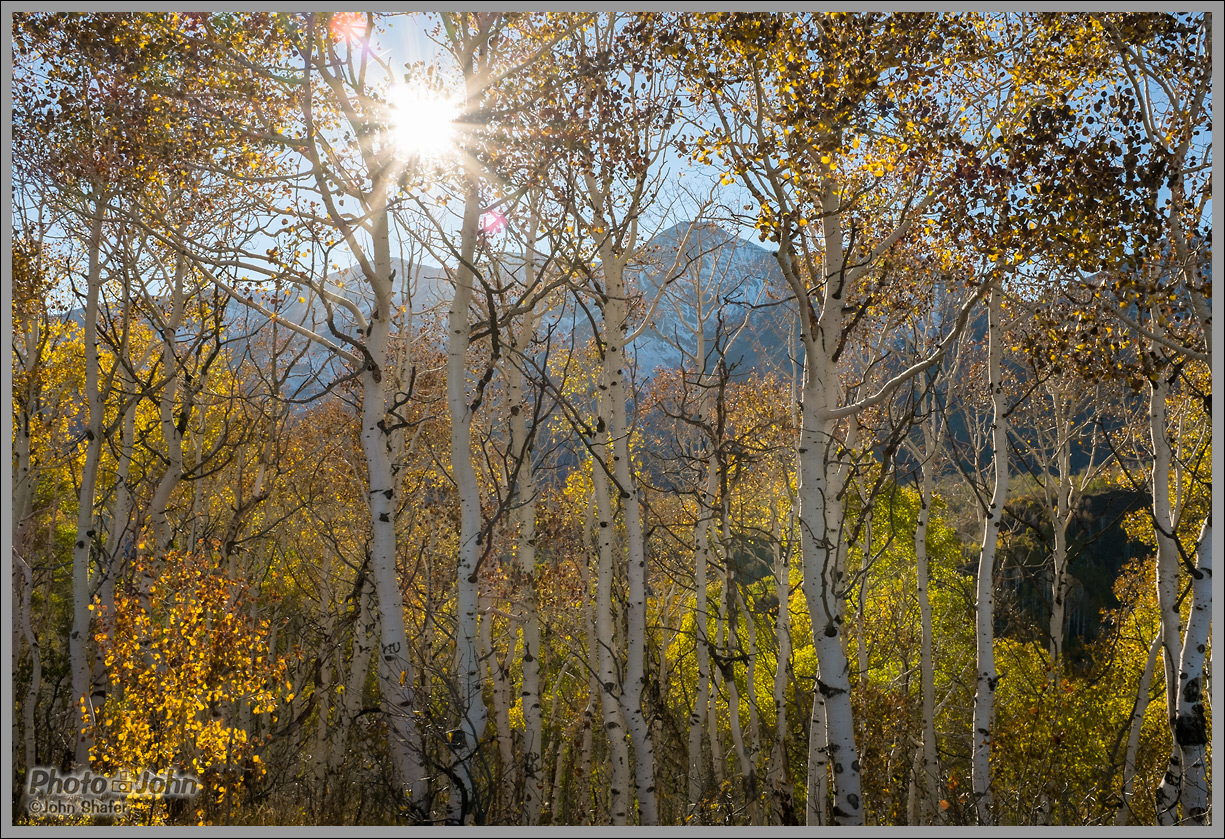 Fujifilm X100S – Backlit Fall Aspen Trees
On the other hand, when I slowed down, took a look around and got a little more creative about my compositions, the X100S rewarded me with some really nice, interesting photos. After using the camera for a bit I found myself looking at things differently. I knew I couldn't always get close so I started to look for wider compositions with foreground elements to help frame my subject. The 35mm equivalent focal length of the 23mm Fujinon lens still isn't optimal for mountain photos in my opinion. But it made me pay more attention to what was around me and work harder for my photos. And ultimately, that will make me a better photographer. Even if I decide the X100S isn't a camera I want to own, the experience of using it will make me look around a little more when I'm composing with my own cameras.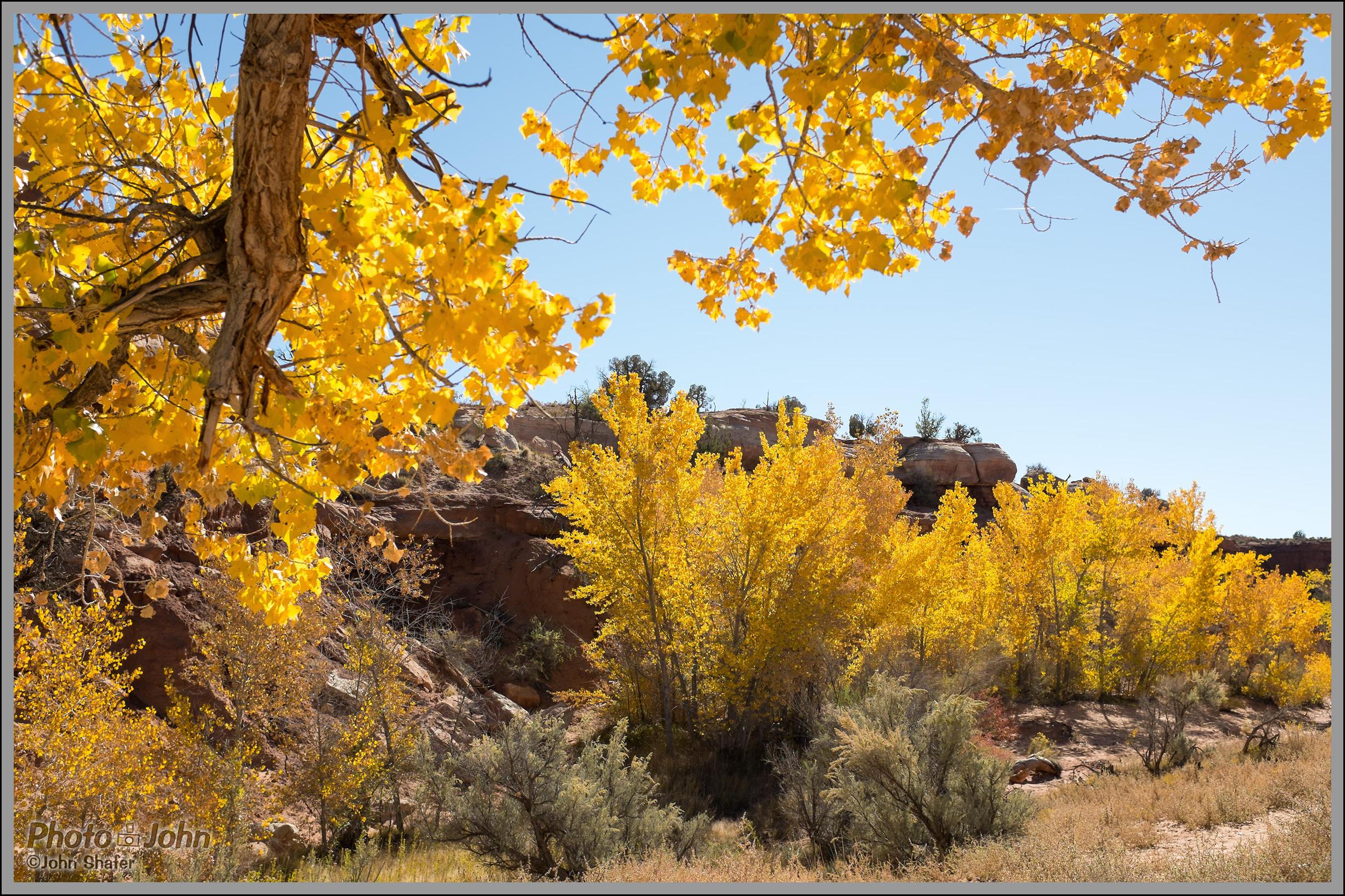 Fujifilm X100S – Desert Gold – Fall Cottonwood Trees
Maybe I'm a little stuck on shooting tight with telephoto lenses, though. While I had the X100S for review I made a trip to Arches and Canyonlands National Parks in Southern Utah. There I discovered the X100S is great for desert landscapes. The 23mm lens's medium-wide field-of-view is great for big wide desert vistas. Sure, sometimes I wanted to be able to zoom in on distant details like the La Sal Mountains you see in the background here [photo, below]. But the lens was perfect for conveying the sense of great openness you feel in the Southern Utah slickrock country.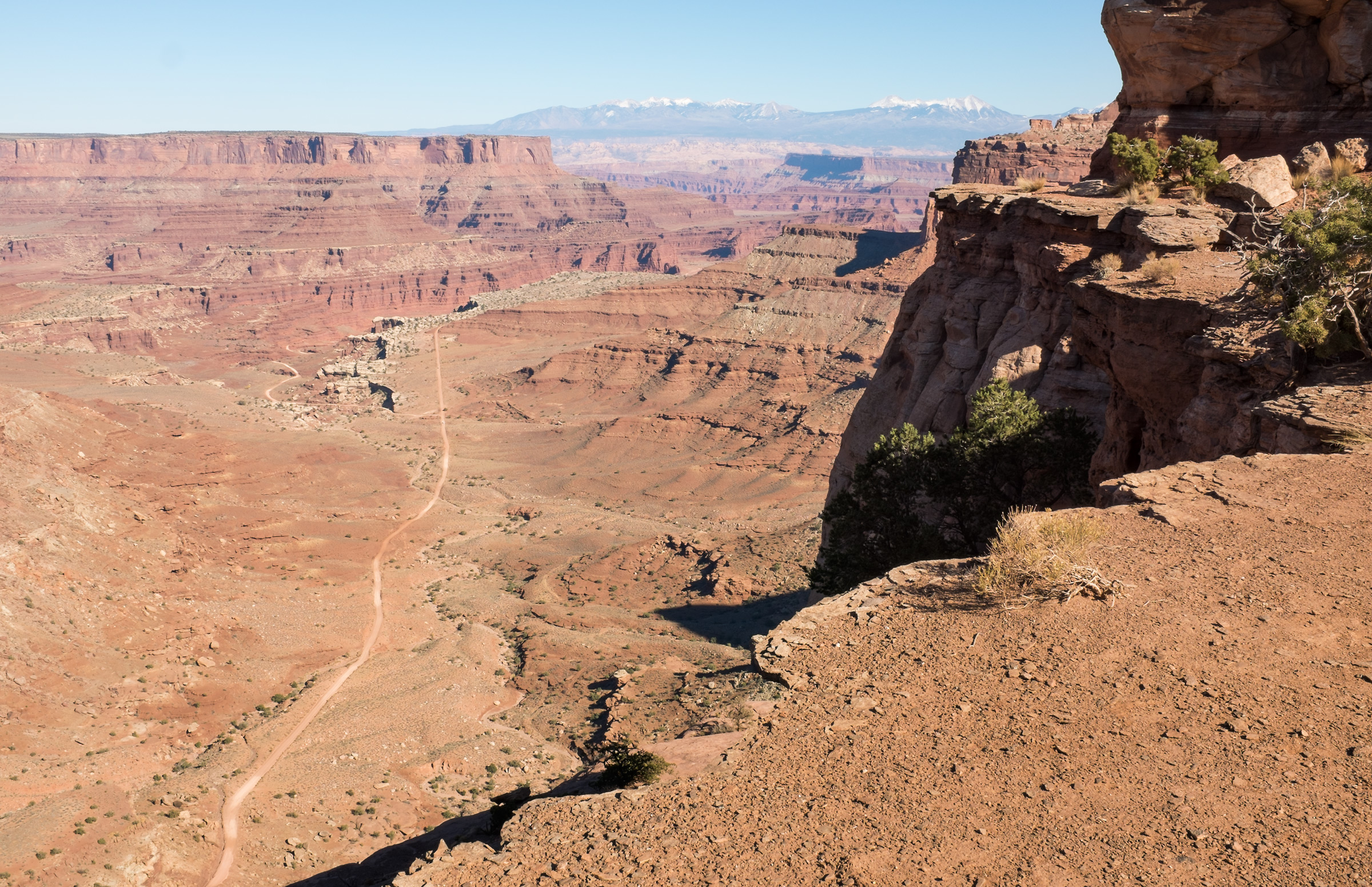 Fujifilm X100S – Shafer Canyon & Dead Horse Point
The next section of this review is dedicated to image quality but I want to mention it here in the Camera Experience section too, because it's an integral part of the X100S experience for me. Fujifilm really nails it in the image quality department. Every time I open one of my X100S images in Lightroom I'm blown away by the detail, color and dynamic range. Fujifilm's X-Trans CMOS II sensor is amazing. Its ability to capture the most subtle, creamy highlights makes the camera ideal for photos that show off the sky and other bright subjects with lots of subtle highlight detail. Clouds, sunsets, sunrises, storms, snow scenes, wedding dresses – bring them on. I found myself looking for interesting sky photos when I was carrying the X100S. You may have to do a bit of work in post with your RAW files to pull in all the highlight detail you saw when you took the picture – but trust me, it's there. Unless you seriously blow your exposure, Fujifilm's X-Trans CMOS II sensor will get that sky detail.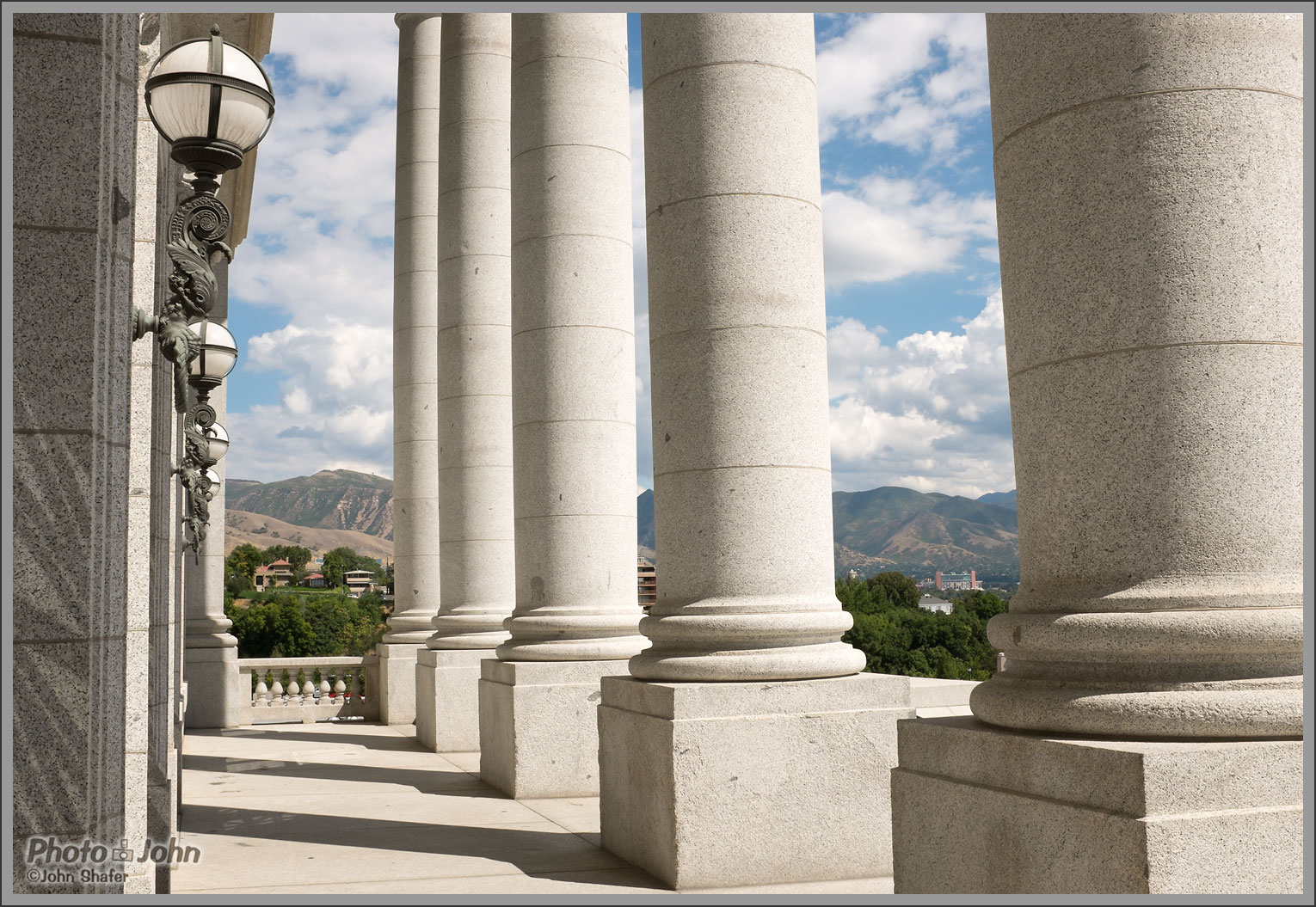 Fujifilm X100S – Columns & Clouds
One of the main complaints about previous Fujifilm X-Series cameras was poor auto focus performance. I'm happy to report that the X100S auto focus works quite well. The sensor now has embedded phase detect AF sites that help with more challenging auto focus situations. When I reviewed Fujifilm's X-E1 interchangeable lens camera (read our Fujifilm X-E1 review) I noted that in low light or low contrast situations the X-E1 could be almost impossible to focus. I did not have the same experience at all with the X100S. Even in low light with low contrast subjects it works very well. It's not a sports camera, though. The continuous auto focus still leaves a lot to be desired – at least for action photography. Photographers who rely on continuous auto focus should stick with digital SLRs that have proven phase detect auto focus systems. The X100S auto focus works great for everything else now, though.
I enjoyed using the X100S most for candid people photos and street photography. The wide-angle lens makes it great for parties, restaurants and events where you want to be close but shoot wide. And the fast f/2.0 aperture lets you shoot in low light and control depth-of-field when you want to isolate your subject. The Fujinon lens also has wonderful bokeh – that's a Japanese word for the quality of the out-of-focus areas in a photo. You'll notice in the photo below that that background is very soft and smooth, with no weird rings, wavy lines or anything to distract you – that's good bokeh.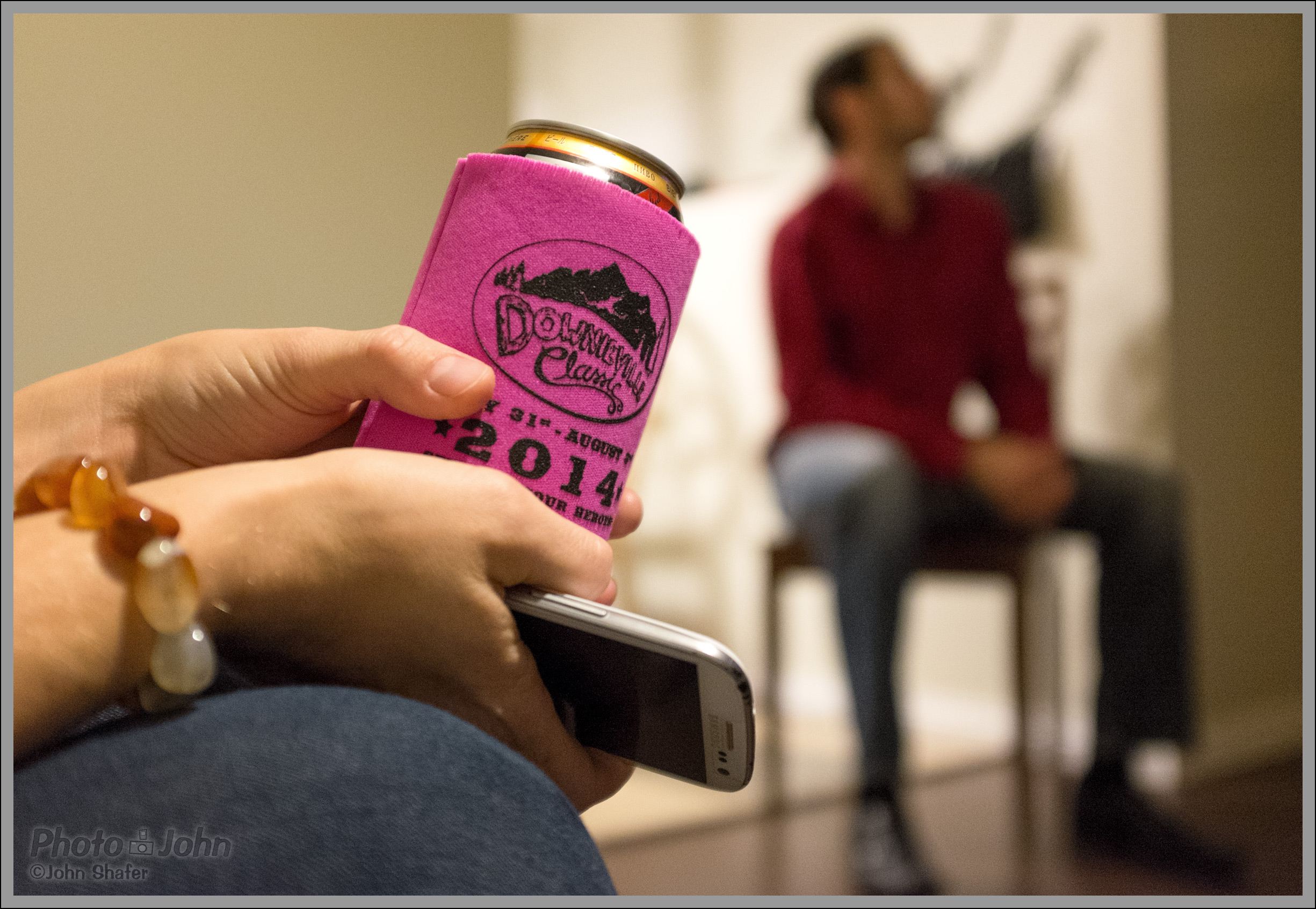 Even though I think the X100S is best for people and street photography, when I went back over my X100S photos, I found a lot of nice landscape photos. Most of those were towards the end of my time with the camera. I think that's because I got used to using it and started to understand how best to take advantage of the fixed lens. Using one lens is a throwback to a different age and makes you work harder and think differently. If you're used to being able to change lenses or zoom, it takes some getting used to. But once you get the hang of it, it opens up a world of creativity and a different way of seeing that will make you a more thoughtful and creative photographer. I'm positive using the X100S has helped me see and compose better.
Continue reading for the Fujifilm X100S Image Quality