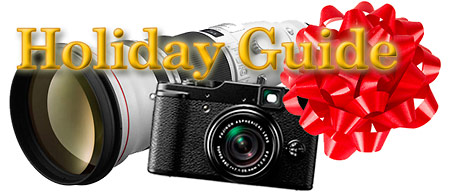 We've put together a Holiday gift guide with cameras, DSLR lenses and some other resources to help you find the right gifts for the photographers in your life. Just click on the photos below to see our picks for the best holiday gifts for photographers. If you need a little help figuring out what kind of camera is best for you, start by reading our Digital Camera Guide For Regular Folks. And when you get ready to buy, make sure to read our Online Digital Camera Shopping Tips for safe internet camera shopping rules.

Please help support PhotographyREVIEW.com by using the shopping links included with the cameras and lenses in our buying guides!
Here are some more useful resources for photography-related Holiday gifts:
All Camera & Photography Gear Buying Guides >>
Digital Camera Pro Reviews >>
Camera Accessory Pro Reviews >>
Camera & Photography Accessory User Reviews >>
Camera & Photography Forums >>
We hope you find our Holiday Guide For Photographers useful. If you have a gift suggestion for your #1 photographer that isn't listed here, let us know in the comments below. Or tell us about the best photography-related gift you ever received.