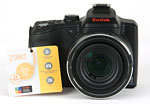 The Kodak EasyShare Z980 is a compact, 12-megapixel digital camera with an industry-leading 24x optical zoom lens – equal to a 35mm range of 26mm to 624mm. The Z980 features a unique detachable vertical grip with a vertical shutter release. Other highlights are a vivid 3-inch LCD monitor, HD video capacity, mechanical image stabilization and Kodak's Smart Capture, which combines scene recognition, automatic exposure and noise reduction. The Kodak EasyShare Z980 retails for $399.95.
Want to buy an Kodak EasyShare Z980?
Compare prices and shop for a Kodak EasyShare Z980 digital camera >>

Kodak EasyShare Z980 Pros
Phenomenal 24x 26-624mm wide-angle zoom lens.
Well-designed user interface.
Compact and lightweight.
Mechanical image stabilization.
Numerous exposure settings, including Smart Capture, scene modes and full manual control.
ISO range from 64 to 6400.
Flash hot shoe.
Fast click-to-capture speed (less than 0.2 second).

Kodak EasyShare Z980 Cons
Image quality isn't great.
Lens cap doesn't stay on.
Short battery life.
RAW file format is virtually useless.
Short maximum shutter speed of 16 seconds.

Introduction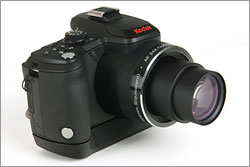 Before I started writing camera reviews for PhotographyREVIEW.com, I owned two Kodak compact digital cameras and was an unabashed fan. I even encouraged a few friends and family members to purchase Kodak cameras because of their good quality and value. For this reason, and because I'm also an aficionado of superzoom digital cameras, I was really looking forward to trying out the Kodak EasyShare Z980. With a zoom range of 26-624mm, the Z980′s lens length is surpassed only by the 26x Olympus SP-590 (26-676mm).
I used the camera around my home in Missoula, Montana, to photograph flowers, birds and deer, as well as on a trip to "Butte, America," where I shot fireworks and a Fourth of July parade. I'm satisfied with most of my photographs, although a few situations left me wanting more from the Z980. Now a veteran of half a dozen reviews of various brands and types of cameras, I have higher expectations. I'm still a Kodak fan – but with qualifications.
next page – Kodak EasyShare Z980 Camera Features >>