There's a new Leica pocket camera on the market. The Leica V-Lux 30 is a 14-megapixel pocket superzoom with a 16x zoom lens (24 to 384mm equivalent), a 3-inch touch screen LCD, GPS, a 3D mode, and of course, full HD video. Pocket superzooms are my favorite compact cameras because they're so easy to take everywhere and the big zoom range makes them so versatile. The addition of the sexy red dot Leica logo and excellent image quality make this camera one I'm really looking forward to getting my hands one.


The Leica V-Lux 30 is actually a ported and polished Leica-branded version of the Panasonic Lumix ZS10 camera. There's more to the V-Lux 30 than just that sexy Leica red dot, though. The Leica costs a lot more than the Panasonic (over $300 more) and they need to deliver some serious added value if they expect us to cough up three extra bills. So with the V-Lux 30 you get some extras: Adobe Photoshop Elements 9 and Premiere Elements 9 for photo and video editing, and a two-year comprehensive warranty instead of the standard one year, limited warranty. Not as obvious but far more important, the V-Lux 30 uses Leica's own JPEG processing. That isn't mentioned in the press release so I double-checked with Christian Erhardt, VP of Leica's Marketing Photographic Division and he confirmed that the V-Lux 30 does indeed have its own image processing. He also said, "The Leica firmware combined with the DC-VARIO ELMAR lens provides users with true to life color images that are not overly saturated or high contrast. While other cameras in the same class take hypersaturated blue and green images, the Leica V-LUX 30′s images boast natural colors and balanced contrast."
Leica's JPEG processing isn't just marketing hype, either. A few years ago I had both the Leica D-Lux 3 premium compact and the Panasonic Lumix LX2 at the same time. I made controlled JPEG tests with both cameras and the Leica JPEG images were clearly better. The Leica files were much larger, indicating significantly less compression and the images had smoother tonal blends and noticeably less artifacting. We'll have to wait for a camera to test (I should have one here tomorrow so stay tuned) to see if that holds true for the V-Lux 30 but I'm very pleased to learn Leica is still using their own JPEG processing in their compact cameras. JPEG image quality has been the one thing I have been critical of with Panasonic point-and-shoot cameras and the Leica processing may give the V-Lux 30 a real edge. And not just over the Panasonic – but over all the pocket superzooms currently on the market.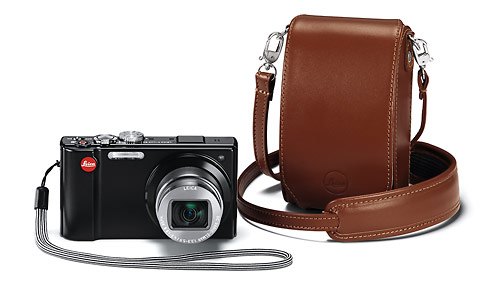 The Leica V-Lux 30 will be available in June of 2011. The price, according the B&H Web site, is US $749. That's quite a bit more than the Panasonic ZS10, which sells for $399. I've got my fingers crossed that it's worth the money.
Leica V-Lux 30 Press Release >>
Related Content:
All Leica Camera User Reviews
All Digital Camera User Reviews
Digital SLRs Forum
More Leica News
Leica Web Site