Professor Kobré's Lightscoop – it doesn't exactly roll off the tongue. However, Professor Kobré's Lightscoop will help you get noticeably better photos with your camera's built-in flash. It's also a great, inexpensive gift for photographers. The Professor just announced two new versions of the Lightscoop – the Lightscoop Deluxe for digital SLRs; and the Lightscoop Jr. for compact digital cameras and mirrorless cameras with built-in flashes. Most built-in flash portraits are harsh, with a subject that's too bright and a background that's too dark. The Lightscoop adds bounce capabilities to your camera's built-in flash for soft, flattering light.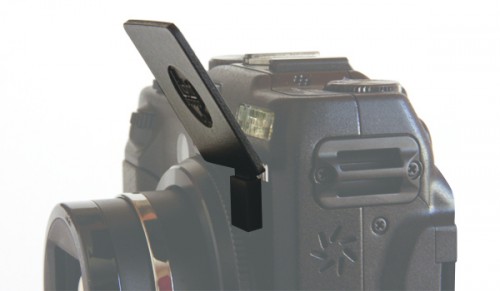 Here's a quick video demo of the original Lightscoop in action:
We reviewed the original Lightscoop a few years ago and were really impressed with the difference it made using the built-in flash on our test camera. The Lightscoop is one of the best photo gear investments you can make for less than $50. Read our original Lightscoop review to see for yourself.