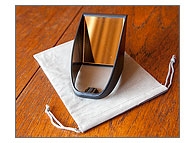 I discovered Professor Kobre's Lightscoop during the Holidays while I was putting together our Cheap Gifts for Photographers guide. It was suggested as a possible fit and when I looked it up on the Web I was impressed enough to include it in the guide. Basically, the Lightscoop allows cameras with pop-up flashes and hot shoe mounts to bounce the flash off the ceiling for better indoor portraits. It's a really easy and inexpensive solution for the generally poor quality of direct flash lighting.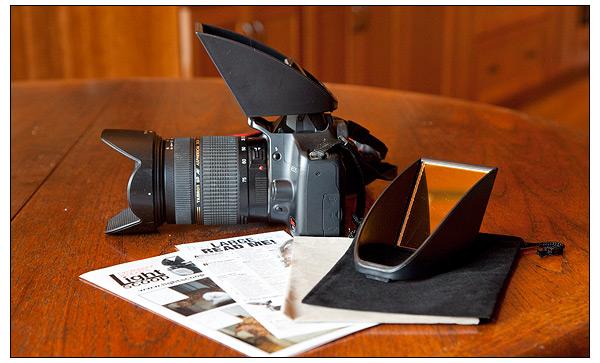 Bouncing flash light has been a standard photography technique for a long, long time – probably as long as photographers have been using artificial light. Many hot shoe flashes can be rotated upward so that the light can be bounced off the ceiling. But with the exception of a Panasonic Lumix DMC-L1 / Leica Digilux 3 DSLR, bouncing isn't possible with the built-in pop-up flashes on entry-level and mid-range digital SLRs. It's great that so many current digital SLRs have the built-in flash but direct flash isn't very flattering for portraits. The light is flat and lifeless and you often get harsh shadows or just plain blackness in the background. Bouncing your flash off the ceiling softens the light and spreads it around, opening up the background a bit and leaving a bit of shadow detail so your portraits don't have that flat, pie plate look.

Standard Lightscoop

Gold reflector (warming) Lightscoop

No flash

Pop-up flash only
Note: The exposure settings are the same for all four sample photos.
Lightscoop sent me both versions of their product – one has a silver reflector and the other has a gold reflector for a warming effect. I tested them both on Photo-Dad while he was eating breakfast. For reference, I also took pictures with no flash and with just the direct pop-up flash on my Canon EOS Rebel XSi / 450D. The difference between the photos with and without the Light Scoop is pretty obvious. The Lightscoop photos have much more even, soft light without the harshness you can get from direct flash. The Lightscoop also eliminates background shadows that are common with pop-up flash photos. By experimenting with flash output and exposure settings you could easily tune-up your photo so it combines the best of the non-flash and the Lightscoop photos. But most people will find the Lightscoop alone is a big improvement for the flash portraits.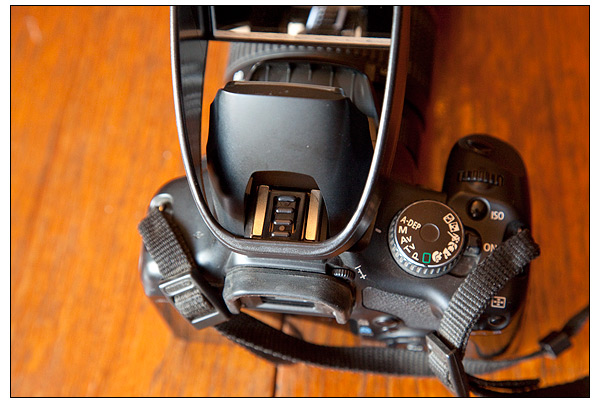 The Lightscoop is easy to use, inexpensive and will really help photographers make better portraits. If you've got a digital SLR or superzoom digital camera and you want an inexpensive way to improve your indoor flash photos, the Lightscoop is it. The Lightscoop is available with silver or gold (warming) reflectors and you can buy one for $34.95 or both for $69.90. They don't guarantee it for all cameras, but I would be surprised if it doesn't work on any camera that has a hot shoe and a pop-up flash as it just slides right into the hot shoe. My only criticism is the size – it's a bit large and awkward. If you have a small camera bag it might be tough to wedge the Lightscoop in with your DSLR. Maybe the Lightscoop 2.0 will fold flat for easy travel!
Related Content:
Flash & Flash Accessory User Reviews
Studio & Lighting Forum
Lightscoop Web Site
Cheap Gifts For Photographers Guide