Custom SLR, creator of the innovative C-Loop camera strap mount has a new product, the M-Plate. The M-Plate is a universal tripod quick release plate that allows you to use the C-Loop camera strap mount while the plate is mounted on the camera. The C-Loop, "eliminates strap interference by repositioning the strap to the bottom of the camera and adding 360-degree swivel." Previously, you'd have to unscrew the C-Loop and your camera strap from your camera's tripod mount to in order to use a tripod. The M-Plate eliminates that extra, annoying task so you can use both your camera strap and tripod quickly and efficiently. Custom SLR also plans to use the M-Plate as a platform for future products like flash brackets and DSLR video rigs. The M-Plate is compatible with both Arca-Swiss and Manfrotto tripod quick release systems.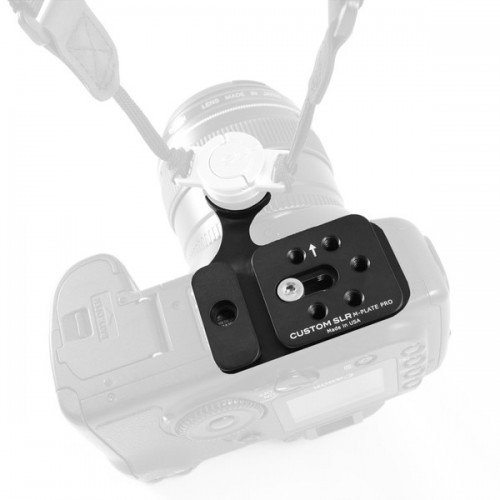 Custom SLR got their start-up cash from Kickstarter, a crowd-sourced funding organization. They're the first company to get funded for and deliver three products via Kickstarter. The cool thing about Kickstarter is you have to convince the buying public to support you before you get to make your product – so you have to have a really good idea to actually get the money. Custom SLR's first project was the C-Loop. To get funded, they had to recruit enough backers to reach to their $15,000 goal. The C-Loop Kickstarter page currently shows over 14,000 backers and a total contribution of more than $60,000 – obviously, people liked their idea a lot.
Custom SLR M-Plate Intro & Demo Video:
I really like the look of Custom SLR's whole system, which now includes the M-Plate along with the C-Loop, Glide Strap and Split Strap. I've talked to a couple of pro action sports photographers who use the C-Loop and they love it. I also like the direction they're going, planning to use the M-Plate as a foundation for video rigs and other DSLR accessories. I aim to get one for review so I can find out for myself if works as well as it looks.
Custom SLR C-Loop Demo Video:
The Custom SLR M-Plate is available now for an MSRP of $74.95. It's compatible with the BlackRapid, Spider Holster, Sun Sniper and Cotton Carrier camera strap mounts as well as the Custom SLR C-Loop. The Custom SLR C-Loop sells for $39.95. You can buy Custom SLR products at authorized dealers or direct from the Custom SLR Web site.