Manfrotto Introduces NeXt Generation Carbon Fiber Tripods
Evolution of Award-Winning X-Series Continues With New 190CXPRO3, 190CXPRO4 and 190CX3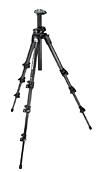 Ramsey, NJ (March 3, 2008) – With the launch of its X-Series tripods in 2007, Manfrotto set a new standard in the professional photographic supports industry. Not only did the new X-Series boast a stylish design and industry leading performance, it represented a new facet in engineering. The Manfrotto Q90°center column system received critical acclaim and single handedly set the product offering apart from anything else in the market. Indicative of Manfrotto's dedication to product improvement, the company is proud to announce the next chapter in the evolution of the X-Series with the introduction of a new line of carbon fiber tripods. Designed to supply shooters with an array of features geared specifically towards enhancing the imaging experience, the new carbon fiber family, dubbed "CX," marks another milestone for Manfrotto and ushers in a new era for Manfrotto carbon fiber supports.
Key factors that Manfrotto engineers strive to balance in the R&D and manufacture of any new support product are design and functionality, which are undoubtedly evident in the new CX series. The new CX family is highlighted by redesigned locking levers, new leg angle selectors, and re‑engineered magnesium and aluminum castings, all which grant significant improvements and add to the beauty of the new carbon fiber series. The new ergonomic locking levers are much easier for shooters to operate and thanks to their new design, become a seamless element of all CX tripods. Much like the aluminum 190XPROB, the new CX PRO models feature Manfrotto's innovative and award-winning Q90° (Quick Center Column System). The Q90° system allows the center column to be rotated to a horizontal position with one simple motion, all without removing the head or disassembling the column itself, making switching between framing and positioning setups a breeze. Additionally, Manfrotto has redesigned the top plate on 190CXPRO4 and190CXPRO3 tripods. The magnesium top plate on the CX PRO series now incorporates a bubble to help aid in leveling the camera and tripod, and has also been refined for a more attractive look. The redesign of the plate also yields a significant reduction in weight.
In order to reach high-quality standards and high levels of performance, rigidity and lightness, the new Manfrotto CX tubes are made of 100 percent carbon fiber. When it comes to the use of composite materials– especially carbon fiber — in the manufacture of photographic supports, the end result can vary and ultimately depends on the production process and the ratio of carbon fiber material to epoxy present in the tubes. For its CX carbon fiber tripods, Manfrotto utilized nothing other than 100 percent carbon fiber and employed pultrusion, pull winding technology to manufacture the tubes. Pultrusion is a production process that allows for the manufacture of carbon fiber tubes that excel in both flexion resistance and torsion rigidity; features that matter most for camera support applications.
The 190CXPRO4 and 190CXPRO3 feature all carbon fiber tubes, including a tri-faceted center column, while the simpler CX3 version features carbon fiber tubes paired with an aluminum center column and aluminum top plate.
190CXPRO3
Street Price $300.00
Max Height Column Extended: 57.5"/ 146 cm
Max Height Column Down: 48"/122 cm
Min Height Low Position: 3.15"/ 8 cm
Min Height Legs Closed: 22.8"/ 58 cm
Weight: 2.84 lbs./ 1,29 kg
Max Load: 11 lbs./ 5 kg
190CXPRO4
Street Price $325.00
Max Height Column Extended: 57.5"/ 146 cm
Max Height Column Down: 48"/122 cm
Min Height Low Position: 3.15"/ 8 cm
Min Height Legs Closed: 19.7"/ 50cm
Weight: 2.95 lbs./ 1,34 kg
Max Load: 11 lbs./ 5 kg
190CX3
Street Price $250.00
Max Height Column Extended: 57.5"/ 146 cm
Max Height Column Down: 46.9"/ 119 cm
Min Height Low Position: 2.36"/ 6cm
Min Height Legs Closed: 21.7"/ 55 cm
Weight: 2.90 lbs./ 1,32 kg
Max Load: 11 lbs./ 5 kg
All CX tripods will be available March 2008
For additional information, please visit www.bogenimaging.us
About Manfrotto:
Gruppo Manfrotto are world leaders in the manufacture of professional camera and lighting supports for photography, video, broadcast and entertainment. For 35 years, Manfrotto has been building the world's widest range of tripods, heads and dedicated accessories to support professional and semi-professional still cameras, from the traditional small, medium and large format to the latest digital camera. Every product in the Manfrotto range is designed to provide a perfect combination of important features such as: load capacity, size, stability, transportability, interchangeability and construction quality – guaranteeing unique inimitable reliability and longevity.
About Bogen Imaging:
Since 1959, Bogen Imaging (formerly Bogen Photo) has been a leading source for photographic, cinematic and video lighting, supports, and accessories. Many of the most respected manufacturers of precision products for the photographic, video, Cine and lighting are distributed in the U.S. exclusively by Bogen. These include Manfrotto and Gitzo tripods and heads, Kata protective carrying systems and accessories, Avenger lighting grip, I.F.F. ceiling mounted lighting suspension, Metz on-camera flash systems, Gossen light meters, Elinchrom studio lighting systems and a wide host of additional product lines which round out the most complete range of exceptional accessories in the business.