I visited with Joby at the annual PhotoPlus Expo this year. In case you don't know, Joby makes the gorillapod – a line of funky, Gumby-like, ball-joint mini-tripods. The original GorillaPod was a tiny bendy tripod for pocket point-and-shoot cameras. But over the past few years they've expanded to cover support for digital SLRs, iPhones, iPads, flashlights and more. They also have a brand new tripod called the GorillaPod Micro (below – after second paragraph), which you mount to your camera's tripod mount and leave there. It's like having a built-in tripod. When you need camera support you just unfold it and your camera is ready to go. The GorillaPod Micro comes in two sizes – the Micro 250 for point-and-shoot cameras ($19.95) and the Micro 800 ($29.95) for compact system cameras like the Sony NEX, Olympus Pen and Panasonic Micro Four Thirds cameras.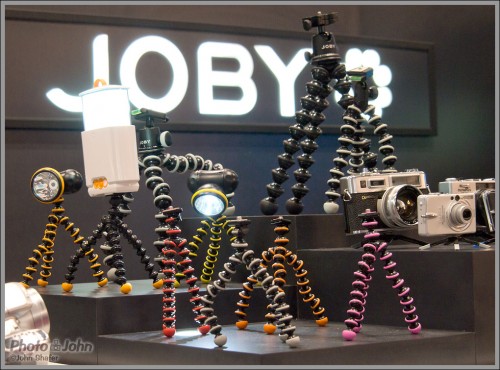 GorillaPods are perfect for travelers and backpackers who need a lightweight, easy to pack and carry tripod. I had one of the first generation gorillapods and I carried it in my mountain bike pack to use with my rugged, waterproof point-and-shoot camera. Besides cameras, I also see a lot of "strobist" photographers using gorillapods for their flashes. The GorillaPod's articulated, rubberized legs are also great for mounting in inconvenient places like trees, doorknobs, fences, bicycle frames, ski poles, etc. – your imagination is the only limitation.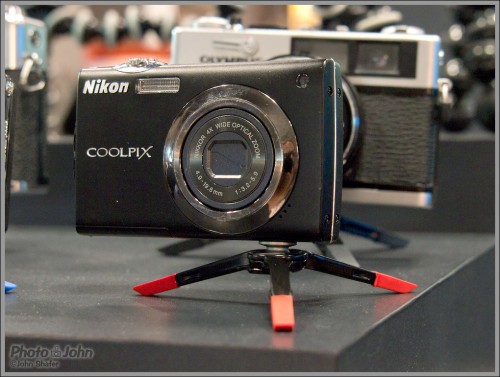 Joby GorillaPod tripods are available at camera dealers, big box electronics stores and smart outdoor gear dealers like REI. Joby was just acquired by Lowepro (the new parent company name is Daymen) so you should start to see Joby products anywhere you find Lowepro camera bags. They make all kinds of compact tripods now, from little ones for the smallest point-and -shoot cameras, to bigger, stronger ones with nice ballheads that can support a digital SLR and pro zoom lens. Unless you're shooting with a 4×5 view camera or 400mm f/2.8 lens, there's a GorillaPod that will support your gear. GorillaPod prices start as low as $20 so the GorillaPod makes a great, inexpensive gift for photographers who already have a good camera and lenses!
Related Content:
Joby GorillaPod User Reviews
All Tripod User Reviews
Joby GorillaPod Web Site