Camera strap and DSLR accessory maker Custom SLR just announced that they will now also be selling tripods. They've partnered with Asian tripod maker Fotopro to distribute their tripods in the US. The Fotopro tripod line includes travel-friendly tripods, monopods, and a professional-level carbon fiber tripod.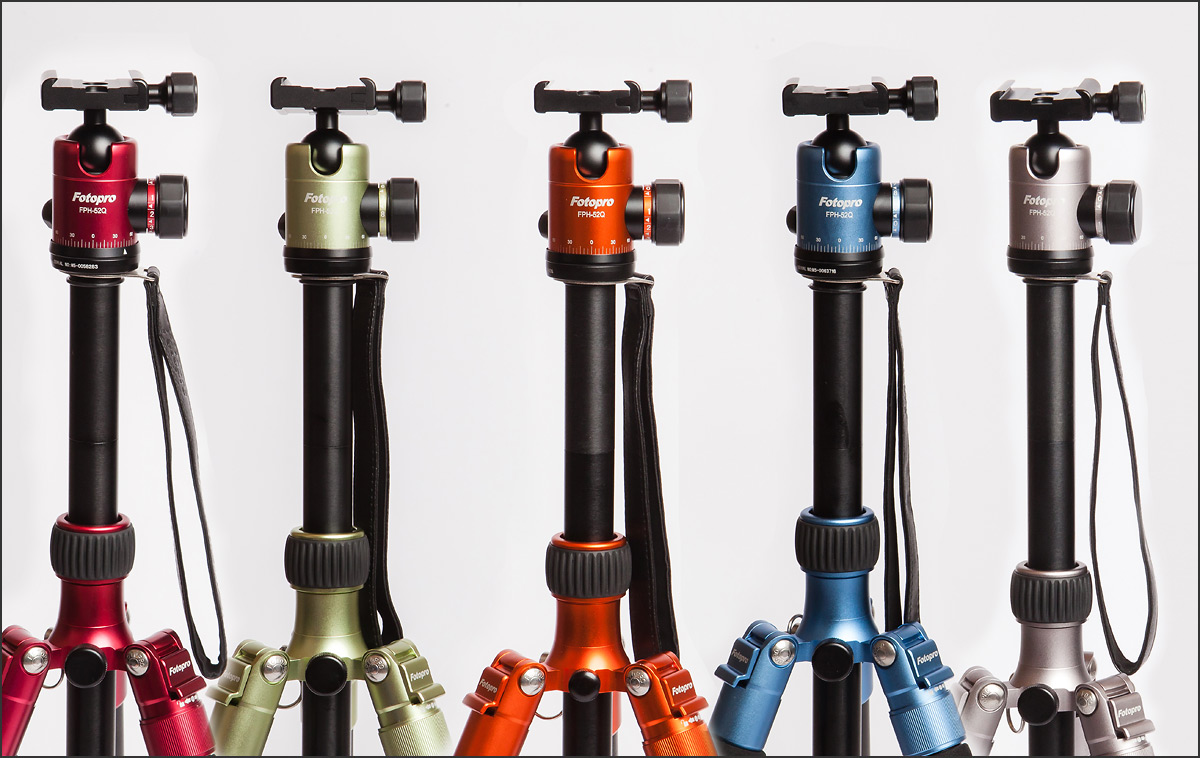 All of the Fotopro tripods, except the carbon fiber legs, come with Arca-Swiss-style ball heads that are compatible with Custom SLR's M-Plate tripod plates. Ivan Wong, Custom SLR's COO, points out that, "the Fotopro line complements our growing line of performance camera gear and accessories." The M-Plate is part of Custom SLR's versatile camera strap system, which mounts on the base of the camera and allows you to use the tripod head's quick release without removing the strap. I've been using one for quite a while and love it.
A couple of interesting offerings from the Fotopro line are C5i 2-in-one tripod, which can be converted into a monopod (see diagram, below); and the TT-1 travel tripod kit, which comes with sling pack that can carry a DSLR, lens and flash. The TT-1 kit comes with the five-section, aluminum X4i tripod. The X4i weighs 2.6 pounds and is only 12.5 inches long when collapsed, yet it extends to over 4.5 feet and can support up to 11 pounds. Fotopro's top-of-the-line professional four-section T64 carbon fiber legs extend to just under 6 feet and can support over 44 pounds – that's a hell of a lot of camera!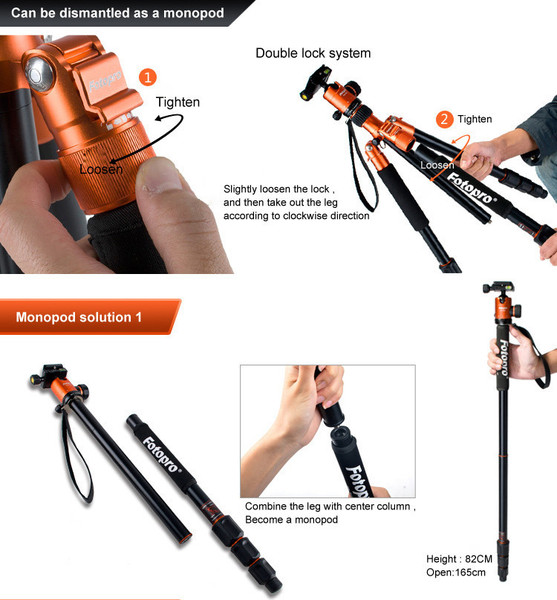 The Fotopro tripods and monopods are available now, direct from Custom SLR's Web site. Prices range from US $89.95 for NGC-65 carbon fiber monopod with no head, to $319.95 for the T64 carbon fiber tripod legs. The C5i 2-in-one and TT-1 travel tripod kits, mentioned above, sell for $189.95 and $ $199.95, respectively.
About Custom SLR
Custom SLR was started by a passionate group of photographers, Anne, Ben and Ivan, who like to design useful and innovative products. The company launched in 2010 with its first product, the C-Loop camera strap mount backed by funding provided via Kickstarter, the world's largest funding platform for creative projects. The ergonomic camera straps, Split Strap and Glide Strap, followed in 2011. With a constant focus on research and development, Anne, Ben and Ivan are always working on finding new solutions to improve the shooting experience for photographers. Custom SLR is headquartered in the San Francisco Bay Area and for more information, please visit their Web site.