Swimming along in tranquil waters with a snorkel gently burbling and suddenly there is a great fish to be photographed. Where is that camera trailing along on a tether?? Or just reach up, click the button on the mask and make the photo! Liquid Image's photo mask to the rescue.
Liquid Images a Hong Kong company with offices in Antelope, California offers a collection of Scuba masks incorporating Digital Still and Video cameras.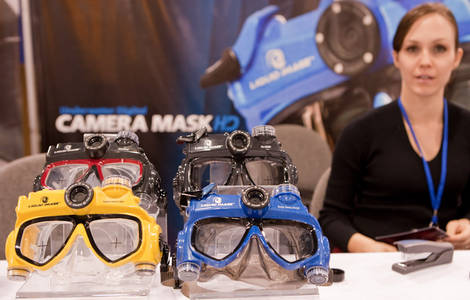 Image courtesy of Paul Maskens-'Smart Wombat' from PMA 2009
I put my hands on the Yellow or Explorer Series 5.0 MP mask earlier this fall and was rather surprised at the product. Certainly for the $100 street price I found. Not having the opportunity to test it out I must gauge it only on the basis of it apparent construction. Solid with few flaws other than the sealing caps for the accessory connections was my evaluation.  The manual for the one product in the line that I saw does tend to make one think of a novelty item, but the mask itself seems solid with all the 'right type' of fittings to work.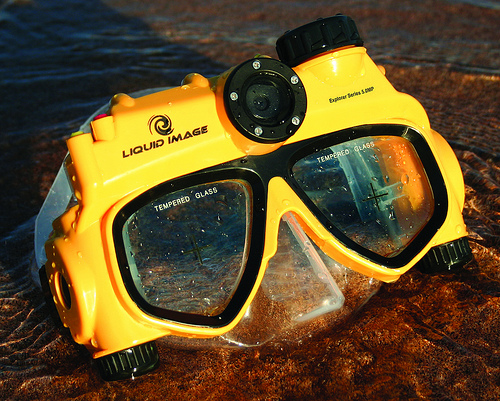 The idea of incorporating a camera, still or video, into a diver's mask seems simple enough. Liquid Images has gone the next step and also provides a range of accessories for successful underwater photography including lights and filters for those less than perfect water conditions. Liquid Images offers masks that go from the 'snorkel' version I saw to a deeper water unit (blue) to video camera equipped models.
Samples of both still and video images captured by these units are available at their website.
Special thanks again to 'smart wombat' for the photographs he made of this product at PMA 2009.
Related Content
Liquid Image Homepage
CES 2010 – Booth: South 3 32042
Liquid Image Twitter
Underwater Photography
Outdoor and Waterproof Digital Cameras
All Photography Review photos of Liquid Images