Lowepro Primus AW Backpack
List Price: $279
Quick camera access is key for the Primus AW backpack from Lowepro.
by Alan Davis www.alandavisphoto.net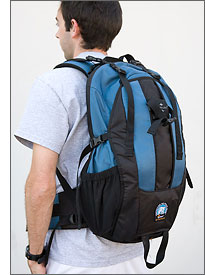 As an active mountain biker, hiker and photographer I have always been on the lookout for a photo backpack that carries well and allows for quick camera access to help capture fleeting photographic moments. The Primus AW immediately caught my eye with its unique side-access pouch. A U-shaped side zipper gives fast access to a complete SLR without removing the pack or even one shoulder strap.
The primary feature in this pack is its lower storage area that has both side and a lumbar access. By unzipping a U-shaped zipper on the right side of the pack via the extra-long zipper tab I can access a compartment big enough to fit my Canon EOS 5D with a 70-200 f/2.8 L lens without removing the pack (It's not big enough for my 1D body however). I can also use the U-shaped lumbar zipper, but I have to remove the pack to do so. This option gives additional access to my camera and lens, a few small accessory pouches for batteries or filters plus I can reach another padded pocket just big enough for my 24-70 f/2.8 L (an optional divider is provided for use with a combination of smaller lenses or flash).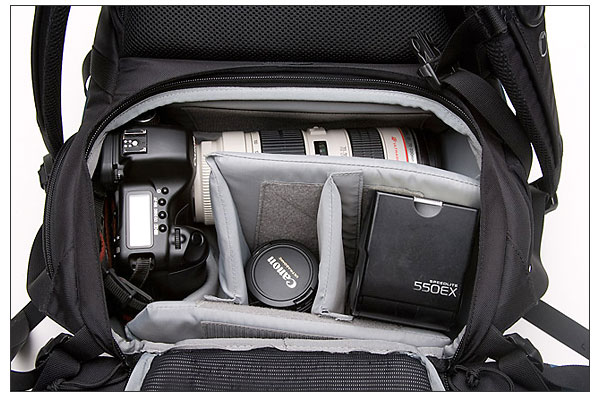 A top compartment (below left) is useful for storing hiking and biking basics—jackets, energy bars, cell phone, and wallet. It's also big enough to stash an un-mounted 70-200 f/2.8 lens if more camera storage space is needed. Like the bottom compartment, the top one opens via U-shaped zipper on the back of the pack plus a couple plastic clips (as opposed to an opening on its outside). Like most packs, you're going to have to remove your pack to access these odds and ends.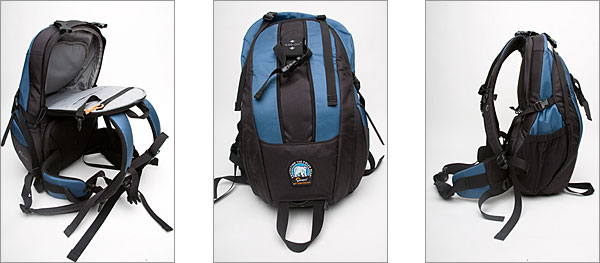 Left: Lowepro Primus AW top compartment; Center: Lowepro Primus AW Glide-Lock Tripod Clip; Right: Lowepro Primus AW External Stretch Side Pocket
The pack also includes a Glide-Lock tripod clip and external stretch side pocket. Altogether I regularly added a 550ex flash as well as batteries, compact flash cards, filters, radio slaves and a small Gitzo Basalt tripod to my kit and sometimes a water bottle. You'll also find a weatherproof cover that stows in the pack's base that came in handy during one winter shoot I enjoyed, which segued from rain to snow to sunshine and back for several hours.
Lowepro's suspension, strap system and waist belt are well constructed with ample adjustability. Because of the pack's narrow profile, the bulk of its weight is kept close to your body's center of gravity helping make even a full load feel like much less.
Multi-layered walls of water and abrasion resistant fabric make up the bulk of the pack, including layers of padding surrounding the camera storage area, the upper pocket area and the back. I was actually surprised at just how much material was used to construct the Primus AW. Given the few pieces of camera hardware that it's designed to carry it felt overbuilt and a little heavy to me. Lowepro's designers must like to err on the side of caution when it comes to gear protection. But on the trail, I would be willing to trade some protection, especially in areas of the pack that don't hold the camera, to save some weight.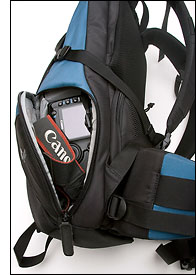 The standout feature on the Primus AW is the quick camera access offered by the side compartment (see right). Being able to keep your camera protected while you bike or hike around in wet and rough terrain and then quickly pull it out to take a photo is invaluable. It can be a bit tricky pulling a big camera, like my EOS 5D and 70-200 f/2.8 L, out of the side pocket however. I actually practiced camera removal in a mirror before going out into the field. It's not as easy as it looks in the video on Lowepro's website and the last thing I want to do is drop my 5D. A lighter/smaller camera—and some yoga classes—would help loading and unloading the Lowepro Primus AW backpack.
The Primus AW fits into the fast-growing, environmentally-friendly, "green" category of products. About half of the pack is constructed from Cyclepet®, a 100% post consumer recycled fabric. Each Primus AW backpack contains recycled material comparable to approximately 22 soda bottles. Additionally, the Primus AW raises funds for Polar Bears International PBI, a nonprofit organization dedicated to polar bear conservation.
A specialized product like the Primus AW can't be expected to do everything well. It doesn't have a laptop compartment so it fails as a carry-on or travel bag for me. But this might not be a deal breaker to those less-dependant upon the digital world. More importantly, for adventure photographers, the pack is missing a hydration reservoir pocket. This was probably the biggest disappointment for me, making it impossible to use on almost any bike ride, or hike longer than about two hours.
The other sticking point for me is the retail price of $279. Although street prices are less, it still is selling for approximately the same as the much larger Lowepro Vertex 200 AW. I don't understand the high price unless the cost of recycled materials is that much higher than non-recycled. Either that or those polar bears are getting French manicures. Personally, I would not pay that much for the Primus AW pack. But if I found killer deal on it then it would make a good secondary camera bag.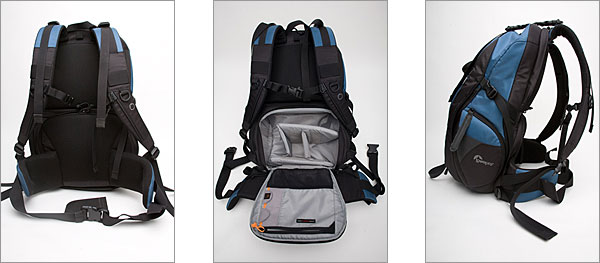 Left: Lowepro Primus AW harness system; Center: Lowepro Primus AW rear-opening main compartment; Right: Lowepro Primus AW harness side view
Capturing dramatic light outdoors often means suffering through the elements as clouds, rain and sunshine intermix revealing the most exciting side of Mother Nature. Having a pack like the Primus AW enables you and your expensive camera gear to survive foul weather and better capture that fleeting photographic moment.
Alan Davis is a professional photographer and bicycle journalist. You can see his photography at www.alandavisphoto.net
Additional Links and Resources:
Compare prices and shop for a Lowepro Primus AW Backpack
Lowepro Primus AW User Reviews
Write a Lowepro Primus AW Review
Lowepro Primus AW Press Release
All Lowepro User Reviews
Lowepro Website
Polar Bears International Website