Canon has updated their venerable 70-200mm f/2.8 professional zoom lens making one of Canon's best even better. The new Canon EF 70-200mm f/2.8L IS II USM zoom lens has improved optics, increased durability, enhanced image stabilization, a shorter minimum focus distance and faster auto focus.

For many professional photographers, the 70-200mm f/2.8 lens is one of the most important pieces of equipment they own. It's one of the main lens recommendations I make to serious photographers looking to upgrade. I've had my Canon 70-200mm f/2.8L (non-IS) for over 10 years and it's still going strong. I've been through nine SLRs but I'm still using that same lens. I use it for landscapes, portraits, travel photography and it's hands-down my main sports and action lens. If you're a Canon DSLR owner looking for an upgrade, the new 70-200L is definitely a lens to put on your wish list.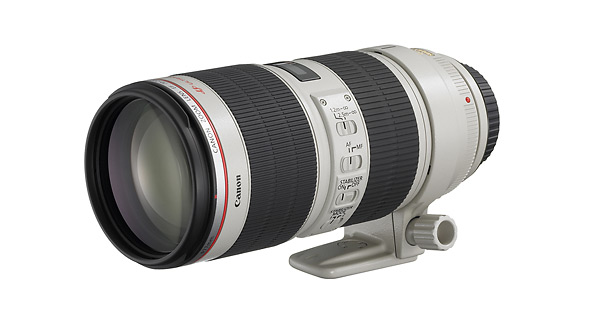 In my opinion, the most important changes to the new 70-200L lens are the optical and auto focus improvements. This is no cosmetic upgrade – Canon has added a new flourite glass element and another UD (ultra low dispersion) element to the lens and they say chromatic aberration will be reduced while contrast and resolution have been improved through the whole zoom range. The official press release suggests that the new 70-200mm f/2.8L IS II may be Canon's best L lens yet, or at least it's, " worthy of becoming the leader of Canon's L-series lenses."
The new 70-200 also has improved auto focus algorithms and the IS system has been improved so that photographers can shoot up to four stops slower without camera shake blurring their photos. That's one stop more than the IS system in the previous 70-200mm f/2.8L IS lens. In theory, that means you could shoot handheld as slow as 1/15th of a second at 200mm. That's impressive and offers a very tangible benefit to anyone who shoots in low light. The minimum focusing distance has also been shortened to 3.9 feet (1.2 meters), that's almost 8 inches less than the previous lens and means tighter shots and less cropping for photographers who need to get close.
Recently I've written about some new versions of lenses where I've had to look really hard to find the improvements. Sometimes it seems like the only change is adding "II" after the lens name. That's not the case with the new Canon EF 70-200mm f/2.8L IS II USM zoom lens. Canon pretty much covered all the bases with this round of improvements. I think the only thing they could have done to make it even better is reduce the weight – but that would have been a bit much to ask since they also made the lens more durable.
The new Canon EF 70-200mm f/2.8L IS II USM zoom lens should be in stores in April of 2010. It will sell with a lens hood, tripod collar and lens pouch. A price hasn't been announced yet but since the suggested retail (US) on the previous 70-200 f/2.8L IS lens was about $2000, I think it's reasonable to expect this one will cost a bit more. My guess is the new 70-200 f/2.8L IS II will be priced somewhere between $2200 and $2500. That's a lot of dough, but remember, unlike a DSLR, a lens like this is a real long-term investment. You can expect to own it for 10 years or longer.

Related Content:
All Canon Reviews
Canon Zoom Lens User Reviews
Canon Prime Lens User Reviews
All Lens User Reviews
Canon Cameras Forum
All Canon Camera News And Articles
Canon Cameras Web Site