Along with the new D300s and D3000 digital SLRs, Nikon is introducing updated versions of two of their most popular lenses, the 18-200mm VR and 70-200mm VR. The AF-S DX NIKKOR 18-200mm f/3.5-5.6 ED VR II and AF-S NIKKOR 70-200mm f/2.8G ED VR II zoom lenses both feature Nikon's most recent Vibration Reduction II optical image stabilization system. The new 70-200mm f/2.8G ED VR II Nikkor also has significant optical improvements.

The 70-200mm f/2.8 lens is the workhorse lens for many professional photographers. I haven't used the 70-200 f/2.8 VR Nikkor lens. But from what I've heard it has some edge softness issues on FX-format (full frame) camera bodies. The hope and expectation among Nikon users is that the new lens will have better image quality with full frame digital SLR bodies like the D700, D3 and D3x. The main differences between the new lens and the old lens are the new VR II image stabilization system, new optical formula and improved lens coatings. The new lens adds two more ED elements for a total of 7. The new Nano Crystal Coat coating is supposed to further reduce lens flare and ghosting. This will make a difference for outdoor and sports photographers who don't always get to work in optimal lighting conditions. The new VR II image stabilization is supposed to make it possible to shoot up to four stops slower and still get sharp photos. The VR II also offers two image stabilization modes. The "Normal" mode is for normal shooting and panning. The "Active" mode is intended to compensate for camera shake when there's more motion. The press release uses shooting from a car as an example. Aerial photographers shooting from a plane or helicopter would benefit as well. If you've got more examples, please share them with us in the comments below.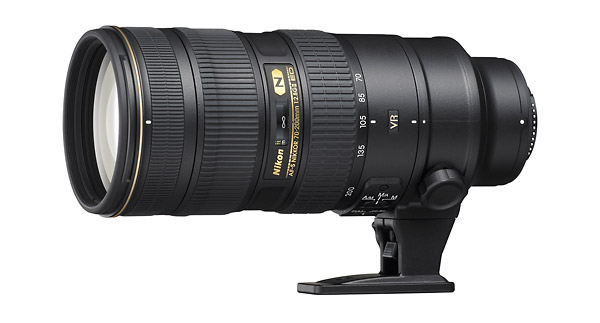 The AF-S DX NIKKOR 18-200mm f/3.5-5.6 ED VR II lens is made for crop-sensor DX-format Nikon DSLRs. Mounted on the D300s or other DX-format Nikon, it will have an equivalent focal length of 27-300mm. I had the pleasure of using the original 18-200mm VR Nikkor a couple of years ago, while we were reviewing the Nikon D40x. At that time no one else was making a comparable zoom lens. The potent combination of wide to telephoto focal lengths plus image stabilization made this – at the time – the ultimate do-it-all zoom lens. I especially enjoyed using it for ski photos, where changing lenses is a pain and wide zoom range is very nice.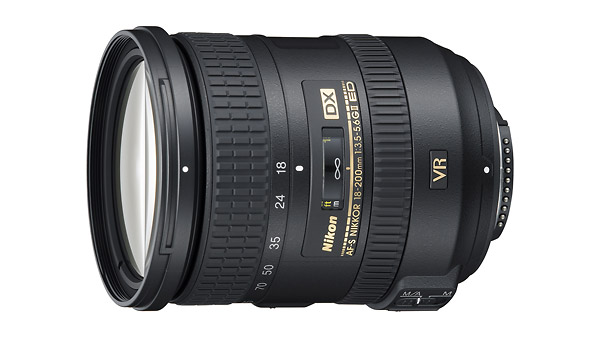 Nikon doesn't appear to have made many changes to the 18-200mm f/3.5-5.6 ED VR II Nikkor. Going through the press release and the specs for both lenses, the only difference I can find is the addition of a zoom lock switch to keep the lens from "creeping" while it's in the wide position. Aside from that, it appears to be the same lens. According to Nikon's published specs, the weight, size, number and type of elements – even the VR II image stabilization – are all the same. If anyone is aware of any other improvements to the new 18-200mm VR lens, please post them in the comments section here. That's too bad, because the 18-200mm VR would benefit from some optical refinement. It makes a great casual and outdoor lens. But noticeable distortion makes it tough to use for serious travel, architecture or any kind other kind of photography where straight lines are critical.
The new Nikon AF-S DX NIKKOR 18-200mm f/3.5-5.6 ED VR II should be available from dealers in September for about $850. The new AF-S NIKKOR 70-200mm f/2.8G ED VR II zoom lens won't be available until November. It should sell for about $2400.
Nikon 18-200mm VR II And 20-200mm f/2.8 VR II Press Release >>
Related Content:
Nikon Review Page
All Lens User Reviews
Nikon Cameras Forum
Digital SLR Forum
More Nikon News And Articles
Nikon Web Site