Nikon has announced a new flagship digital SLR, the 16-megapixel FX-format D4. They'll be showing it off to the public for the first time at the annual CES tradeshow, in Las Vegas, next week. The Nikon D4 professional digital SLR is significantly improved over the D3s (Nikon D3s Announcement), with doubled ISO sensitivity, a refined 51-point auto focus system, improved controls and truly competitive video performance. It also has a new 91,000-pixel RGB 3D Color Matrix metering system that makes the D3s's 1005-pixel metering system look like antique technology. The price for Nikon's new top dog will be about $6000.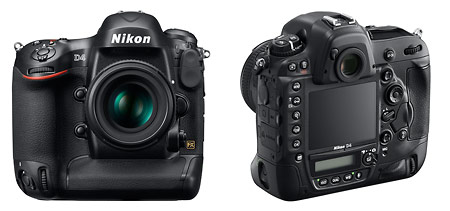 Of course, the D4 doesn't exist in a vacuum. We need some perspective to see how good it actually is. One thing is very clear; the Nikon D4 is a direct answer to Canon's recently announced EOS-1D X professional digital SLR (Canon EOS-1D First Impressions). Over the past few years, Nikon has been the clear leader in terms of DSLR image quality with Canon taking the lead for pro video. This year, the advantages aren't as obvious. The sensor specs of both cameras are a lot closer together and both have the same maximum (expanded) sensitivity of ISO 204,800. The D4 has a 16-megapixel full frame CMOS sensor and the Canon has an 18-megapixel full-frame CMOS sensor. The larger individual pixels on the D4's 16-megapixel sensor (7.3 microns for the D4 vs. 6.95 microns for the Canon) give Nikon the theoretical low light advantage. Translation for the less technical reader – bigger pixels are better. Of course, we'll need to see some back-to-back image quality testing to know for sure. But I expect the image quality of the two flagship cameras will be a lot closer than it has been for the past few years.
Nikon D4 Flagship Digital SLR Key Features & Specs:
16.2-megapixel FX format CMOS sensor
EXPEED 3 image processing
Next generation 51-point auto focus system with 15 cross-type points
AF detection down to -2 EV with all AF-Nikkor lenses
Sensitivity from ISO 100 to 12,800, expandable to ISO 50 and ISO 204,800 (Hi-4)
91,000 pixel 3D Matrix Metering system
10 frames-per-second burst with full AF/ AE or 11 FPS with AF locked
3.2-inch 921k-dot LCD display
1080p HD video at 30 or 24 frames per second and 60 FPS at 720p
Live, uncompressed output via HDMI port
Stereo headphone jack, stereo mic jack and 30-step in-camera audio levels control
Full time auto focus in video mode
Built-in intervalometer
100% coverage optical viewfinder
Built-in Ethernet port
Accepts CompactFlash and new XQD memory cards
400,000-cycle shutter
Weather-sealed magnesium alloy body
Price: $5999.95
On the surface the D4's auto focus system looks pretty much the same as that of the D3s. It's got the same 51 AF points and 15 extra-sensitive cross-type sensors as the D3s. However, Nikon says it's their "most advanced AF system to date," and there are a couple of very nice improvements. In particular, nine of the 15 cross-type AF points work with apertures of f/8 and slower. That is, no doubt, in response to Canon limiting auto focus with the 1D X to f/5.6 and faster lenses. In the press release, Nikon also makes a point of mentioning that the D4 auto focus will also work with their 1.4x, 1.7x and 2x tele-converters – very good news to motorsports and wildlife photographers. The new 91,000-pixel RGB 3D Color Matrix metering system is also an important part of the D4's auto focus system, and should mean improved face detection and subject tracking auto focus. News, wedding and other low-light photographers will be pleased with the D4's impressive -2 EV auto focus capability.
Let me interject a bit of personal experience here. I have been a Canon owner and user since the early nineties. That's because I used to shoot motorcycle racing and back then Nikon's auto focus just didn't cut it. So I always had a bit of a bias about Nikon's auto focus performance. In 2010 I had both the Nikon D3s and the Canon EOS-1D Mark IV for a while and found that the D3s's AF worked as good or even better than the 1D Mark IV's. I am no longer a Nikon auto focus skeptic and look forward to seeing how they've improved the performance of the D4. The D4's auto focus specs don't look as impressive as the new Canon EOS-1D X. But that doesn't mean they're no good. The D3s auto focus was already excellent and the D4 can only be better.
With just 720p video, the D3s wasn't really that competitive as a video capture device. That's not at all the case with the D4, though. I'm not really a video expert so you can take my opinion with a grain of salt. But it looks to me like Nikon has delivered a very competitive video package in the D4. In fact, it looks like video performance could be where the D4 really trumps Canon this time around. That's a big deal since Canon has been the pro HD DSLR video leader since the introduction of the EOS 5 D Mark II and they introduced a lot of enhanced video features in their new EOS-1D X pro DSLR.
Nikon gave the D4 totally competitive video resolution and frame rates – full 1080p at 24/25 and 30 FPS as well as 60 FPS in 720p. The D4 also has what Nikon is calling, "Multi-area Mode Full HD Video." That means it can capture full HD video in FX, DX and 2.7x formats, giving the D4 more reach and versatility. It also has continuous auto focus in video mode – a feature that no other DSLR maker but Sony has. Unfortunately, it's not the incredible hybrid AF system Nikon introduced with their new mirrorless 1 system cameras. Hopefully it will be better than the continuous auto focus on Nikon's other digital SLRs, though. Possibly the most important new video feature, and what really sets the D4 apart from its competitors, is the addition of a stereo headphone jack for professional sound monitoring. It also has built-in sound levels control (30 steps) and a stereo mic input. But the headphone jack is something I don't think any other digital SLR has and shows how serious Nikon is about the D4 as a professional video tool.
So where does this all leave us? With the announcement of the D4 – and Nikon's answer to the Canon EOS-1D X – the high-end balance between Nikon and Canon may have been restored. For the last few years they've both had advantages in different areas – Nikon with image quality and Canon with video. But the two current pro cameras look much closer than they have in quite a while – unless you include price in the equation – the projected cost of the Canon is about $1000 more. The bottom line is I think Nikon has made a solid reply to the Canon EOS-1D X and I will be really surprised if we see a lot of talk about professionals leaving one brand for the other with this round of announcements. No matter what side of the fence you're on, there's a ridiculously good pro camera body available – if you can afford it.
One thing I would have really liked to see in the D4 is the hybrid auto focus system Nikon introduced in their new J1 and V1 compact system cameras (Nikon 1 J1 Pro Review). I think that was one of the most exciting introductions of 2011. I expect the D4 was too far along in development to implement it. Plus, Nikon has established a pattern of introducing some new features in entry-level or mid-range consumer digital SLRs (the D90 was the first DSLR with video and the D3100 was the first DSLR with continuous auto focus in movie mode). So I'll be watching for that feature in Nikon's next DX-format digital SLR.
The Nikon D4 will make its public debut next week at the annual CES tradeshow in Las Vegas. It's scheduled to be in stores in February of 2012 and the suggested retail price for the camera body is US $5999.95. In conjunction with the D4 announcement, Nikon also introduced a new portrait lens, the AF-S NIKKOR 85mm f/1.8G, which will be available in March 2012 for $499.95.
Related Content:
Nikon Digital SLR User Reviews
All Nikon User Reviews
All Digital SLR User Reviews
Nikon Cameras Forum
Digital SLR Forum
Digital Video Forum
More Nikon News And Articles
Nikon Web Site