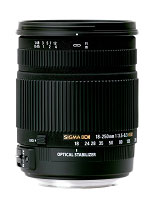 Sigma Corporation announces a new superzoom lens
January 15, 2009 The Optically Stabilized (OS) lens sports a 13.8 times zoom ratio. Sigma's new lens features a wide focal length range from 18mm to 250mm at F3.5-6.3 with a minimum aperture of F22. Equipped with a HSM (Hyper-Sonic Motor), a minimum focusing distance of less than a foot and a half at all focal lengths, and included petal type hood this is potentially an all around performer for the photographer with a wide range of needs who does not want to be changing their lens frequently.

It will be available in Sigma, Canon, Nikon, Pentax, and Sony mounts. A DC or digital only lens that is not full frame sensor or film compatible it will weigh in at about 22 ounces and in a 'closed' position be only 4 inches in length.
Sigma Corporation of America that this lens will be available March 10, 2009.
Details and specifications about this new lens are at the Sigma web site link Sigma 18-250 Lens.
Sigma Corporation of America Website & Sigma News Page
Related Content:
Sigma Zoom Lens User Reviews
All Zoom Lens User Reviews
All Sigma Camera And Lens Reviews
Sigma Web Site