A couple of months ago Nikon announced their first rugged, waterproof point-and-shoot camera, the Coolpix AW100. I got my first close look at the AW100 this last week at the annual PhotoPlus Expo in New York City. They had a cool display at their booth with three AW100s mounted on a mountain bike. The camera feels good in the hand, it's totally pocketable, has solid waterproof / rugged specs and shoots full HD video as well as stills. The size and styling are similar to the Olympus and Panasonic waterproof point-and-shoots but the 16-megapixel Nikon has a few more pixels and a backlit CMOS sensor and they claim the camera has "amazing image quality." I hope that's true because I'm pretty unimpressed with the image quality of all the other rugged point-and-shoots. Nikon is supposed to send me one for review so we should know soon. My fingers are crossed that it's as good as they say.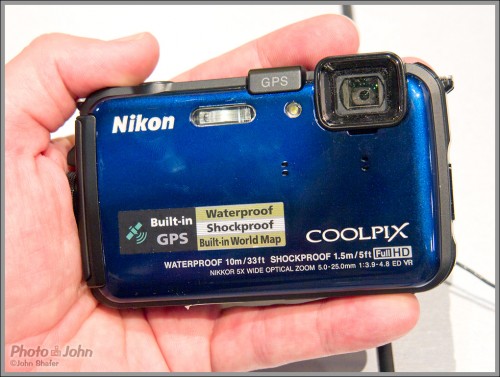 In spite of the rugged waterproof camera class having less than great image quality, I still love these cameras because they're so nice to have on the mountain bike, skis or river. I like to keep one in a pouch on the shoulder strap of my backpack when I'm mountain biking or skiing. They're especially great for powder days or nasty weather mountain biking where you'd usually want to leave your camera at home. Even if you've got a GoPro, Contour or other POV camera, you should still have a rugged, outdoor point-and-shoot camera. They have a zoom lens, image stabilization and better still and video image quality than any POV camera.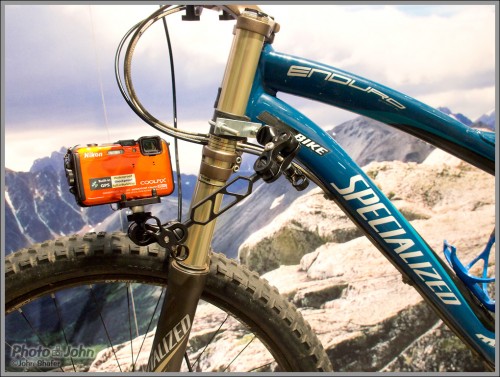 Nikon Coolpix AW100 Key Features and Specs:
16-megapixel 1/2.3-in. backlit CMOS sensor
5x 28-140mm (35mm equivalent) Nikkor ED VR zoom lens
1920 x 1080 full HD video as well as 60, 120 and 240 frames-per-second slow-motion modes
Waterproof to 33 feet (10m)
Shockproof from 5 feet (1.5m)
Freezeproof to 14 F (-10 C)
Sensitivity: ISO 125 to 3200
3-inch 460k-dot LCD display
One thing I noticed about the AW100 is it has a bright yellow gasket on the battery / memory card door. I'm curious if the yellow is indicative of anything different about the gasket. Understandably, one of the main complaints about waterproof cameras is failure. Even though everything has to fail sometimes for someone, people don't take it well when their waterproof camera gets flooded on their once-in-a-lifetime Hawaiian vacation. So it would be great if Nikon figured out a way to make a more reliable waterproof camera.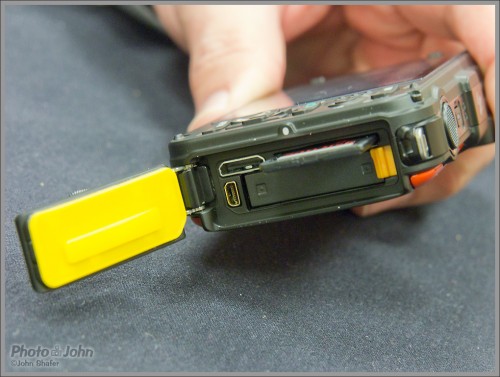 I have high hopes for the Nikon AW100 to have better image quality than the competition. They waited long enough to get into the rugged outdoor camera market. Let's hope they did it right. If they did, it will be definitely be the outdoor point-and-shoot adventure camera to have.
Nikon Coolpix AW100 Intro >>
Outdoor & Waterproof Camera Guide >>
Related Content:
Nikon User Reviews
Digital Camera User Reviews
Nikon Cameras Forum
Digital Cameras Forum
Nikon News, Reviews & Articles
Nikon Web Site