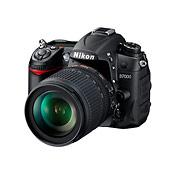 The Nikon D7000 started showing up in stores a couple of weeks ago and it's been the most popular DSLR on PhotographyREVIEW.com for over a month now (see the Top Five DSLR list on our Home page). Yesterday I threw out a line on Twitter to get some D7000 user reviews. Two reviews got posted (please write your own if you have a D7000) and this one by Joe Murphy was worthy of being elevated to Featured User Review status – especially when you look at the list of Nikon digital SLRs Joe has owned. Thanks for the excellent, detailed review, Joe!
Camera reviews like this one are the foundation of PhotographyREVIEW.com. Whether you own a Nikon D7000 or any other camera, please write a review. We need your reviews!
---
Featured Review: Nikon D7000
by jmurphy (Professional)
Price Paid: $1199.00 from Christian Photo in U
Review Date: November 16, 2010
Used product for: Less than 1 month

Overall Rating: 4 of 5
Value Rating: 5 of 5

Summary:
I purchased this camera after reading many articles about it in anticipation of it's release. The combination of improved quality in low light situations, full 1080p HD video with full time auto focus and the 16.2 MP sensor combined with the 6 frames per second continuous shooting where key features for me.
I've been a long time user of Nikon camera dating back to an old F3 that I purchased from a friend before working my first professional job at a college newspaper. Through the years I've watched as Nikon has steadily improved it's line of digital (I've owned a D100, D200, D70, D300 and used the D1, D1x, D2x and D3 at work) equipment but it seemed something was different for the release of the D7000. I couldn't help but think as I researched the D7000 that if it lived up to the information that was being released it could easily replace the D300 that I owned and maybe even the D3 that I use at work. That might seem like a lofty claim but as I found out after I purchased the D7000 many of its features exceed or match the D300 and are on par with the D3.
Strengths:
In a head to head comparison with my D300 the D7000 matches up with the same 6fps continuous shooting, it has an improved CMOS sensor that has less noise at higher iso's and has increased the resolution by 4 MP. What sets the D7000 apart from the D300 and the D3 is the obvious introduction of the full 1080p HD video with full time auto focus.
I'm sure that there are a lot of pros and serious amateurs shaking their heads saying that the D7000 can't seriously compared to the D3. But in some ways it can. The D7000 matches up the D3 with the same 1/8000 shutter speed along with the lowest 30 second shutter speed. It also matches the D3 with a 6400 with low noise considering it is the DX format compared to the FX format. The biggest difference compared to the D300 and the D3 is the obvious $1199.00 suggested retail price. Of course the D3 is more suitable to daily professional use and has a flash sync input along with other upgrades but for the money the D7000 harnesses many of the options and takes them a step further with the video capability.
Anyone interested in using the video features on the D7000 will have to be patient though. The camera makes shooting in video extremely easy by flicking a rear control button and then pushing the same button to begin recording instantaneously. There is also a built in Virtual Horizon Graphic Indicator that removes the need for old bubble levels. The patience will be needed when it comes to steadying the camera and thinking less like a photographer and more like a videographer. Something that hasn't come easy for me so far but after talking with some professional video shooters and learning some pointers I'm finding the camera to be a very useful tool for shooting video and getting unmatched depth of field when compared to professional video cameras.
I will note that the D7000 has many features catering to the pro-sumer that I haven't used to this point only because I prefer to do my editing outside of the camera in Lightroom or Aperture. I'm sure it will be fun to explore some of the in-camera image editing features like: D-Lighting, filter effects, fish-eye and Quick retouch at some point.
I think pros and amateurs should both look seriously at purchasing the D7000. As a pro I can already see many opportunities to use the video functions of the camera on a daily basis and even some of the still photography capabilities.
Strengths:?- Low light images are excellent.?- durable and weather sealed?- 39 point Auto focus.?- 1080p HD video
Bright LCD.?- 6 fps Burst Mode.
Dual slot SD card bays that can be used to make backup versions of images or store different file types.
Weaknesses:
The size of the D7000 for me is both a strength and a weakness. The strength is easy portability and handling while shooting assignments especially when it's compared to the size of the D3 but it's also a weakness when it comes to shooting video. I've found it nearly impossible to keep the camera steady (I might be anal about this) when using the video mode. Because you are looking through the rear LCD it is difficult to brace the camera when taking video. There are brackets and other accessories on the market to help steady the camera but with those options come an increased investment.
I'm also still getting use to the placement of the auto focus selector on the front of the camera located on the auto focus/manual switch. On the previous Nikon bodies I have owned the AF switch is on the back of the camera near the LCD. I think it's a great idea to place the switch there but at this point it doesn't feel as intuitive for me to use the button in the front. I'm also still getting use to the focusing system and have found myself switching to manual several times to make sure that I'm focusing exactly where I want to be. I'm sure after continued use I will get use to the focusing system and it will be an asset though.
Here is the link to my flickr photo stream the most recent images were made with the D7000: http://www.flickr.com/photos/jmurphpix/
Here is a link to a simple video I made using the D7000 with the kit 18-105mm DX VR Lens. target="_blank">
Similar Products Used:
I've used many different Nikon digital cameras including the D100, D200, D300, D70, D1, D1x, D2x and D3
Customer Service:
Haven't had to use it yet although Nikon offers a great deal of information and support on their Nikon USA website.
Related Content:
All Nikon Digital SLR User Reviews
Nikon Review Page
Nikon Cameras Forum
All Featured User Reviews
All Nikon News & Articles
Official Nikon Digital SLR Page
Joe Murphy is a professional photographer and writer working out of Des Moines, Iowa. Visit his Flickr gallery or his Web site, Light Shaping Photography to see his photos.