It's easy to get jaded when you write about digital cameras. The lifecycle of most is about 6 months and after a while they start to blur together. But when Canon introduces a new flagship EOS-1D body – especially one that's supposed to replace the four-year-old top dog EOS-1Ds Mark III – I expect big things. The good news is it looks like Canon is delivering with this announcement. Sports photographers, fine-art photographers, commercial photographers and videographers should all be pleased with this announcement. The new Canon EOS-1D X merges Canon's high-speed EOS-1D sports camera and the high-resolution EOS-1Ds into one full-frame sensor camera. The new Canon EOS-1D X will have an 18-megapixel full frame CMOS sensor and be powered by brand new Dual DIGIC 5+ imaging processors along with a DIGIC 4 processor dedicated to a brand new metering system. The Canon EOS-1D X looks to produce the image quality required by 1Ds users and the speed required by EOS-1D sports shooters and photojournalists. And of course, it also captures full HD video.

You might be wondering about the "X" in camera name. There are three reasons and they all say something important about the camera. In keeping with the EOS-1D naming convention, X is the Roman numeral 10 and the EOS-1D X is the tenth series-1 pro SLR body from Canon, starting with the F1 (1970). Because of the extreme performance the EOS-1D X delivers, the X also stands for extreme. And finally, the X stands for crossover because the 1D X merges the 1D and 1Ds camera lines.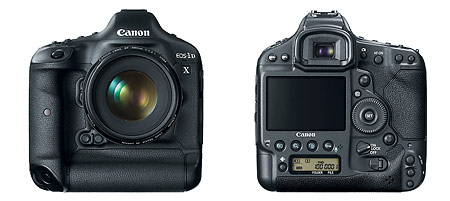 Canon EOS-1D X Key Features And Specs
18-megapixel full-frame CMOS sensor
Sensitivity range: ISO 100 to 51,200, expandable to ISO 50, ISO 102,400 and ISO 204,800
New 61-point AI Servo III auto focus system with 41 cross-type sensors
12 frames per second full resolution RAW and 14 frames per second JPEG in Super High Speed Mode
Flash sync: 1/250th second
Dual axis electronic level
1920 x 1080 full HD video at 30, 24, and 25 frames per second – 720p at 60 frames per second
Video recording time increased to 29 minutes and 59 seconds
Adjustable audio levels
Dual DIGIC 5+ Image Processors
Multiple exposure – up to 9 frames
In-camera RAW conversion
14-bit analogue to digital conversion
3.2-inch, 1.04-million-dot LCD display
Built-in LAN
Rugged, magnesium alloy chassis
Dual Compact Flash slots – no SD
100% coverage optical viewfinder
76 dust and moisture gaskets and seals
400,000-cycle shutter
Speed + Image Quality
Canon decided on an 18-megapixel sensor because it offers the best balance of speed and image quality. For sports photographers, the EOS-1D X will be capable of full-resolution bursts at 12 frames-per-second and 14 frames-per-second in a special mirror-up, JPEG-only Super High Speed Mode. There's also an impressive new auto focus system, which I'll get into later.
But what about image quality? No doubt, some of you are wondering why you'd want to replace a 21-megapixel EOS 5D Mark II or 21-megapixel EOS-1Ds III with the 18-megapixel 1D X. Pixel size – that's why. Lower resolution increases the size of each individual pixel by about 8% (from 6.4 microns to 6.95 microns). For sports photographers shooting with the 1D Mark IV the improvement is even more dramatic. The EOS-1D X pixels are about 18% bigger than 1D Mark IV pixels (5.7 microns). Combine the increased pixel size with the new processing power and improved on-board sensor electronics and you get a max native sensitivity of ISO 51,200, expandable to ISO 204,800. How much of that will be useable remains to be seen. But during my phone briefing, Canon product manager Chuck Westfall, called the ISO 12,800 image quality, "phenomenal" and suggested that even ISO 51,200 looks pretty good. JPEG and video quality out of the camera is claimed to be two stops better. RAW will no doubt also be better but won't have the full benefit of the Dual DIGIC 5+ imaging processing for in-camera noise reduction.
Video
Video was definitely more than an afterthought with the EOS-1D X. Like the EOS 7D, the 1D X can capture both 1080p and 720p at selectable frame rates including 24 FPS and 60FPS (720p). The 1D X's most significant video improvements are the effective elimination of moiré, two new compression formats, adjustable audio levels and the recording time has been increased to 29 minutes and 59 seconds. In-camera audio levels (via built-in or external mic) can be adjusted either before recording or on the fly, while recording; and the Quick Control dial can be programmed to adjust audio levels.
The two new compression formats offer videographers the flexibility of shooting for easier editing or better compression. The ALL-i intraframe format records in a more edit-friendly single frame format. The IPB interframe format offers more efficient compression so you can get more footage on your memory cards.
Video image quality has been improved by minimizing moiré, improved compression and by the improved sensor and processing. The new sensor has 16-channel readout (previous sensors had 8-channel readout) so it can dump data much faster. The faster still image burst rate is one of the benefits of the 16-channel readout. But another benefit is moiré has been reduced to the point where the word, "eliminated" was used during my EOS-1D X briefing. The official press release doesn't use the word, "eliminated," so maybe we should hedge on that a bit. Either way, Canon is pretty confident that moiré, one of the complaints about using a digital SLR instead of a dedicated video camera, has been virtually eliminated with the 1D X.
One thing that the EOS-1D X doesn't have is continuous auto focus for video. This slipped past me when I first wrote this announcement but I saw someone mention it on Facebook. Right now, Sony and Nikon are the only camera makers to offer continuous auto focus for digital SLR video and the Nikon performance isn't up to professional standards. However, the "hybrid" auto focus technology in the new Nikon 1 compact system cameras suggests they might have something worthy up their sleeve. Either way, the lack of continuous auto focus for movies limits the versatility of the EOS-1D X for outdoor action sports moviemakers.
New Auto Focus System
As an action sports photographer, I'm always looking for better auto focus. And Canon is giving me the goods with an all-new 61-point AF system with 41 cross-type sensors, a wider array, AI Servo III continuous auto focus and selectable AF point modes like the EOS 7D. Within the auto focus array there are three columns of cross-type sensors. The center column includes five diagonal cross-type f/2.8 sensors, the most sensitive AF points Canon has ever made. The rest of the sensors in the center column are sensitive to f/5.6, making the center part of the array super-sensitive and effective with almost any lens. The two side columns include f/4 cross-type AF points. I believe all previous EOS-1D cameras just had f/2.8 AF points so the addition of f/4 and f/5.6 focus points is great. Auto focus sensitivity has also been improved to EV -2, compared to EV -1 for previous cameras. The net result should be easier focus acquisition and improved AI Servo performance – especially when using f/4 lenses. This is going to be huge for sports photographers, photojournalists and event photographers who work in poor lighting.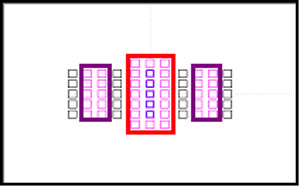 There's also a new feature called EOS iTR (Intelligent Tracking and Recognition), which combines the new auto focus system, the new metering system and a new feature called Intelligent Subject Analysis to better identify subjects for more accurate tracking auto focus. They didn't go into much detail about it in my phone briefing or in the press release but apparently it has multiple, "AF options ideal for wedding and event photography as well as sports and photojournalism." As an example they describe the system using face detection to better track a tennis player in action. Sounds good to me. We'll just have to wait and see how well it works.
Camera Body & Controls
The Canon EOS-1D line has always been built to the highest standards. There are plenty of jokes about using a 1D as a weapon or to pound nails. Like the 1D Mark IV and 1Ds III, the EOS-1D X has a magnesium alloy chassis and 76 gaskets and seals to keep the dust and moisture out. For the most part the camera looks the same as previous 1D's but it's a bit larger and there are a few new additions. Canon added the "Q" Quick button from the 7D and 60D and for the first time the 1D gets a dedicated Live View / video button. The Q button can be used to bypass the menu system and display and change key settings on the 3.2-inch 1.04-million-dot LCD. I use the Q button on my 7D all the time so I think it's great that Canon decided to include it in the 1D X. ON the front of the camera, where the depth-of-field preview button used to be, there are now two buttons. There are actually two pairs of buttons, so they can be accessed while shooting vertically as well as horizontally. The buttons are programmable and could be used for depth-of-field and the electronic level, for example. The redundancy for vertical as well as horizontal shooting shows how much thought Canon put it into refining the 1D X body,
Another detail I missed while I was first writing this article is the EOS-1D X doesn't have an articulated LCD display. I've heard pro outdoor sports photographers say this is a feature they don't want because it would be a weak point on the body. That makes a lot of sense to me – especially with the kind of abuse mountain bike and ski photographers heap on their pro DSLR bodies. On the other hand, videographers, landscape photographers and studio product photographers would all benefit from a tilt-swivel LCD display. I think it's something we can all live without on the 1D X. On the other hand, it sure would be nice to have.
A couple of other new features that I didn't mention initially are the new battery and the built-in LAN. Under the terminal cover on the left side of the camera body is a gigabit Ethernet LAN connection – just like you have on your computer. It's more stable than USB or wireless and capable of 1000BASE-T transfer speeds. There's also an accessory socket that can accommodate two new accessories – the 802.11n Canon WFT-E6A Wireless File Transmitter; and an optional GPS unit, the GP-E1 GPS Receiver, which records, latitude, longitude, elevation and time. The new battery has increased capacity and is backwards compatible with selected EOS-1D camera bodies and chargers.
Conclusion
The Canon EOS-1D is supposed to ship in mid-March of 2012, in time for professional photographers to get used to it before the London Olympics. As always with a new camera, the features and specs are only one part of the story. We'll have to wait and see how well all this new stuff works to determine how successful the Canon EOS-1D X is. I think the image quality is a given, though. Bigger pixels make that a pretty straightforward proposition. The auto focus performance is the hardest to evaluate on paper – you really have to experience it. And finally, there's the price. It's not final yet but Canon is saying the suggested retail will be about $6800. That's a lot of scratch! So the EOS-1D X isn't going to be a camera for the average photographer. You're going to have to either be rich or really making money as a photographer to be able to justify that kind of expense. On the other hand, it should loosen up the price of a used EOS-1D Mark IV and even with the 1D X out, the 1D Mk IV is still a great camera.
Official Canon EOS-1D X Press Release >>

Related Content:
All Canon Reviews
All Digital SLR Reviews
Canon Cameras Forum
Digital SLR Forum
All Canon Camera News And Articles
Canon Cameras Web Site