Sony has replaced the SLT-A55, our 2010 Camera of the Year (Sony Alpha SLT-A55 review), with the new Alpha SLT-A57. Designed for entry-level and enthusiast DSLR shoppers, the main updates on the A57 are a new body, updated Sony Bionz processing, updated AVCHD video, improved tracking auto focus, a faster burst rate and some new shooting modes and effects. To some extent, the A57 is a warmed-over version of the A55. The 15-point auto focus system looks like the same one used in the A55 and the new body is the same as the A65. The resolution is also the same as the A55, although the 16-megapixel sensor is the same used in the NEX-5N, which showed a stop of improvement in high ISO image quality (read our Sony NEX-5N review).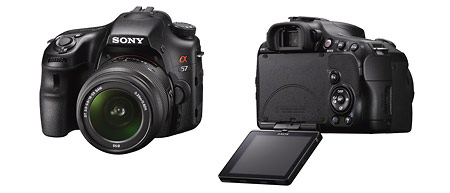 For those of you who don't know about Sony's translucent mirror SLT cameras, they have some very special characteristics. The translucent mirror allows them to use phase detect auto focus all the time for fast, accurate continuous auto focus in movie mode as well as for still photos. Only Sony's Alpha SLT cameras can make that claim. The SLT cameras also use an electronic viewfinder instead of an optical viewfinder. That means you can use the viewfinder for movies and playback; and the EVF shows all the same information you normally see on your camera's LCD display.
Sony Alpha SLT-A57 Key Features and Specs:
16.1-megapixel Exmor APS HD CMOS sensor
Built-in sensor-shift image stabilization
New generation BIONZ processing
Translucent mirror design
1920 x 1080 full HD AVCHD Ver. 2.0 Progressive video with selectable frame rates (24p, 60i, 60p) and stereo sound
P/A/S/M shooting modes for movies
1.4-million-dot electronic viewfinder
3-inch tilting 921k-dot Xtra Fine LCD display
ISO 100-16000
15-point AF system
Continuous auto focus in movie mode
New, Auto Portrait Framing shooting mode
New, Tele-zoom Continuous Advance Priority AE mode (12 FPS with continuous auto focus)
11 in-camera Picture Effect modes
If you've already got a Sony Alpha SLT-A55 and you're looking for an upgrade I don't think the A57 is the one. Yes, it is better than the A55, but not that much better. The logical upgrade from the A55 would be the A65. But for photographers considering their first digital SLR or upgrading from an older camera, the A57 is an excellent upgrade. I checked with Sony and it does use the same excellent 16-megapixel CMOS sensor as the NEX-5N. The A55 was already very good but I was really surprised and impressed by the improvement in the NEX-5N's image quality. It's totally useable up to ISO 3200 (Sony Alpha NEX-5N studio sample photos). The A57 also has a faster burst rate – 12 frames-per-second, compared to the A55's 10 FPS. However, that 12 FPS burst rate is only available in the new Tele-zoom Continuous Advance Priority AE scene mode: "shooting speeds of up to 12 frames per second are achieved in new Tele-zoom Continuous Advance Priority AE mode, maintaining continuous auto focus and auto exposure with fixed aperture. " That mode also reduces image resolution to 8.4 megapixels. There's also a 10 FPS Speed Priority scene mode but manual photographers will discover the max burst rate they can use in P/A/S/M modes is 8 FPS. That's still plenty fast for shooting action but it's important to make it clear that's as fast as you can go if you're a manual exposure photographer.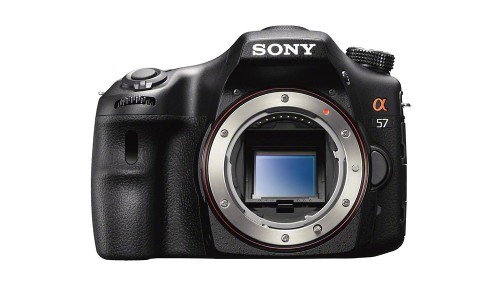 Auto Portrait Framing is another brand new scene mode being introduced with the A57: "Using face detection and the compositional 'rule of thirds,' the camera identifies a subject's position, trimming the scene to create tightly framed, professional-looking pictures in portrait or landscape orientation while maintaining a copy of the original image." There are also 11 in-camera Picture Effect modes, including Pop Color, Toy Camera, HDR Painting, Retro Photo and Miniature. There's a built-in 2x digital tele-converter that effectively doubles the range of the lens mounted on the camera.
The A57 uses the latest AVCHD 2.0 "Progressive" video format, which offers 60 FPS video as well as 30p, 24p and 60i frame rates. The 60 FPS video frame rate is useful for capturing fast action and can also be used for slow motion video since standard playback speed is 30 FPS. Experienced video shooters will be pleased to have full manual exposure control for movies with the A57. Program, aperture priority, shutter priority and full manual exposure modes as well as the Picture Effect modes are available in movie mode. So you can make a tilt-shift-style miniature movie, or use the Toy Camera or Retro Photo modes for in-camera video styling. For audio, there's a built-in stereo microphone as well as 3.5mm stereo microphone input. As I mentioned earlier, the A57 has totally useable continuous auto focus in movie mode. The continuous auto focus for movies was one of the most impressive features of the A55 and one of the reasons I named it our 2010 Camera of the Year. It's also the reason I recommend the Sony Alpha SLT cameras first whenever anyone says that video is one of their top priorities.
The A57 is considerably larger and more substantial than the A55 making it a good choice for photographers with big hands or who otherwise don't like small cameras. Check out the photo I took of the A65 next to the A55 at the 2011 PhotoPlus Expo (below). The A57 has the exact same body dimensions and styling as the A65 so you can see it's quite a bit bigger than the A55. I actually liked the A55's small body because it was very backpack-friendly. But a lot of people feel better with a larger camera in their hands so I think the A57's larger body will be a plus for most photographers.
If you've got a Sony A55, hold on to it or step up to the A65 or A77. I don't think the A57 offers enough improvement to justify replacing an A55. Better to buy a new lens instead. But for photographers investing in their first digital SLR or upgrading from an older camera, the A57 is an excellent choice. Canon and Nikon are still the most popular brands but I usually recommend Sony to first time DSLR buyers now because I think the camera features are better – especially for video. I also think you get more performance for your money with the Sony SLT cameras. Compare the Alpha SLT-A57 to other $700 to $800 digital SLRs. Do any of them offer 8 frames-per-second burst? How about sports-worthy continuous auto focus that also works in movie mode? Nope.
The new Sony Alpha SLT-A57 will be available next month (April, 2012). The suggested retail price will be $800 with the 18-55mm kit lens or $700 for just the body.
Sony Alpha SLT-A65 Press Release >>
Related Content:
Sony Digital Camera User Reviews
All Digital SLR User Reviews
Digital SLRs forum
Sony Cameras Forum
Sony Alpha Cameras Web Site