I love it when a camera surprises me, and so far the Nikon D7100's image quality has done just that. I've been a skeptic of Nikon's DX-format (APS-C) 24-megapixel sensor since it was announced. This is actually the first time I've had a chance to test it though, and I'm really impressed. I still think it's more resolution than most people need and it has hidden costs in the form of larger memory cards, more hard drive space and higher computer processing demands. However, the image quality *is* excellent. Since you can't fairly compare a 24-megapixel file to a 16-megapixel file by pixel peeping on the computer, I made prints to see how the D7100 matched up to other cameras. I compared it to its predecessor the Nikon D7000, and the Nikon D300S; and at the same print size the D7100 walks all over the other two cameras. This was especially clear when I made 20×30-inch test prints from ISO 3200 sample photos. The D7000 and D300S both had obvious noise, but the D7100 print was creamy smooth and pretty much noise-free. That just blows me away. I am really amazed to see that kind of performance from an APS-C sensor and it gives me a lot of hope for the crop sensor format. Based on my 20×30 inch test, I expect that ISO 6400 is probably pretty useable with the Nikon D7100.
Update: Our Nikon D7100 Pro Review is live! It was written by professional sports photographer Rob Norbutt, with a special emphasis on low light and auto focus performance: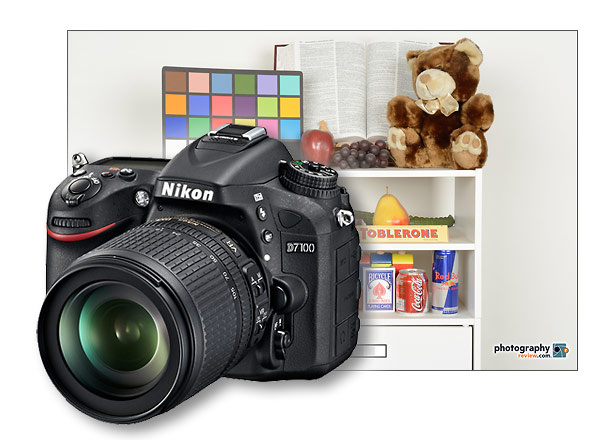 Thanks a lot to Rob Norbutt, a.k.a. zerodog, who bought the D7100 and loaned it to us for these studio sample photos. It seems he got one of the first D7100s to hit the street so we're hustling to get photos out and a full review done. Rob is a pro sports photographer who shoots mostly MMA fighting and motorsports with a Nikon D3S (visit Rob's Web site: www.theinfinitymachine.com). He pre-ordered the D7100 as soon as it was announced to replace his Nikon D300S backup camera. Rob's gonna write our D7100 Pro Review and he's already posted a few real world sample photos on our Nikon Cameras Forum. The cheeseburger photo below is one of those photos. Click on it to go to see more of Rob's Nikon D7100 photos.
Our Nikon D7100 studio sample photos were shot RAW with the Nikkor AF-S 17-55mm f/2.8G lens at f/8 in aperture priority mode, using the tungsten white balance preset. Since the camera just came out and there's no Lightroom support yet, the NEF RAW files were converted to 16-bit TIFFs with the latest version of Nikon's ViewNX 2 software. The text, graybar and logo were added in Photoshop and the sample photos were then resaved as maximum quality JPEGs. No adjustments, noise reduction or sharpening were applied at any point. Please feel free to download, print and compare any way you see fit. If you want to compare to cameras with dramatically different resolution, making prints is the right way to do it because that equalizes the resolution differences.
Warning: these files are big – be patient while they download.
Nikon D7100 Sample Photos
Nikon D7100 Pro Review >>
All Digital Camera Sample Photos >>
Related Content:
Nikon Digital SLR User Reviews
All Nikon User Reviews
All Digital SLR User Reviews
Nikon Cameras Forum
Digital SLR Forum
Digital Video Forum
More Nikon News And Articles
Nikon Web Site
All Digital Camera Pro Reviews
All Digital Camera Studio Sample Photos