Nikon officially announced their new 800mm super-telephoto VR lens tonight. The monstrous AF-S Nikkor 800mm f/5.6E FL ED VR lens made an unofficial appearance at the London Olympics last summer where a few lucky professioanl sports photographers had a chance to try it out (read Leon Neal's hands-on report, here). Usually I leave the price for last. But in this case, I'm going to drop that bomb right away just to keep everyone's expectations down to earth. The suggested retail price for the AF-S 800mm f/5.6 VR lens is US $17,899.95. That price includes a dedicated 1.25x tele-converter that extends the reach of the lens to 1000mm. That makes it a bargain, right? The truth is, most of these lenses will end up at news agencies, newspapers, magazines and rental departments. This isn't the kind of lens you buy. You rent it if you need it. Why would you need it? Sports, wildlife and surveillance – basically, anywhere you need a super-powerful, fast-aperture (yes – f/5.6 is very fast for an 800mm lens) telephoto lens. Professional bird photographers, surf photographers, big mountain ski photographers, motorsports photographers and CIA operatives will be the people you'll be mostly likely to find using this lens. You're not going to need it (or even want it) to shoot your kid's softball game – unless you only want photos of their eyebrows.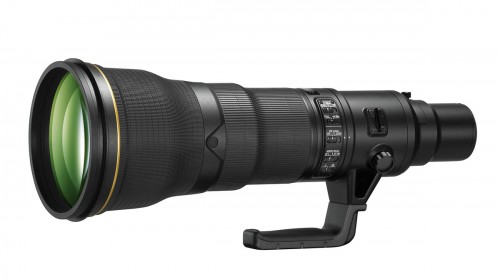 All of those letter designations in the AF-S Nikkor 800mm f/5.6E FL ED VR lens moniker bear explaining. Most of you probably know that AF-S indicates that a lens uses Nikon's silent wave motor (SWM) for quiet, fast and accurate auto focus performance; and VR is for Nikon's Vibration Reduction optical image stabilization system. The E means the lens has an electronic aperture, the FL is for the two fluorite elements in the lens, and ED is for ED elements. Basically, the 800mm f/5.6 VR lens gets the best of the best of Nikon's lens technology – as it should.
The AF-S Nikkor 800mm f/5.6E FL ED VR lens is scheduled to be available in April (2013). Once again, the suggested retail price is US $17,899.95. That includes the AF-S Teleconverter TC800-1.25E ED, which offers full auto focus functionality and only converts the lens's maximum aperture to f/7.1. Maybe they'll offer a Groupon deal.
Related Content:
All Nikon User Reviews
All Lens User Reviews
Nikon Cameras Forum
Digital SLR Forum
All Nikon News & Articles
Nikon Web Site