Our friend and longtime pro Nikon adventure photographer, Dan Bailey, visited with Nikon at the annual PhotoPlus Expo in New York. He got to play with a bunch of the latest Nikon products at their Photo Expo booth, including the new AF-S Nikkor 70-200mm f/4G VR zoom lens – a smaller, lighter and less expensive alternative to the big f/2.8 version. He didn't have any photos to share with us but here are Dan's first impressions and thoughts on Nikon's new 70-200mm pro zoom lens: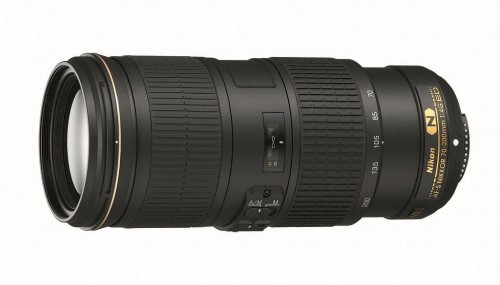 As an adventure and outdoor photographer, weight is king. However, I don't like to sacrifice quality for weight, which is why I often carry around my heavy Nikon f/2.8 telephoto zoom. It definitely slows me down though, so if I need to go fast and light, I often leave it behind.

Nikon's brand new AF-S 70-200mm f/4G ED VR lens weighs half as much as its bigger brother, the Nikon AF-S 70-200 f/2.8 VR II, which will make a considerable difference if I'm trying to hike, bike or ski with my "big" lens. You know the term "no friends on a powder day?" Try having friends on a powder day when you're lugging around a 3 pound hunk of glass and metal. Saving that much weight and still having a pro quality lens is huge.
Nikon AF-S Nikkor 70-200mm f/4G ED VR Zoom Lens Key Features & Specs:
3rd generation VR offers five stops of camera shake compensation
3 ED elements
Silent Wave Motor (SWM) for fast, quiet auto focus
M/A auto focus with manual override
Nano Crystal Coating reduces of ghosting and flare
9-blade aperture diaphragm for smooth out-of-focus image quality
Weighs only 29.3 ounces (830.6g)
Yes, it's a full stop slower, but these days, the difference between f/2.8 and f/4 is hardly the end of the world. With modern digital cameras that default to 200 ISO, that full stop pretty much becomes a non-issue, especially when shooting outside in bright light. Plus, this new 70-200 uses Nikon's 3rd generation VR, which gives you five effective stops of image stabilization, and dramatically opens up your options for shooting non-moving subjects in dim light.
I spent about fifteen minutes trying out the new 70-200 f/4G VR lens and I will say that I'm definitely impressed. It feels extremely solid in your hands, and it's quite a bit more compact than my older, heavier 80-200 f/2.8D. With a trio of ED elements that reduce chromatic aberration, super-fast Silent Wave Motor internal focusing and Nikon's Nano Crystal Coat, this new 70-200 is by all means pro quality glass. Within seconds of holding it in my hands, I was hooked. It instantly went onto my mental "must have" gear list.
In use, this lens rocks. Inside the viewfinder, it's plenty bright enough for any kind of lighting conditions. Coupling it with a D600 body (Nikon D600 intro), the lens felt well balanced, and it focused extremely quickly and accurately. The AF-S is quiet and it tracks along huge leaps in distance with the smallest perception of mechanical effort. Even without VR, this is an awesome lens, but turning on the VR, I was able to zoom all the way out to 200mm and capture sharp images at handheld speeds that I'd never even consider trying with a non-VR lens.
I think the new Nikon AF-S 70-200mm f/4G ED VR zoom is a killer addition to the Nikon lens family, especially for photographers who are having a hard time justifying spending $2,300+ for the bigger, heavier, f/2.8 model; or for people who simply want a lighter pro zoom lens, whether you're carrying it up mountains or down to the beach. Price will be $1,399, with lens collar being extra, and it is expected to hit the streets at the end of November.
Canon's had a very popular 70-200mm f/4G lens in their lineup for years, so it's about time that Nikon introduced a lens like this of their own. I can't wait to get one for myself!
Nikon AF-S 70-200mm f/4G ED VR Zoom Intro >>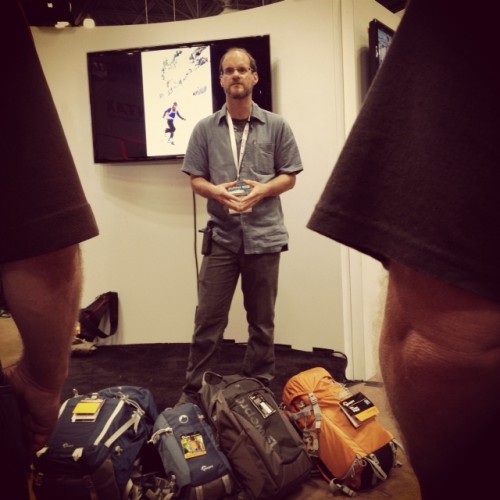 The author, Dan Bailey (photo, above), is a professional adventure, outdoor and travel photographer based in Anchorage, Alaska. Check out his photography eBook, Making The Image, follow his blog at danbaileyphoto.com/blog, and see his daily updates at facebook.com/danbaileyphoto.
Related Content:
All Nikon User Reviews
All Lens User Reviews
Nikon Cameras Forum
Digital SLR Forum
All Nikon News & Articles
Nikon Web Site