Camera Experience
The D90 is comfortable and well-balanced with the AF-S 18-105mm f/3.5-5.6G VR DX kit lens. And while the kit lens sports a large, textured zoom ring, I found the manual focus ring was too small (about ¼" wide) and too close to the body to use comfortably. Further, with my larger hands it was difficult to keep a comfortable grip when using heavier pro lenses and Speedlight hot shoe flashes. Granted, photographers with smaller hands may actually have an easier time holding the D90 than larger bodied DSLRs. But in my case Nikon's MB-D80 vertical grip would make using the camera more comfortable.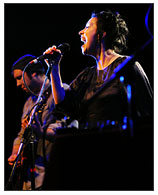 The D90′s wonderful low-light/high-ISO performance was immediately apparent when I began shooting in dimly lit situations. I was able to produce magazine quality images at ISO 1600 that required little, if any, post-production noise reduction. Historically, I only pushed my D200 beyond ISO 400 in the most critical of circumstances and even then not without moderate noise reduction applied in post processing. Coupled with fast (large aperture) lenses, the D90 can produce striking results in dimly lit interiors without using flash.
With regards to video recording there are some turn-offs I hope Nikon will address in future cameras – or better yet – firmware updates for the D90. One major problem is no auto focus during video capture. Even with careful planning (i.e. pre-focusing and using a small aperture) it can be difficult to keep active subjects (sports, wildlife or following toddlers around) in focus, especially if you're also trying to use the zoom ring. However, the D90 is no different from other video-enabled digital SLRs in this respect – so far, none of them have auto focus during video capture. Also, once video is recording settings like aperture, ISO or white balance cannot be changed. However, you can adjust exposure compensation (in P, S, A and M modes) and the D90 does do well automatically adjusting exposure as the scene changes. It should also be noted that video recording is limited to 2 GB or 5 minutes of recording, the former being a result of limits in file system structures and the latter reportedly being the result of political/legal issues. For more on that, read Luminous Landscape's Nikon D90 review.
Finally, it's widely reported that under certain conditions, like panning side-to-side, there's noticeable wobbling of the video that people say looks like Jell-O. This is due to the CMOS sensor's rolling shutter, which captures images by exposing sections of the sensor at different points in time (a more in-depth discussion). This makes the D90 unlikely as a good action video camera. See our sample video to see the rolling shutter effect.

Example of the rolling shutter "Jell-O" effect when panning
Watch the Hike to travertine ponds and other Nikon D90 videos from calanan on Vimeo for more examples.
On the plus side, despite all the time I spent reviewing images, using LV and capturing video I found the D90 did a much better job with battery conservation than my D200.
next page – Nikon D90 Image Quality >>