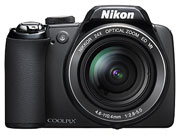 Superzoom digital cameras just keep getting more super.
Nikon today announced the Coolpix P90, a 12.1-megapixel compact digital camera with an impressive 24x optical superzoom lens — the 35mm equivalent of a 26-624mm lens. That's a lot of lens for a camera that weighs about a pound and will fit in a purse or glove box.
The Coolpix P90's Nikkor lens features the greatest wide-angle to super-telephoto range currently available from Nikon. The P90's predecessor, last year's P80, offered an 18x zoom range (27-486mm equivalent) and 10.1 megapixels of resolution. The P90 was announced alongside its smaller sibling, the new 10-megapixel Coolpix L100, also a compact superzoom with a 15x (28-420mm) lens.
The new P90 competes with similar, recently announced superzooms from Olympus and Kodak, namely, the Olympus SP-590 with 12.1 megapixels and a 26x zoom (26-676mm) and the Kodak EasyShare Z980 with 12 megapixels and a 24x zoom (26-624mm).
Besides its fantastically long lens, other Coolpix P90 highlights include a variable-angle, 3-inch LCD screen that can be tilted up and down for shooting from high and low angles; image sensor shift VR image stabilization to reduce camera shake; and high-sensitivity settings up to ISO 6400 for shooting in low-light situations.
Having recently reviewed two superzooms – the Olympus SP-560 and the Sony Cybershot DSC-H50 (review coming soon) – I'm excited about these latest entries in the category. Until now, the largest zooms on compact digital cameras have been in the 18-20x range, but just in the past year, we've seen an increase of 100mm or more in zoom capacity from manufacturers like Nikon, Olympus and Kodak. Zoom technology is growing by leaps and bounds.
More Nikon Coolpix P90 Features
Nikon's Active D-Lighting technology, which selectively adds light and detail to areas that need it.
Nikon's Smart Portrait System, which incorporates face detection technology to recognize faces and smiles while minimizing blinking and red-eye.
Macro shooting from as close as 1 cm (0.4 in.)
16 scene modes optimized for different situations.
Two user-defined setting modes.
Sport Continuous Mode, allowing shooting of up to 45 consecutive photographs at 15 frames per second.
Distortion control for shooting landscapes and architecture.
A new pre-shooting cache that records up to 10 frames before the shutter is released.
Five movie modes with sound, plus time-lapse movie mode.
Active zoom.
Time-zone function for setting of multiple locations
Uses SD/SDHC memory cards
Approximately 47 MB of internal memory.
High-speed USB connectivity.
Powered by an included, rechargeable EN-EL5 Li-ion battery, offering a battery life of approximately 200 shots.
Official Nikon Coolpix P90 Press Release >>
Related Content:
Nikon Review Page
All Nikon Reviews
Nikon Cameras Forum
All Nikon News
Nikon Web Site